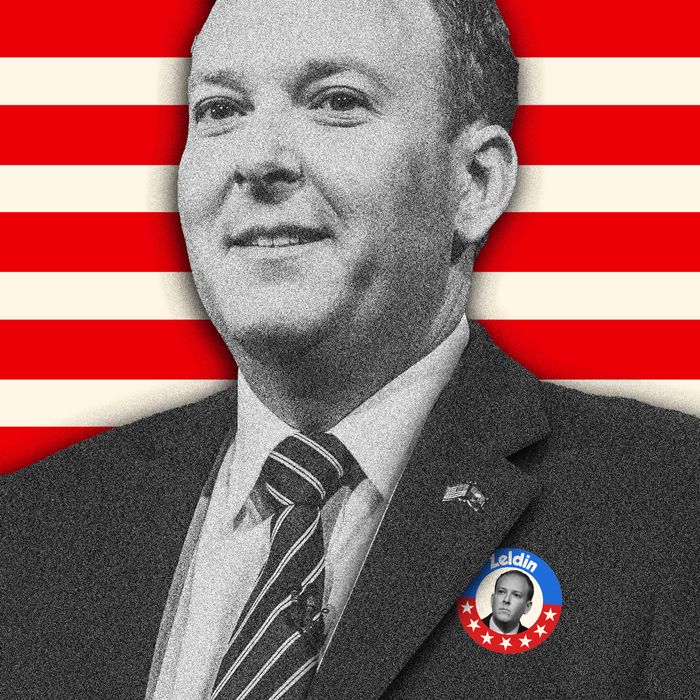 Photo-Illustration: Intelligencer; Photos: Getty Images
After being counted out last year, Republicans flipped the governor's mansion in Virginia and came extremely close in New Jersey, where Democrat Phil Murphy barely won a second term. This fall, the political environment is expected to be dismal for Democrats of all ideological stripes, even with the repeal of Roe v. Wade potentially firing up the Democratic base. Inflation is stubbornly high with the average price of gas hovering around $5 a gallon. Joe Biden remains very unpopular. Fear of crime is rampant in Democratic big cities and Republican-run suburbs alike.
At least that is the hope for Lee Zeldin, the Long Island representative who won the Republican nomination for governor on Tuesday. He will face off against Governor Kathy Hochul, who easily dispatched her Democratic rivals on the same night, and is aiming to pull in north of $50 million for the fall. Like recent Republican contenders, he will face incredibly long odds in a state that has a hefty Democratic registration advantage and a history of rejecting those who have aligned themselves with the right-wing national party.
Zeldin's close alliance with Donald Trump — he voted against certifying the results of the 2020 election and defended the Capitol insurrection — is almost certainly going to cost him with Democrats and independents. Like other Republicans, Zeldin has already celebrated the overturning of Roe. Abortion rights, codified into state law in 2019, may be largely settled in New York, but Hochul and her labor allies are preparing to unleash a blitz of advertising against Zeldin, warning voters that the hard-right congressman could replicate Trump in the governor's mansion. "Kathy Hochul is going to make this election a referendum on Lee Zeldin or any of the MAGA Republicans' connections to Trump and their out-of-step views on abortion, and that is going to make it very hard for a Republican to mount an effective campaign," says a Democratic operative unaffiliated with Hochul. "Zeldin being pushed in the primary has unquestionably hurt him because he's been forced to let his MAGA flag fly when he would have rather tried to hide it."
But Zeldin will try to hammer Hochul very hard on the state of public safety in New York. Democrats and Republicans alike have demagogued around the issue of crime — Mayor Eric Adams has called his own city unsafe — and it's unclear if bits of good news, like the city's decreasing rate of murders and shootings, will alter the narrative around public safety. Both Hochul and Zeldin, implicitly and explicitly, have blamed reforms of the state's criminal-justice laws for a pandemic-era crime spike that is still consuming nightly news broadcasts.
One successful Republican wedge issue Zeldin will lack against Hochul is education. Both Glenn Youngkin, the Republican who defeated Terry McAuliffe in Virginia, and Jack Ciattarelli, the Republican who nearly upset Murphy in New Jersey, benefited from a popular backlash against school closures during the pandemic. New York, generally, didn't have such prolonged closures, and Hochul hasn't been governor long enough to be blamed for them.
To actually defeat Hochul, who is both far less beloved and reviled than the governor she replaced, Andrew Cuomo, Zeldin will need to soundly defeat her in Long Island and Westchester while drawing hefty support from the diminishing number of upstate conservatives who once powered George Pataki to victory in 1994, when he upset three-term incumbent Mario Cuomo in another disastrous year for Democrats nationally. Population loss in the rural stretches of the state makes this a challenge. Zeldin will also have to hope that turnout is anemic in New York City, where most Democrats will not have any competitive elections to vote for beyond the governor's race. "You have to somehow hope you can depress the vote or people don't turn out in the city," says a Republican operative who is not working for Zeldin.
It's plausible that turnout in the five boroughs could be lower than usual in November. Hochul is from the Buffalo area and is not well known in the vote-rich boroughs of Brooklyn and Queens, though she has been visiting them more frequently. Her running mate, Antonio Delgado, is a former Hudson Valley representative. For much of his time in office, Cuomo resided in Westchester, but he grew up in Queens and his family name was royalty among city Democrats. Hochul will have to hustle to generate enthusiasm in places where voting for a Cuomo was reflexive.
How well can Zeldin really do? In the last poor midterm environment for Democrats, Rob Astorino won just over 40 percent of the vote against Cuomo, who was seeking a second term in 2014. That 40 percent may be a floor for Zeldin, who can probably ride a backlash vote to a number higher than that. Hochul, though, will not take him for granted — and neither will the large labor unions and Democratic elected officials across the state who will be desperate to keep New York from turning into another Virginia.