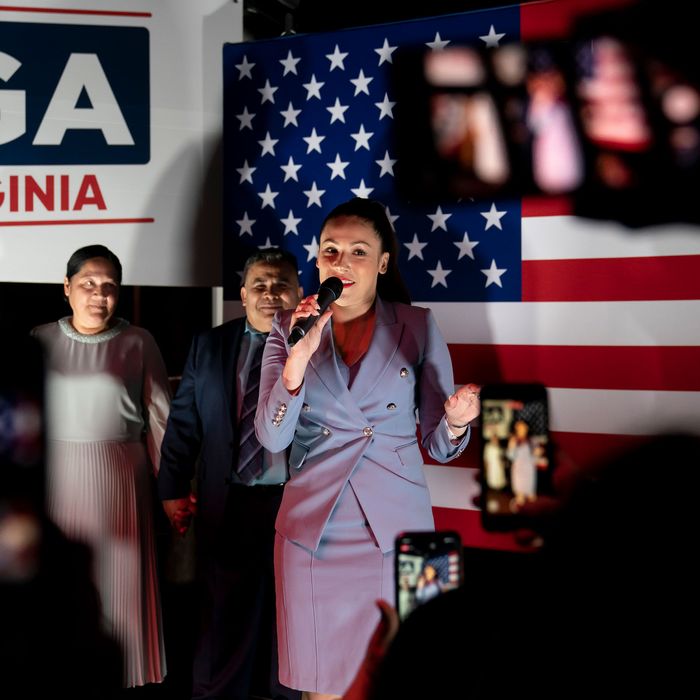 Yesli Vega.
Photo: Nathan Howard/Getty Images
When the Supreme Court overturned Roe v. Wade last week, it immediately made abortion a top-tier issue in midterm races across the country. Given the overwhelming unpopularity of that decision, this is not necessarily terrain on which Republicans should be eager to play.
Case in point: On Monday, Axios published a leaked audio recording of Yesli Vega, a Republican county commissioner and sheriff's deputy (who is challenging incumbent Democrat Abigail Spanberger in a Virginia swing district), implying that getting pregnant as a result of rape was particularly difficult — an assertion with no basis in reality.
Speaking to an unidentified person at a campaign stop in May, Vega confirmed that she is in favor of abortion bans if Roe is overturned: "The left will say, 'Well, what about in cases of rape or incest?' I'm a law-enforcement officer. I became a police officer in 2011. I've worked one case where, as a result of a rape, the young woman became pregnant."
Vega's interlocutor responded: "I've actually heard that it's harder for a woman to get pregnant if she's been raped. Have you heard that?"
Vega then said, "Well, maybe because there's so much going on in the body. I don't know. I haven't, you know, seen any studies. But if I'm processing what you're saying, it wouldn't surprise me. Because it's not something that's happening organically. You're forcing it. The individual, the male, is doing it as quickly — it's not like, you know — and so I can see why there is truth to that. It's unfortunate."
In a statement after the clip came out, Vega said, in part, "As a mother of two children, yes, I'm fully aware of how women get pregnant." Spanberger called Vega's comments "extreme and ignorant."
The episode recalls previous moments in which Republican candidates showed a lack of familiarity with how the reproductive system works. Vega's words echo those of Missouri Senate candidate Todd Akin, who infamously said in 2012, "If it's a legitimate rape, the female body has ways to try to shut that whole thing down." Akin lost what had been seen as a very winnable race against Claire McCaskill. That same year, Indiana Senate candidate Richard Mourdock said that pregnancies resulting from rape were "something that God intended." He, too, managed to lose in a red state.
With the GOP's position on abortion only hardening since then and the issue now firmly on the front burner, it's almost inevitable that more candidates and lawmakers will venture into strange and inaccurate reproductive-rights territory. On Friday, Utah state representative Karianne Lisonbee said, "I do trust women enough to control when they allow a man to ejaculate inside of them and to control that intake of semen."
Suffice it to say, Democrats would rather focus on these sorts of remarks than on inflation.