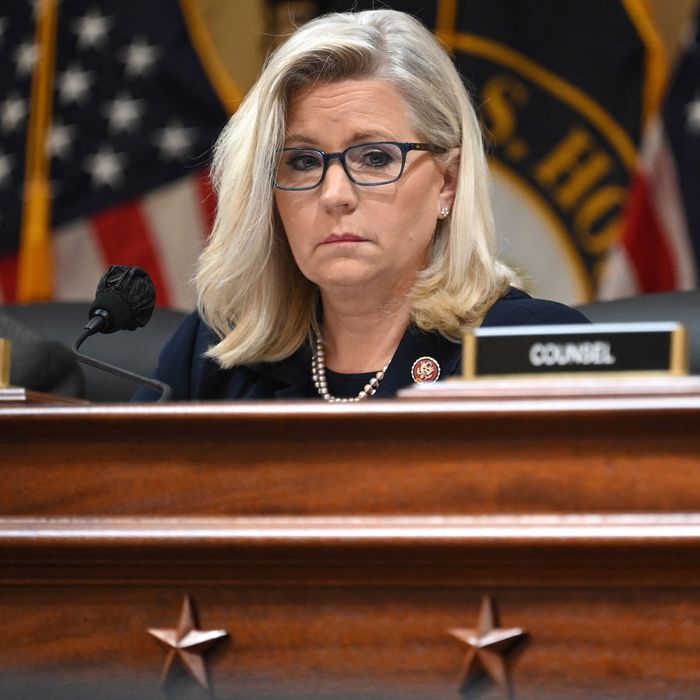 Photo: Mandel Ngan/AFP via Getty Images
During her closing statement in Tuesday's bombshell edition of the January 6 hearings, Congresswoman Liz Cheney suggested that witnesses called before the committee were being intimidated by people with ties to the Trump administration.
Cheney said the committee has asked witnesses whether they have been contacted by anyone attempting to influence their testimony. She then presented two witnesses' answers to that question with all references to individual identities removed.
Cheney also displayed a message that had been sent to a witness, again with the identities removed. It was unclear how Cheney had obtained the message.
A person "let me know you have your deposition tomorrow," it read. "He wants me to let you know that he's thinking about you. He knows you're loyal, and you're going to do the right thing when you go in for your deposition."
Punchbowl News reported Wednesday that one of the messages presented by Cheney was sent to Cassidy Hutchinson, the former aide to chief of staff Mark Meadows, whose testimony about the actions of Trump and his inner circle in the days prior to January 6 made waves during the day's hearing.
Cheney said the committee will be discussing the witness-intimidation issue to determine next steps.