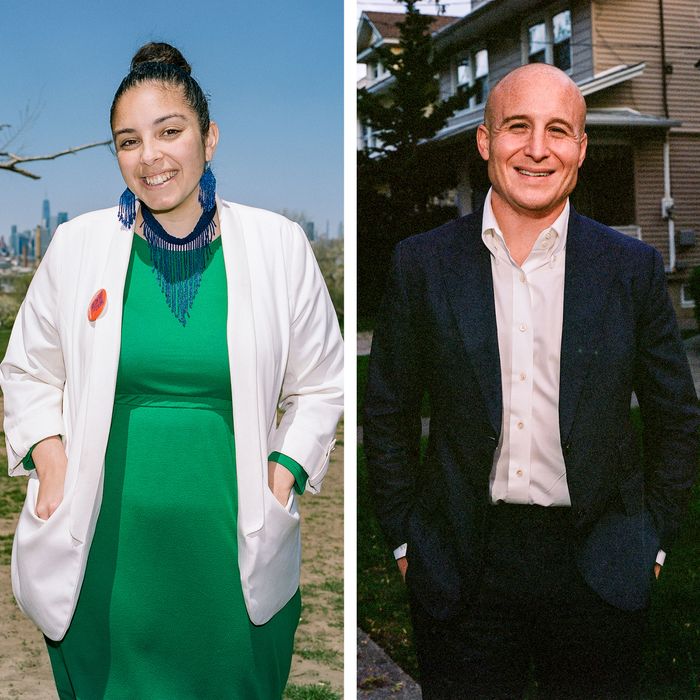 Brittany DeBarros Ramos in Sunset Park and Max Rose on Staten Island in May.
Photo: OK McCausland
Last summer on Staten Island, two combat veterans of the war in Afghanistan met for breakfast at the King's Arm Diner, a local institution. Over eggs and coffee, Max Rose and Brittany Ramos DeBarros discussed the hasty U.S. exit unfolding before them, throwing into some doubt what they and thousands of others had sacrificed during the war. Rose, 35, and Ramos DeBarros, 33, were deployed the same year as lieutenants and both emerged from their service forever changed, but in profoundly different ways. Rose feels he'd fought a righteous war, while Ramos DeBarros believes she'd been duped into supporting a bloody quagmire. After both agreed on withdrawal, they swapped few details about their service. "I'm not big on war stories, personally," she says. "That's kind of a vet-bro thing."
Their conversation turned from the war overseas to a battle closer to home: the race for Rose's old seat in Congress. Ramos DeBarros, a peace activist and democratic socialist who supported his first campaign, had come looking for his endorsement in the Democratic primary. "Join with me and form a united front," she asked Rose, who lost in 2020 to a Republican after one term. Rose agreed to keep her posted. Soon after, he announced he was running, casting himself in the traditional mold of the veteran officeholder: independent, pragmatic, unafraid of military strength but careful to use it, reflecting a similarly old-school view that the military is fundamentally a force for good. Ramos DeBarros represents a different archetype — the veteran for peace — who reveals the dark truth about what she calls the "many-legged monster of militarism" that is "strangling our ability to really invest in true justice and true peace."
As military service increasingly becomes a family business confined to certain communities, boroughs like Staten Island take on an outsize role in representing the voices of veterans and military families. It's the rare campaign between two veterans who embody the tension of what Americans think about the military — following the country's longest war and in the city's most conservative borough, one with a history of military service and the accompanying scars to prove it.
Max Rose was feeling especially nostalgic about his service as he knocked on doors next to Fort Hamilton in Brooklyn on a cold weekday in March. Even when he hit conservative households, residents still heard him out because of his service. "He spent some time for his country," said a Vietnam veteran named Julian. "You know many guys who are doing that?" Rose enlisted in the Army in 2010, coming from an affluent Park Slope family, carrying diplomas from Wesleyan and the London School of Economics and an "elitist notion that somehow I was giving the military a gift," believing he'd be "the smartest one in the room." He quickly learned that war isn't an intellectual exercise. In 2013, his armored vehicle hit an improvised explosive device, wounding him in the face and knees. "I've seen people I love and I was entrusted with leading get hurt right in front of me," he says today. "They got blown up right in front of my eyes."
After leaving active duty, Rose, by his own account, tried to outrun his trauma. He took on consuming jobs in health care and government, including at the Brooklyn district attorney's office, where he spearheaded a popular restorative-justice program called "Begin Again." In 2018, he pursued his hardest challenge in civilian life: flipping the city's only Republican congressional seat into Democratic hands. Looking back on it today, Rose tells me he struggled to come off a war footing — that winning was the only option. Only recently has he calibrated to the reality that he's "no longer dealing with matters of life and death."
On the trail, he could sound like an overzealous Army recruiter, telling the New York Times, for instance, that the Pentagon provides young people "levels of empowerment that you could never find anywhere else." He told voters about the explosion that left him injured but spun it as a case study in bipartisan deal-making, because Congress made his vehicle far safer than when it first shipped out. Thanks to conservative Staten Islanders willing to vote for a Democrat with a Bronze Star and Purple Heart, he was elected to Congress in an upset.
Once in office, Rose stayed on-brand as an unflappable officer, serving on the homeland security and veterans affairs committees. He proved critical in moving the stalled 9/11 victims' fund bill to the House floor and cut through red tape to arrange delivery of the three Staten Island ferries honoring Sergeant Michael Ollis, a borough native killed in Afghanistan while saving a Polish soldier from a suicide bomber. He also demonstrated a hawkish side, opposing his own party's efforts to curtail Donald Trump's war powers as the then-president was spoiling for a fight with Iran. In a sign of the shifting politics of the war in Afghanistan, he was initially reluctant for the U.S. to leave but became one of the few veterans in Congress to support an accelerated timetable for withdrawal.
In early 2020, as he was gearing up for reelection, Rose was deployed with his National Guard to transform a psychiatric hospital on Staten Island into a COVID sick ward during the city's brutal first wave. It reminded him of combat: He told Politico that the virus was like a bomb, both invisible threats that could be lurking anywhere. "The human body isn't built to maintain that level of vigilance," he said. "It wears on you in all different types of ways." That fall, he faced Nicole Malliotakis, a Republican assemblymember from Staten Island, who cast him as a Pelosi-loving, socialist cop-hater and likened him to Bill de Blasio, a borough pariah. She won easily, and for the first time in years, he had no consuming fight in front of him.
After leaving Congress, Rose worked as the Pentagon's COVID adviser for a few months, but he was "bottling too much up," he says, from the combined strain of the pandemic, losing reelection, and unaddressed war trauma. As signs of his internal struggles spilled out, his wife made him an appointment at the Brooklyn VA hospital, where he now receives care weekly. After the Biden administration proposed closing the Brooklyn VA, in March, Rose headlined a rally to defend the facility during which he thanked hospital staff for helping to heal his wounds. "I'm more accustomed to fighting for others," he later told me. "And to actually be the beneficiary of these programs only re-instills in me how incredibly important they are." He is reticent to discuss a diagnosis, such as post-traumatic-stress disorder, and remains reserved when it comes to describing the worst details of his deployment, in part because he's only recently begun plumbing them himself. "You're not looking at a finished product, brother," he says.
Just as Rose hasn't completely overcome his trauma, Brittany Ramos DeBarros still struggles with hers, one she recalled standing next to one of Staten Island's two 9/11 memorials, on the borough's northern tip overlooking Manhattan. The connection wasn't lost on her: Last September, on the 20th anniversary of the attacks, she spoke here to victims' families grappling with their loss and, in some cases, for "the ways that that loss has been politicized and weaponized to promote further violence."
Originally from Texas, Ramos DeBarros joined the Army in 2010 believing in the mission in Afghanistan, despite warnings from her mother, also a veteran. She decided to enlist because the military's support would be the only way to fulfill her dreams of a college education. When she deployed to Afghanistan in 2012, the same year as Rose, her unit was focused chiefly on closing down Army outposts. Her unit was also tasked with building community relations, but she felt the Army was contributing to greater radicalization.
Once, she recalls, an Army commander became frustrated that Afghans weren't cooperating, deeming them loyal to the Taliban, and was eager to organize a night raid of their small village. She reasoned that they were scared of the Taliban and unsure of the Army's desires. So she postered the village with pleas for information, which provided the Army useful intelligence, including the locations of IEDs that were killing American soldiers and Afghan civilians alike. "The spirit of protecting Afghan people was so absent," she says, likening the soldiers she served with to "cowboys" eager to "roleplay Call of Duty." On top of it all, she says she was sexually harassed and assaulted by a subordinate.
Her first public turn against the war occured years later, when she was on the Army's payroll as a reservist. In 2018, she tweeted out a series of missives against "the horror being carried out by our war machine for profit," remarks that sparked a Pentagon investigation. Then she was arrested for protesting the militarization of the U.S.-Mexico border. (In 2019, she danced burlesque at a fundraiser promoting peace, a performance the New York Post derided as a "captain showing her privates.") Around that time, she became a leader inside the Poor People's Campaign, then served as executive director of About Face, an activist group of post-9/11 antiwar veterans. She's quick to inveigh against America's propping up the brutal Saudi-led war in Yemen, a direct appeal to the district's thousands of Arab speakers, many of them with Yemeni roots.
When it came to politics in her adoptive home of Staten Island, Ramos DeBarros initially bristled at Rose's first campaign, which featured camo yard signs and what she calls other "machismo military vibes." Even though his self-spun image was upsetting, she knocked on doors for him. When asked why, she answers that she felt that he'd be a reliable Democrat. Today, though, she attacks him as an ally of Republicans, citing his initial opposition to Trump's second impeachment following the attack on the Capitol and his backing of the NYPD. Rose declines to speak much about her, saying he regrets wallowing in "the mud of negative politics" during his 2020 race against Malliotakis, but not before saying Ramos DeBarros's unsparing brand of politics is "out of touch with reality."
Ramos DeBarro believes the same about Rose's rhetoric, seeing his trumpeting of the military's building COVID field hospitals and vaccinating civilians as a negative consequence of starving other necessary government services. "When it comes to public health infrastructure, the only option we have is the National Guard?" she asks incredulously. Her more expansive view of government is shaped through the benefits she's received as a veteran, such as the low-interest VA loan used to purchase her home and the VA's universal health-care system that she wants to recreate with Medicare for All. She's also pointed out that even though military veterans enjoy America's most generous safety net, it remains insufficient. At a recent outreach event in Sunset Park, which is heavily Latino, she stressed her identity as an Afro-Latina who grew up poor and, in a booming but hoarse voice, she called on the government to starve "the corporate war profiteers" and invest in universal child care.
Both candidates have been running in what's practically been three different districts so far this year, after the map was redrawn twice for the 11th Congressional District covering Staten Island and a swath of southern Brooklyn. First, the Democrat-led legislature gerrymandered the district to be more blue, mostly by wedging Park Slope inside of it, in the hopes of dooming Malliotakis. That map was recently thrown out by a judge citing political "bias" and redrawn by a nonpartisan expert. The new lines are more liberal than the ones Rose worked with in 2020, but the district's heart is still Staten Island, which supported Donald Trump for president twice, but it counts more registered Democrats than Republicans and is quickly diversifying. It also has the highest union density in the city and the first organized Amazon warehouse in America.
War is far from the only issue on voters' minds, but it is less distant on Staten Island, which endured a disproportionate toll on September 11 — it  has nearly 200 streets named in honor of first responders who died that day — and the wars in Iraq and Afghanistan. Danny Sjursen, a retired U.S. Army major and antiwar scholar who supports Ramos DeBarros, recalls residents encouraging him years ago "to kill one for me" overseas. "On Staten Island," he says, "it always feels like September 12th."
While Ramos DeBarros has been organizing for many more months than Rose, she remains the underdog. Rose's edge comes from his recognizable name, his hefty war chest, and a slew of endorsements, including from Pramila Jaypal, the chair of the House Progressive Caucus. Whoever wins the August primary will have an uphill climb against Malliotakis, a Republican incumbent in a Republican-leaning district in a tough year for Democrats, who like her opponents is also appealing directly to the borough's veterans. President Biden's approval rating started crashing around the time of the U.S. withdrawal from Afghanistan that allowed the Taliban to roll back into power, even though a  majority of Americans supported the withdrawal, including Bob Ollis, a Vietnam veteran whose fallen son's name is now painted across the Staten Island ferry.
Ollis says he opposed the war before his son perished, largely because he saw in it echoes of the failed conflict in Vietnam he'd fought in. "War is near the bottom of the list for most voters and politicians," he says. "They don't care because they're not involved in it."