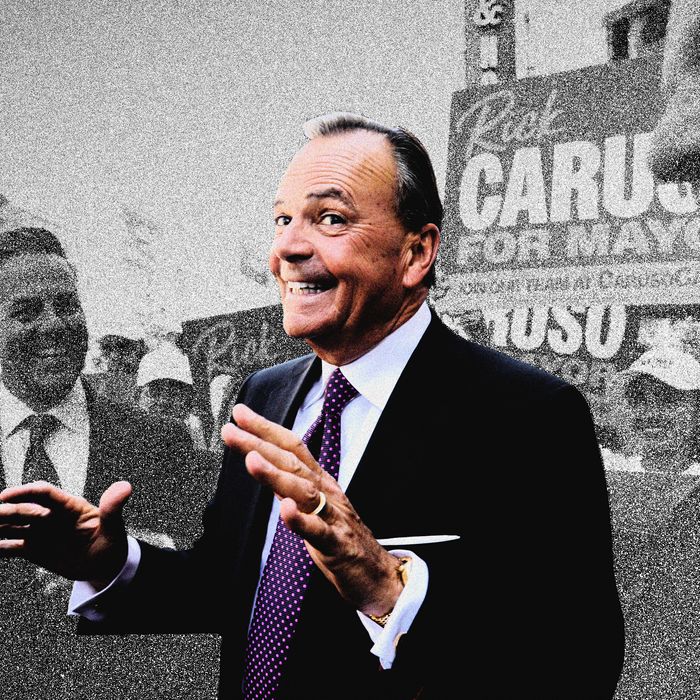 Photo-Illustration: Intelligencer. Photo: Genaro Molina / Los Angeles Times via Getty Images
This article was featured in One Great Story, New York's reading recommendation newsletter. Sign up here to get it nightly.
The people of Los Angeles cannot escape Rick Caruso's face. The billionaire mayoral candidate has plastered the city in his likeness, a grinning visage so astonishingly tan it glows like the burnished leather of his Gucci loafers. He stares back at us from our mailboxes, flashes a smile as we scroll past headlines on our phones, and pops in for a quick chat before every YouTube video we watch. It feels particularly ridiculous because most Angelenos probably know who he is, even if they don't know him by name: Caruso has spent three decades building wildly popular outdoor malls throughout the region with dancing fountains and clanging trolleys that make the high-end retailers (almost) beside the point. Yet when he takes a slow walk around his flagship property, the Grove, on a Thursday afternoon, he slips by unnoticed. As Dean Martin warbles on cue — "Let's fly way up to the clouds/Away from the maddening crowds" — Caruso, in a crisp navy suit and pale-blue tie, winds his way down the immaculate car-free street, past the pastel sports bras of the Athleta store and toddlers picking over a square of soft grass, where jacaranda trees drop juicy lavender blossoms that Caruso's employees will whisk away by morning. As one shopper observes when I ask if they know who he is: "He just looks like a rich guy." Not until Caruso's golden retriever begins ferociously barking at two babies on the lawn is he finally recognized. After handing the dog's leash to a handler, Caruso flashes the campaign grin as he poses for a photo with the babies. He is, after all, running for mayor. And, in many ways, so is the Grove.
"You go to the Grove, it represents everybody in this great city of ours. It's every background. It's every color. It's every creed," he told the Los Angeles Times editorial board earlier this year. Often compared to Walt Disney, the 63-year-old is known for a similar pseudo-urbanism that's equal parts utopianism and nostalgia. "It's all about this golden age," says author David Ulin, who spent a lot of time with Caruso and the Grove for his book Sidewalking: Coming to Terms with Los Angeles. "It's a throwback to this fantasy 1940s and 1950s Americana." Which is, not coincidentally, the name of a Caruso property in the adjacent city of Glendale. When he began developing the Grove, for example, Caruso took a team of architects and urban designers to his favorite cities — mostly European ones — measuring details like street widths to conjure the idealized urban form, says Ulin. "He thinks about the quality of the city through a process of what to quantify, as if it can be boiled down to a formula." And to complete the persona of L.A.'s self-appointed city-builder, Caruso has been considering a mayoral run for almost as long as the Grove has been open: 20 years this year, proclaimed by gold signage in towers of hot-pink petunias that dot the property. "I do actually think, in his own mind, in his own mythology, he's running because he wants to give back. Even as a private developer, he thinks about it as a type of civic responsibility," says Ulin. "But he's thinking about the fabric of a city that never existed in L.A."
Or maybe it did for Caruso, in a way. Raised in Beverly Hills, his father founded Dollar Rent a Car shortly after he was born (and later spent a year in L.A.'s county jail for fraud, which Caruso says taught him the importance of accountability). After attending the University of Southern California and Pepperdine, Caruso leveraged his family's wealth to make his own real-estate deals. His net worth is about $4.3 billion — he had a Gulfstream with the "C" of his signature on the tail and has a superyacht named Invictus — making him one of the largest private developers in the country. His newest project is a hotel just up the coast in ritzy Montecito, where the gift shop is run by one of his most famous endorsers, his friend and business partner Gwyneth Paltrow. A longtime Republican and GOP megadonor, Caruso joined the Democratic Party just 19 days before declaring his candidacy; his campaign materials, all in shades of blue, helpfully identify him as "Democrat Rick Caruso." Since announcing his run in February, Caruso has poured nearly $30 million of his own money into his campaign, yet he has declined to participate in many public debates, and grants few interview requests, including one for this story.
Most of L.A.'s likely voters have probably been to the Grove — Caruso says the property sees 20 million annual visits, more than Disneyland — or to the Americana, or to Palisades Village, a more upscale version of the Grove near Caruso's own home in tony Brentwood. In campaign ads, the Grove makes a cameo with a shot of the queue in front of the Cheesecake Factory — the voice-over identifies Caruso as the creator of L.A.'s "most beloved community centers" — and the address listed on mailers for his campaign headquarters, 101 The Grove Drive, reinforces the connection. L.A.'s races are nonpartisan in structure, so the top-two vote-getters in the June primaries will face off in the November general election regardless of affiliation — the current mayor, Eric Garcetti, is termed out and may or may not be heading to India as a Biden ambassadorial appointee — but if any candidate wins 50 percent of the vote in June, that person becomes mayor outright. Right now, despite outspending her by ten to one, Caruso is neck and neck in polls with South L.A. congresswoman Karen Bass. But at the Grove, when I overhear two people having a late lunch at Nordstrom's café mention Caruso, I feel like it's a conversation being replicated across the city. "Did you know he's running for mayor?" one asks. The other person doesn't. "Who else is running?" Neither of them knows.
In a city that lacks basic civic infrastructure and accessible public space, the Grove provides a peek into an alternate reality where L.A. actually took care of itself. Pedestrianized streets. Seamless sidewalks. Reliable transit. Shady trees. Bathrooms that are not just clean but are part of an entire complex with baby-changing rooms, breastfeeding rooms, child-size toilets, chalkboard walls, and movies playing on a giant screen. (My children once spent a drizzly afternoon in an identical family room in the Americana contentedly watching Zootopia.) Yes, in theory, the Grove represents the dystopian future where billionaire developers have cordoned off our public spaces into oversurveilled fortresses. But in reality, elements of this future are very appealing to Angelenos. That's why they go there. If they don't readily admit that they do, they're lying. Everybody loves the Grove.
There is, of course, a catch. A bronze plaque placed at the Grove's southern entrance spells out the house rules: "The Grove is private property and has not at any time been dedicated to public uses," it reads, ticking off an 18-point list of activities from which visitors must refrain. The language is oddly specific — "Sitting on floors, handrails, stairs, escalators, trash receptacles and other areas not specifically designed for seating" — and also familiar. Over the last few years, L.A.'s parks and even entire streets have been gated off and heavily patrolled in an attempt to keep public spaces free from protesters, street vendors, and the 44,000 unhoused people who have nowhere else to go. Businesses have erected fences and hauled planters onto sidewalks to keep homeless encampments from encroaching. Now a new local ordinance, 41.18, which Caruso supports, allows the city's 15 councilmembers to specifically denote areas where it is illegal to "sit, lie or sleep in or upon any street, sidewalk or other public way." New signs are posted every week, broadening the swaths of L.A. that fall into these enforcement zones. The Grove has been criticized for turning its back on the "real" L.A. around it, but in reality, L.A.'s public spaces are becoming more like the Grove.
What Caruso is proposing for L.A. is not as much a departure from current policy as it is a doubling down. His platform lays out three problems, all of which he promises to sweep away: encampments, crime, and corruption. Caruso's formula is shrewd: 30,000 shelter beds built in 300 days, which, added to the existing 14,000 beds, will be enough to make 44,000 homeless Angelenos disappear. Caruso will also add 500 sanitation workers to clean the sidewalks when they go and — most critically — 1,500 more LAPD officers to make sure they don't come back. These types of promises to eliminate chaos and disorder have won elections in many big U.S. cities over the past year. But Caruso is the only one with a physical case study to show for it. As the mayoral field narrows, Caruso summons the former candidates who seek to endorse his campaign inside his walled garden with its piped-in show tunes to declare allegiance to him: Together, we are going to clean up L.A.
On May 30, 2020, less than one week after a Minneapolis police officer murdered George Floyd, the Grove was on fire, a plume of black smoke rising alongside the Art Deco neon sign. Storefronts were breached throughout the neighborhood, including seven in the Grove, but the local broadcast media fixated upon one particular visual in their aerial shots that seemed irresistibly symbolic: a wall of flames pulsing from a charming clapboard kiosk adjacent to the trolley tracks with still-legible brass letters reading "Los Angeles Police Department." The police station had been installed in 2016 by Caruso, who claimed that the Grove's "strong police presence" had reduced crime by 40 percent. Just two weeks after the protests, the Grove reopened without a trace of unrest: storefronts repaired, a new police kiosk (now painted white), and an apology from Caruso for not doing more to advance racial justice: "I've tried my best over many years to help in the best way I know how to support and work with organizations that serve the most underprivileged children in Watts. I realize now that I need to do more and haven't done enough and for this I am sorry." But his tone changed significantly in an interview days later with the Los Angeles Times, which had published Caruso's letter, as he excoriated L.A.'s city leaders for not better protecting his property: "Their overwhelming statement that was made to me was, 'I am doing the best I can do.' And my response was, 'If this is the best you can do, you should not be in office. The city deserves better.'"
The blame leveled against the city's leadership was puzzling because the way L.A. is currently policed can be somewhat attributed to Caruso. Even though his campaign tries to portray him as a relative outsider in city government, Caruso served two terms as president of the Los Angeles Police Commission, notably using his developer connections to build a brand-new LAPD headquarters across the street from City Hall. In 2002, Caruso led a campaign to oust the city's second Black police chief, Bernard Parks, and replace him with William Bratton, whose broken-windows policing style greatly expanded the predictive policing tactics that targeted L.A.'s Black and brown communities. (Bratton, who served as NYPD chief both before and after his L.A. turn, has endorsed Caruso.) Caruso also founded and financially supports a community-policing program in Watts, Operation Progress, which pairs students at Catholic schools who live in public housing with LAPD officers as mentors. In 2020, his nonprofit foundation funded a study that was used to justify the citywide expansion of the LAPD's community-policing program, which racial-justice advocates say is state-sanctioned surveillance of L.A.'s poorest neighborhoods.
Last November, a series of high-profile robberies at the Grove received national attention — not necessarily because of what was stolen, but because they led Caruso to secure the Grove's perimeter with coiled wire that many outlets reported was barbed wire (it wasn't). "This crime wave feels different," Caruso told Los Angeles just before he declared his run. "There's a brazenness to the criminals. And I think that, coupled with a lack of competence in the leadership of the city to get this under control, is causing new levels of fear. It's happening in every corner of the city and not in just one isolated part. That's scary." (As in many U.S. cities, homicides in L.A. are way up but nowhere near their peak in the 1990s, and almost every other crime rate remains low.) Earlier this month, during a Zoom forum held by the well-off Encino Property Owners Association, a woman told Caruso that even the Grove was too unsafe to visit. "The Grove, gorgeous," she said. "But we don't go there anymore because I'm nervous about crime." Caruso responded that the Grove, along with all of his properties, is a "safe haven" with "zero tolerance for dirt, chewing gum, graffiti," and "visible security" that sends a message of "don't mess with us" to outsiders. "I am a clean freak," he said. "I like creating environments where people feel welcome and happy and safe. And people feel welcome and happy and safe when you have a clean environment."
Those Encino homeowners have benefited directly from Caruso's efforts. In 1994, after the Northridge earthquake, he worked closely with the group to transform an "eyesore" property that developers had attempted, unsuccessfully, to build on for years. (A majority of the properties that Caruso owns are not Grove-like; they're just regular strip malls that he's upgraded.) By listening to and addressing homeowner concerns — when they had questions about landscaping, he rented a bus and took them to a nursery to choose trees — Caruso was able to fast-track construction, opening the Stores at the Encino Marketplace in six months. There are versions of this story for every property Caruso has developed. For the Grove, he pruned back the square footage when neighbors wanted a more intimate three-story streetscape. For Palisades Village, he held 100 public meetings, a simply unheard-of level of engagement. "Long before we draw up an architectural plan or meet with a city official, we first meet with the most active people in the community — often in their own living rooms," Caruso wrote about his approach. His company then pours even more money into local groups to "further support the economic stability of its properties' respective communities," donating to police and fire departments, chambers of commerce, churches, synagogues, hospitals, and schools — which also cements his influence where he is building. "The thing I'm most proud of about our properties is that they get really woven into the fabric of the community," he said in 2010. "People go jogging through, walking their dogs or their kids, meeting friends. People never buy a thing; that's fine. It's their little downtown."
But in Caruso's L.A., which communities get "their little downtown" depends heavily on the Zip Code. All of his properties are located in the wealthier, whiter communities in the northwest corner of Los Angeles — there is no Grove south of the 10 freeway. Yet for the past decade, the city of L.A. has highlighted an urgent need for families in Watts: to replace the neighborhood's crumbling public-housing facilities. A $1 billion redevelopment project is now under way, bringing 1,400 units of new apartments and townhouses, mixed-use retail, and, at the center, a park. It's a development that's evocative of the Americana, Caruso's Glendale mall, where he built hundreds of apartments and condos over the storefronts. Helping to realize the same type of mixed-use development in Watts would have made use of Caruso's wealth and experience, the same way he secured a new headquarters for LAPD. When Caruso proposed a luxury residential tower one mile west from the Grove a decade ago, it took intense pressure from the local neighborhood council for him to carve out 14 of the 145 units for income-restricted households (the project has still not been built). At a mayoral debate, rival candidate Bass, who began her career as a community activist in South L.A., asked Caruso directly why he hadn't built affordable housing. He answered, "My choice was not to be building units, but to be preventing families from ever ending up on the street." But should they end up on the streets, under Caruso's plan, they'll be given two options: a bed in a tent city — he's cited as an example Fort Bliss, where migrant children separated from their families during the Trump administration were housed — or a jail cell. "You have to do temporary housing," he told ABC7. "So, you're going to offer the bed once. You're going to offer the bed, maybe twice. The third time, you're going to say, 'I'm sorry, you've now broken the law.'" 
The truth is that every neighborhood in L.A. desperately needs a version of the Grove: pollution-free streets, a misty fountain, well-maintained trees — heck, maybe even a Nike store? — all surrounded by new, dense, affordable housing. But the reason Caruso isn't running on a Grove-for-all platform is because he doesn't think every neighborhood should have one, says Jody David Armour, a law professor at the University of Southern California. "He looks at the people on the right side of the tracks — or freeway, in this case — as human beings who want to flourish, and promotes their flourishing by giving them spaces to allow them to prosper and feel good about themselves," says Armour, author of Nigga Theory: Race, Language, Unequal Justice, and the Law. "On the other side, he sees these people who are broken or deficient, and they need police intervention." Armour points to how L.A. voters overwhelmingly approved a shift away from this approach in 2020 by electing the reformist district attorney, George Gascón (who is currently facing a recall effort, which Caruso supports), and by voting for Measure J, which diverted county money away from jails and into a "care-first" fund for youth programs, job creation, and housing.
The tallest building Caruso has built in L.A. so far is the Grove's parking structure, which has one of the best views in the entire city. On a clear afternoon, I climbed up eight floors of cars — this is the secret to those neat car-free streets — where signs on the top deck immediately instructed me to leave: "No loitering or photography on the 8th level." After peering down into Caruso's SimCity — the clock tower struck the hour, fountains jetted in sync to "The Girl From Ipanema," a family on the lawn unfurled navy fleece blankets embroidered with the Grove logo — I looked the other direction at Pan Pacific Park, right across the street. It's one of the nicer city parks and, like the Grove, filled with people at all hours of the day. But as the Grove has thrived, it's been starved of resources: The grass is worn thin; the library is dated; the public pool, open only four months a year, is filled with graffiti. The bathrooms, one with a baby-changing table hanging at a precarious angle, are locked at 5 p.m. I stood there, looking just beyond the Grove's walls, and wondered if Caruso had ever continued his walk just across the street to see what it was like for himself.
Correction: A previous version of this story stated that Parks was the city's first Black police chief.