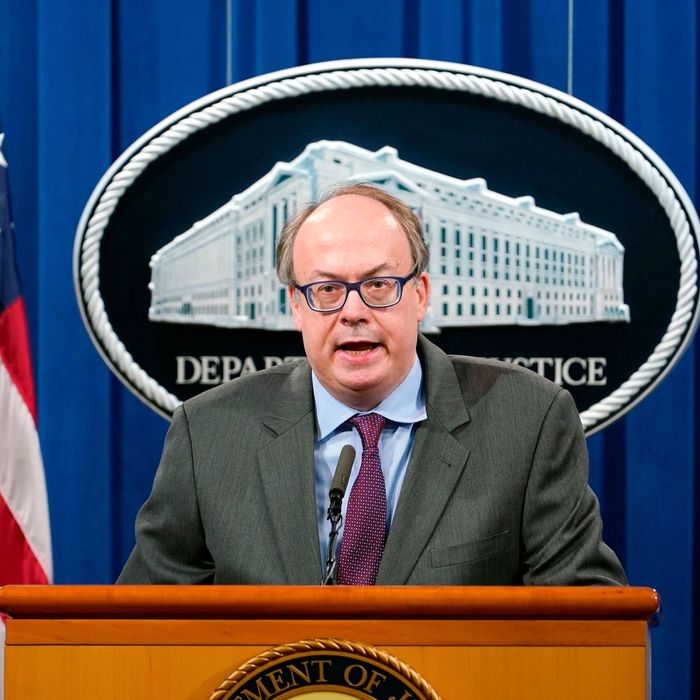 Jeffrey Clark, assistant attorney general for the Environment and Natural Resources Division, speaks during a news conference at the Justice Department on September 14, 2020.
Photo: Susan Walsh/Pool/AFP via Getty Images
In the murky story of the strange days in the Trump administration just prior to the January 6 insurrection, it has long been known that an obscure acting director of the Justice Department's civil division named Jeffrey Clark pushed himself forward as someone willing to do Donald Trump's dirty work. But as the House select committee on January 6 prepares to hold a hearing focused on Trump's efforts to use the Justice Department to overturn the election results, the Washington Post's Michael Kranish has dug up new, wild details on the Clark story.
Clark, it seems, repeatedly circumvented the chain of command to meet directly with Trump and suggested that if the president would fire the acting attorney general and put him in charge of the Justice Department, he could execute his schemes to steal the election from Joe Biden. Clark also drafted a letter encouraging Republican legislators in six states to usurp the election results, and he demanded an intelligence briefing on the wild theory that China was "controlling U.S.-based voting machines via internet-connected smart thermostats, a theory that the Justice Department had dismissed as not credible."
In a climactic January 3, 2021, Oval Office meeting attended by Acting Attorney General Jay Rosen, his deputy Richard Donoghue, and other top brass from the Justice Department and the White House legal counsel's office, Clark made his final play. Per the Post:
As Rosen and Donoghue listened, Clark told Trump that he would send the letter if the president named him attorney general.




"History is calling," Clark told the president, according to a deposition from Donoghue excerpted in a recent court filing. "This is our opportunity. We can get this done."




Donoghue urged Trump not to put Clark in charge, calling him "not competent" and warning of "mass resignations" by Justice Department officials if he became the nation's top law-enforcement official, according to Donoghue's account.




"What happens if, within 48 hours, we have hundreds of resignations from your Justice Department because of your actions?" Donoghue said he asked Trump. "What does that say about your leadership?"
Trump, frustrated by the lawyerly refusal of his subordinates to tamper with state election prerogatives, was clearly tempted to put Clark in charge of the machinery of the U.S. justice system. In the January 3 meeting, he told Rosen and Donoghue, "You two haven't done anything. You two don't care. You haven't taken appropriate actions. Everyone tells me I should fire you."
But the threat of mass resignations dissuaded Trump at the crucial moment. Rosen and Donoghue, Kranish reports, were contemptuous toward Clark, as one might expect when an unqualified underling tried to leapfrog them into a Cabinet post. Alluding to Clark's background as an environmental lawyer, Donoghue said, "How about you go back to your office, and we'll call you when there's an oil spill."
So Trump took a pass, per Kranish:
"I appreciate your willingness to do it," Trump said [to Clark], according to Donoghue. "I appreciate you being willing to suffer the abuse. But the reality is, you're not going to get anything done. These guys are going to quit. Everyone else is going to resign. It's going to be a disaster. The bureaucracy will eat you alive. And no matter how much you want to get things done in the next few weeks, you won't be able to get it done, and it's not going to be worth the breakage."
Kranish also looks into the possible authorship of Clark's communications to both his superiors and Trump on election matters, suggesting that Clark's legal counsel, Kenneth Klukowski, a former Breitbart News legal analyst and author of an anti-Obama book, might have concocted them. If that's true, then a lower-level schmo whispering thoughts into the ear of his opportunistic boss very nearly produced another Saturday-Night Massacre at the Justice Department, not to mention an unprecedented White House–approved interference in the state appointment of presidential electors.
Trump went on to play his final two cards in the three days before January 6, pushing Mike Pence to abuse his position in order to stop the confirmation of Biden's victory and then inciting a mob to interrupt the congressional proceedings in the event that Pence refused. But the scene in the Oval Office on January 3 showed how far Trump was willing to go in abusing his own power and encouraging his underlings to do things they clearly considered unconscionable, even by the low standards of the Trump administration.
Kranish's story was likely timed as a curtain-raiser for the House select committee's next public hearing, now set for Thursday after being delayed by one day. It's unclear whether the committee has testimony from Clark himself, as the Post notes:
The House committee unanimously voted to hold Clark in contempt of Congress after he declined in December to answer most questions on grounds that his interactions with Trump were privileged. But Clark later appeared before the committee and asserted his Fifth Amendment right against self-incrimination, CNN reported; his testimony from that appearance has not been released.
This unlikely star of a key incident in a constitutional crisis clearly has plenty to spill.