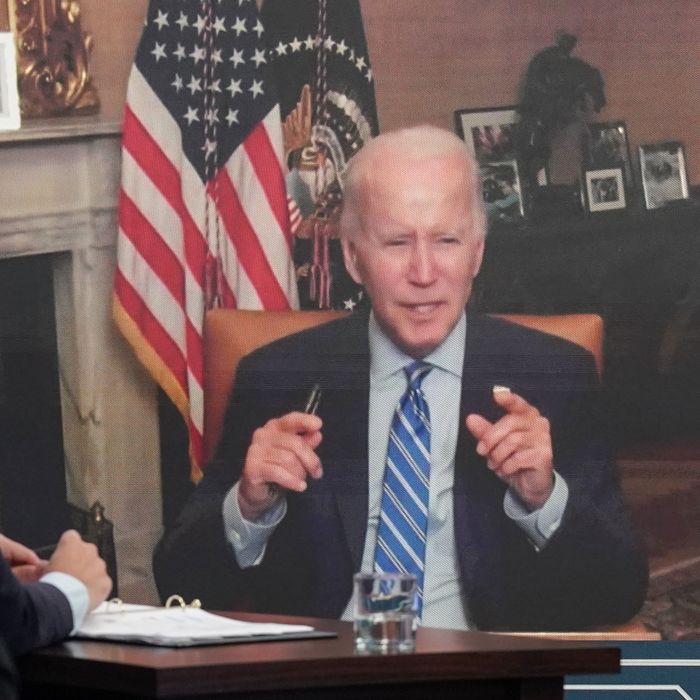 Photo: Jemal Countess/UPI/Bloomberg via Getty Images
President Biden has tested negative for COVID-19 twice and can end his isolation protocols, according to his doctor.
Dr. Kevin O'Connor, the president's physician, wrote in a letter released today that Biden tested Tuesday evening and this morning and that his symptoms are "almost completely resolved." Yesterday, O'Connor informed the public that Biden had completed his course of Paxlovid, the COVID-19 anti-viral. Due to the potential risk of a "rebound" infection following the use of Paxlovid, Biden will still undergo increased testing.
Though Biden will be leaving isolation, his physician said he will be mindful of any potential risk to White House staff or members of the Secret Service.
"For this reason, he will wear a well-fitting mask for 10 full days any time he is around others," O'Connor said.
Following the release of his doctor's letter, Biden took to Twitter to confirm the news, sharing a photo of his completed COVID test.
"Back to the Oval," Biden said. "Thanks to Doc for the good care, and to all of you for your support."
Biden, who is fully vaccinated and has received two booster shots, first tested positive for COVID last week and has largely been experiencing mild symptoms that allowed him to continue to work — albeit remotely. He completed his fifth day of isolation on Tuesday.
The president isn't the only politician in Washington, D.C., to be sidelined by COVID recently. An outbreak has hit the Senate, where Joe Manchin of West Virginia and Lisa Murkowski of Alaska announced this week that they'd tested positive. Senators Tina Smith of Minnesota and Tom Carper of Delaware recently returned to the chamber following bouts with the virus, and Senate Majority Leader Chuck Schumer was out for several days after contracting COVID earlier this month. The spate of cases comes just as senators prepare to consider several new measures — including a reconciliation bill to address prescription-drug pricing and another to codify same-sex marriage into law. With Democrats holding onto the slimmest possible majority, any absence on their side of the chamber will be keenly felt.