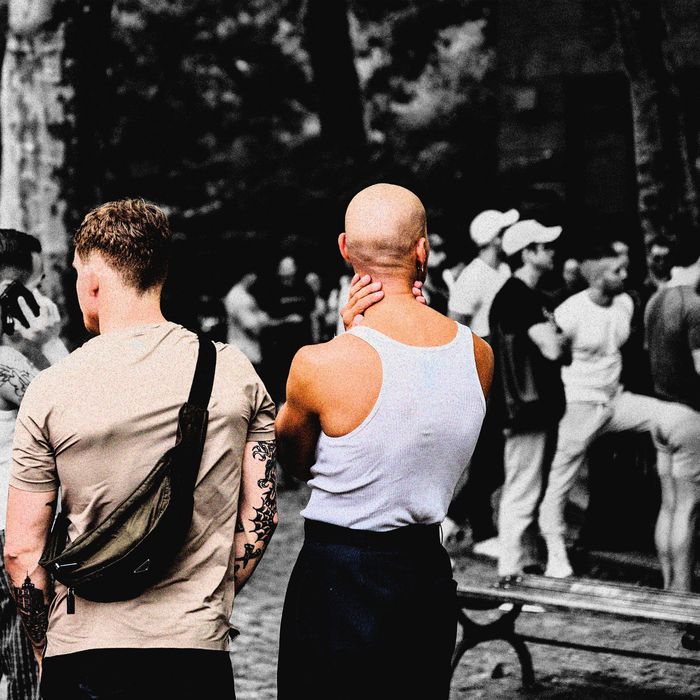 A long line of people seeking monkeypox vaccinations outside the Chelsea Sexual Health Clinic in New York, June 23, 2022.
Photo-Illustration: Intelligencer. Photo: Hiram Durán/The New York Times​/Redux
June 23 started out typically enough for Nash Glynn. The artist was working on a new painting in the studio corner of her Manhattan loft, while the classical sounds of WQXR played from a MacBook propped open by her easel. Then a momentary dip into Instagram to check the latest Story updates snapped her out of her daily routine. Everyone she knew seemed to be posting about the same thing: The Chelsea Sexual Health Clinic was vaccinating people against monkeypox, a cousin of smallpox that causes painful lesions, among other symptoms, and demands weeks of isolation while contagious. Some were urging their followers to get down there now before all the doses were gone. Others, who had already rushed over to claim a space in line, were posting pics of the harried scene outside the clinic or were warning each other it was too late.
The news surprised Glynn, as it did countless other New Yorkers. It was the first time since the beginning of this particular viral outbreak that the city had been offering vaccines to guard against it — 275 shots of Jynneos were administered out of the thousand doses allocated from the federal government, we'd later learn — and it seemed to be handled with the spontaneity of a Supreme drop. After sending out a news release just before noon, the Health Department metaphorically jetted off to its Hamptons house for the weekend, thereby letting the burden of effective messaging fall to those of us who wanted friends and family to get the vaccine but had no idea what the fuck was going on.
This telephone-game-style communications strategy foreshadowed the shitshow to come: subsequent appointment drops snatched up within minutes; inscrutable distribution methods for the vaccine and anti-viral drugs alike; well-intentioned eligibility protocols prioritizing "men who have sex with men" at the expense of trans women (like Glynn) and other queers at equal or greater risk of exposure; an ongoing lack of seemingly crucial information, like how and where to get your second dose of the vaccine; ugly, outdated websites; hearing Eric Adams speak — the indignities really are endless.
Thankfully for Glynn, she immediately opened her Find My Friends app, hoping she'd spot a familiar avatar floating outside the Chelsea clinic. As luck would have it, one of her friends was already over there, so she called him up, asked if she could get in line with him, and dashed over to 28th and Ninth as fast as she could.
She was greeted by about 80 to 100 "stressed-out-looking gays" wrapped in circles around the World War I memorial statue in front of the facility. "An actual spiral," she laughed, one that moved so slowly you'd only realize "after an hour or two that you'd moved like ten feet." Despite the chaos swirling around the Chelsea clinic, Glynn's description of arriving at the vaccination site sounded not unlike walking into the eye of a storm. There was some tension, of course.
"One boy was mad because his boyfriend forgot to bring brownies," said Glynn, who is a friend of mine. "I was just eavesdropping on all the drama, like, 'Oh, there's that person I hooked up with on Grindr.'" Most of the people there, including the clinic staff, were friendly and in good spirits. It was the final week of Pride month, she noted. As an added morale-boosting measure, Glynn whipped out the bubble wand she always keeps in her purse and started blowing bubbles. "Just to cheer people up," she said. "It really works. All those boys are very easily entertained."
The monkeypox outbreak isn't endemic yet, but an unwelcome sense of déjà vû — a palpable "Really? Again?" — courses through the city, from its organizing circles to its intimate conversations. After COVID and HIV, is the government going to fail to contain another epidemic? One medical provider in New York City with experience treating patients who've contracted monkeypox told me they were frustrated by the lack of necessary action that remains untaken.
"We have the health-care-worker knowledge, and the community's motivated to get enough people vaccinated, so that cases can fizzle out," said the provider, who I agreed to let speak anonymously in exchange for their frankness. "But I'm not optimistic that the people in higher levels of government, the ones who control who gets vaccine doses, will get enough people vaccinated before this spreads so much that we can't end this outbreak."
More than 1,800 people have tested positive for monkeypox nationwide, and over a third of those cases were diagnosed in New York City. After weeks of measly appointment drops at a limited number of vaccination sites — and who knows how many dated Stefon-from-SNL references about them being "the hottest club in New York" — the federal government has now promised to send an additional 25,693 doses of the Jynneos vaccine to the five boroughs, which the Callen-Lorde Community Health Center has dubbed "the epicenter" of the nation's monkeypox outbreak. It's unclear at the moment when that shipment will arrive.
The unnamed provider I spoke with told me that they and their colleagues have been treating patients with likely monkeypox infections for months now and that those suspected cases have been rapidly increasing in number. "We used to see maybe one to two people in a week with suspected monkeypox," they said. "Now each one of us is seeing multiple people a week where we have a reasonable suspicion."
Confirming cases has become much easier in recent weeks as private labs have begun offering testing, at least. But until that time, providers had to request approval for testing through the city's Health Department. "It felt like they were trying to minimize our suspicions," the provider said. "We undoubtedly missed cases. We have seen a range of severity and illness, a range in the number of lesions, some people with only one visible lesion, other people with tons. It really seemed like they" — meaning the Health Department — "was trying to say, 'Hey, is this herpes? Is this syphilis?' Anything they could do so that we couldn't test for monkeypox. It felt like March 2020, when no one wanted to test for COVID."
That's not the only regrettable historical precedent the provider has seen cropping up again. They have observed a lack of "purposeful outreach to communities" outside of the wealthy white enclaves in and around Chelsea: "It's just bringing up a lot from COVID and HIV and kind of feels like the Health Department learned nothing." The DOH's first 1,000 doses of the monkeypox vaccine were only made available, at least on paper, to "men who have sex with men," cis and trans, with multiple or anonymous partners in the previous two weeks. "We were initially seeing outbreaks among men who have sex with men," conceded the provider. But solely targeting that group fails to consider how "trans women are frequently undercounted any time we do health metrics. Studies and data frequently lump trans women into 'men who have sex with men.' Any outbreak that initially hits men who only have sex with men is always pretty likely to jump to trans women just because of the substantial overlap between portions of the gay male community and the trans woman community. Over and over again in LGBTQI activism, trans women get written out, and it felt like that was happening all over again."
After nearly four hours of waiting, Glynn successfully obtained her first dose of the vaccine, though she wasn't given any information about how to get the second one. "They were just like, 'Come back in a month,'" she said. "No card, no nothing." The provider I spoke with said they'd heard versions of that story before — people who had "managed to get the first dose of the vaccine weren't told how to get the second one, and I have no idea what to tell them," they said. The provider added that they're similarly adrift when patients ask how to get the first dose. "Right now, getting an appointment seems to require a lot of reloading the website and luck."
Even then, you might be stuck. I heard of a friend who had successfully booked an appointment only to have their clinic close down early while they were still in line, another who lost his date while he was entering his information into the web form, and another who was given a date and day of the week that doesn't actually exist on the 2022 calendar.
So if the city's website-booking system doesn't always work even when it seems to work, what can you do? I guess you could always download Find My Friends, make sure all your friends have also downloaded it, check it 24/7 just in case someone you know is getting vaccinated, sprint over to them when they are, and pray that a sinkhole doesn't swallow up the site before you get there. I asked Glynn if she had any other advice beyond that impossible-to-replicate series of improvised leaps of faith.
"None," she told me. "I have no idea."