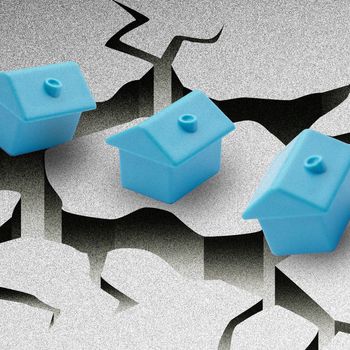 Photo-Illustration: Intelligencer; Photos: Getty Images
What is to be done about inflation? The Biden administration is desperate to find an answer before the bruising midterms. Energy and food prices, understandably, gobble up plenty of attention — $5-a-gallon gasoline could sink Democrats in the fall. Yet one of the great drivers of inflation has been largely neglected in the national conversation: the skyrocketing cost of rental housing. When it comes to policy solutions, many of the most influential Democrats have been distressingly silent.
The source of a budding humanitarian crisis in cities large and small, rising rents are no longer a New York or San Francisco problem, with the median national rent eclipsing $2,000 a month for the first time ever. Rental apartments in once-affordable cities like Nashville and St. Louis are now far more expensive than ever before. Rent increases were responsible for almost 40 percent of the core consumer-price-index number in May, according to the Council of Economic Advisers. That same month, the median rent in Manhattan broke $4,000, a stunning increase from the pandemic lows of a year ago.
State governments have done little to address surging rents, limited by recalcitrant, shortsighted lawmakers and an availability of funds. The federal government, better equipped to save tenants, can do far more in the coming months and years — if the political will ever materializes. "New York has a terrible housing crisis, but so does every other city in the United States. The federal government has tools that municipalities, even rich ones like New York, really don't," says Gianpaolo Baiocchi, the director of the Urban Democracy Lab at New York University.
The causes of the current rental surge are manifold. Pent-up demand and a move to remote work are changing how and where renters live, with affluent tenants leaving big cities for smaller ones that were once much cheaper, driving up the cost of rent. Housing supply is limited; too few houses and apartments were built in the wake of the 2008 subprime-mortgage crisis and subsequent economic crash. Various localities with overly restrictive zoning prevent the sort of dense construction that could relieve pressure in the market. Coveted Section 8 vouchers, federal subsidies for low-income tenants, are not widely available. And the federal government largely abandoned the cause of public-housing construction in the 1970s and '80s, depriving low-income tenants of affordable stable long-term accommodations. All of this has fed the explosion of homelessness.
Tenant protections, meanwhile, are threadbare. More than 30 states have laws that preempt local governments from passing forms of rent-stabilization or rent control. In many cases, landlords can hike rents as high as the market will bear and evict tenants who won't pay them. An increasing number of landlords and homeowners are not wealthy individuals but sprawling corporations and private equity firms speculating on real estate. "National corporate landlords and private equity got into the housing market because it's almost a guaranteed dividend for them," says Darrell Owens, a policy analyst at California YIMBY, a statewide housing organization. It's a dilemma that also frustrates Katie Goldstein, the Center for Popular Democracy's director of housing campaigns. "At the root of the problem is the corporate stranglehold over housing finance, production, and provision," she says.
The fixes aren't easy. Jumpstarting housing construction is essential, but the costs of materials and labor have ballooned with inflation. Private developers are a vital part of the equation, though state and federal governments must step in to subsidize construction of units for the working-class and poor, since low-income tenants won't turn a substantial profit for them. Goldstein and other housing advocates want to see the Biden administration cut down on the private-equity spending spree, which was aggressively fueled by financing doled out by government-backed Freddie Mac.
The simplest, most straightforward way the Biden administration and Congress could help renters in the near-term is by dramatically expanding the availability of Section 8 vouchers. The housing subsidy for low-income households is a successful program with a very long wait list. For Section 8, the payments typically cover some or all of the voucher holder's rent. Each household, on average, will pay somewhere between 30 and 40 percent of its income on rent. There are more than 5 million people across America using these kinds of vouchers.
Ritchie Torres, a congressman from the Bronx who grew up in public housing, proposed legislation last year that would fund 3.5 million additional Section 8 vouchers and make assistance available to every eligible American within a decade. "The overwhelming majority of homelessness is driven by an affordability crisis, which can be solved," he says. "What is lacking is the political will."
One downside of voucher programs is how landlords handle them. Some illegally refuse Section 8 tenants. Others attempt to raise rents even further in the hope the federal government will make up the difference. A federal rent-stabilization policy, modeled on New York's program, could solve this particular problem. In essence, all tenants could enjoy the right to lease renewal and regulations on how much a landlord can raise rent in a given year.
The public sector used to dedicate far more money to housing. Before and after World War II, the federal government heavily invested in housing to alleviate dire shortages. Subsidized and public housing came to cities across America, but these monoliths could be grim and crime-ridden and in time became symbolic of urban decay. Cities such as Chicago demolished their public-housing stock, but not before offering viable alternatives; homelessness ballooned in the 1980s and 1990s because poor tenants who once had cheap housing had nowhere else to go.
Another catastrophic mistake, in retrospect, was the abrupt movement away from single-room occupancy housing, or SROs. Many cities in the 20th century offered cheap boarding-style housing for single men and women, as well as those struggling financially or with substance abuse. Since SROs could be the sites of crime and drug use, residents and policymakers rallied against them. A large number of localities effectively outlawed SROs; it was no coincidence that New York's homelessness crisis reached new heights in the 1980s and '90s as SROs were converted into high-end hotels or market-rate housing or demolished altogether.
Local governments are growing aware of the desperate need to create more housing supply. The New York and California legislatures have passed laws to make it easier to convert underutilized hotels into affordable housing. There is no federal movement toward building new public housing — the Faircloth Amendment, yet to be repealed, effectively forbids it — but the Biden administration's scuttled Build Back Better legislation did offer $327 billion in new spending for housing, including cash for existing public housing and an expansion of vouchers. The plan allocated $4.5 billion in grants to localities that would change their land-use laws to encourage the construction of duplexes and triplexes on single-family lots. Though the overall funding isn't enough, with New York public housing requiring $40 billion in capital needs alone, passing the legislation would be a help, especially with Democrats forecast to lose their control of Congress in the fall.
Baiocchi at NYU has been working with progressive Democratic lawmakers in the House on spearheading one long-term solution to the housing crisis: social housing. Modeled on programs that exist in Barcelona and Vienna, a New York City Social Housing Development Authority would be created to buy up distressed real-estate assets, rehabilitate them, and take them out of the private market altogether. Tenants in a social-housing development could cooperatively own their units. Federal cash, along with city and state funding, could help jump-start such an endeavor.
To facilitate a social-housing expansion, the federal government could follow the lead of the city of Washington, D.C., itself, which for several decades has had the Tenant Opportunity to Purchase Act (TOPA) on the books. Tenants threatened with displacement through the sale of their building have the first opportunity to purchase the building and remain in their homes. The city offers financial assistance to tenants as well as organizational and development services, such as help with forming a tenants association. A federal TOPA law could give residents everywhere the ability to create their own forms of social housing.
The challenge, as always, is politics. Democrats cling to thin majorities that could evaporate by January. Republicans will thwart any far-reaching housing policy, let alone attempts to pump more cash into Section 8. The next few months, then, are especially crucial — another reconciliation bill, a version of Build Back Better, could be the only federal hope for the housing crisis in the short-term.
If that fails, Torres believes there's still hope for federal action on housing in the future. "It takes time for transformational policies to become law in Washington, D.C.," he says. "It took decades for the child tax credit to become law. I'm under no illusions I'm going to get housing vouchers for all overnight. It's a battle worth fighting."