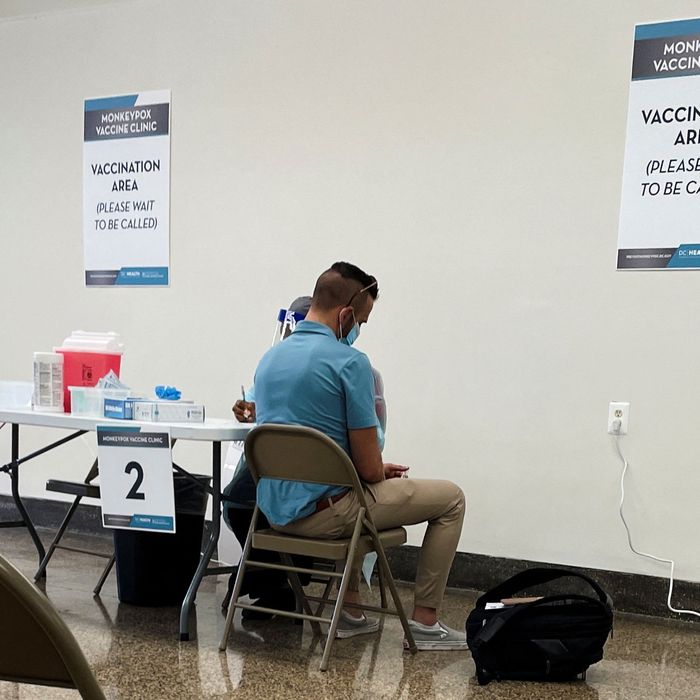 A man receives a dose of the Jynneos monkeypox vaccine in Washington, D.C. on June 28.
Photo: Gavino Garay/REUTERS
Like many gay men in New York City, Mark Hall tried to get vaccinated against monkeypox before Pride festivities and, like nearly everyone else who tried, he wasn't able to get an appointment at the Chelsea sexual-health clinic. Very quickly, the city ran out of its 1,000-dose allotment, as all appointments were booked within minutes and hundreds of men stood in line for hours waiting for a shot. Over the weekend, Hall thought a lesion was an in-grown hair at first, but a few days later, as the painful spots developed around his groin and on his urethra, making him cry every time he peed, he was certain he had monkeypox. The lesions would eventually spread all over his body. Hall, a 41-year-old psychiatric nurse practitioner, alerted the city's health department and the people he'd come in contact with at the Pride parties he'd attended over the weekend. "One person who was in contact with me was able to get a vaccine a few days later," he said. "But it was too late. They got monkeypox — a really bad case."
As monkeypox cases have ticked up nationwide, the White House and federal agencies have repeatedly assured the public that millions of vaccine doses will be distributed to at-risk populations before the end of the year. Yet since the World Health Organization announced the global monkeypox outbreak in May, only tens of thousands of shots have been administered in the U.S. The slow start is due, at least in part, to the fact that 1.1 million doses have been stored in a Denmark pharmaceutical facility while the Food and Drug Administration has taken almost two months to approve their release here, according to people familiar with the situation. FDA officials only began to inspect the facility last week. The lag time, public-health experts say, is indicative of the federal government's lackadaisical approach to a growing public-health emergency.
"My impression is that there is very little coordination and leadership across the U.S. government about what's going on here," says a former senior U.S. official who has been in touch with the White House over the past few weeks about the monkeypox response. "It feels to me like there's nobody in charge of this. Who is driving this forward?"
Monkeypox is a rare disease typically spread by prolonged person-to-person contact, such as sex, that causes feverish symptoms and lesions all over the body that can be intensely painful. The first cases of monkeypox in humans were recorded in West Africa in the 1970s, and nearly all of the subsequent cases had been limited to that region until this year, when monkeypox started spreading across West Africa, Europe, and North America. The current strain likely diverged from a 2018 outbreak in Nigeria and has since gone through many mutations that have increased its transmissibility, according to a study by Portugal's National Institute of Health. Today, there are nearly 7,600 reported cases worldwide with 700 confirmed cases in the U.S. and counting. The vast majority of cases have occurred among gay and queer people who have sex with men, according to authorities, though transmission is not strictly limited to sexual contact.
Since monkeypox is closely related to smallpox, which has been eradicated, vaccines developed to fight smallpox have proved effective against the disease. The U.S. began stockpiling smallpox vaccine for use in the event of a bioweapon attack in the 1970s, and the National Strategic Stockpile now has some 100 million doses of ACAM2000, one of two vaccines the FDA has approved for use against monkeypox. But the drug has a higher risk of side effects and, after vaccination, can lead to serious illness in people who are immunocompromised with HIV — which has a higher prevalence among those most at risk of contracting monkeypox. In 2003, galvanized by the anthrax attack two years earlier, the U.S. government contracted the Danish firm Bavarian Nordic to develop Jynneos, a second monkeypox vaccine with fewer side effects. The FDA approved its use against both smallpox and monkeypox in 2019.
Since the beginning of this year's outbreak, Bavarian Nordic has sent 300,000 doses of Jynneos to the U.S. with two-thirds allocated to states and cities. Those doses had been produced by contractors in Denmark in facilities that were already inspected by the FDA, which is required before a medicine can be distributed in the U.S. But, in 2020, Bavarian Nordic moved its vaccine production in-house and began building a new facility 20 miles north of Copenhagen, where it started manufacturing and stockpiling the 1.1 million doses of Jynneos currently owned by the U.S. Before those doses could ship, however, Bavarian Nordic's new facility needed to undergo an FDA inspection. (FDA inspections are routine for food and drug manufacturers to avoid disasters like the unsanitary Abbott facility in Michigan where bacteria made its way into baby formula, killing two infants and leading to the nationwide formula shortage this spring.) Bavarian Nordic planned to file documents with the FDA in August, with an inspection to follow sometime later in the year, according to a spokesperson; then, the outbreak moved up its timeline.
"In early May, when a case of monkeypox was detected in the U.K., Bavarian Nordic immediately began expediting the submission of the application, and was in constant communication with FDA," a spokesperson for the company wrote in an email on Thursday night. "Both parties made arrangements for an expedited inspection beginning July 1. The inspection is occurring now."
It's unclear why the FDA took so long to send inspectors to Denmark. The agency regularly conducted virtual inspections of drug facilities early in the COVID-19 pandemic, according to the agency's guidance, and public-health activists are demanding answers. "Members of at risk communities are being turned away from monkeypox vaccination because these vaccines are not available in sufficient quantity in the U.S., but instead sitting in freezers in Denmark," members of the advocacy group PrEP4All and Partners in Health wrote in a letter to federal officials overseeing the outbreak response last week.
Compounding their frustrations was the FDA's refusal to accept an inspection done last year by its counterpart, the European Medicines Agency, which deemed the company's facility in compliance with the FDA's own standards.
"The FDA does not grant reciprocity for EMA authorization of any vaccines, for monkeypox or other diseases," a spokesperson for the FDA said in a statement. "FDA expedited an inspection of a company manufacturing facility, as publicly reported. This inspection is necessary to ensure the vaccine meets FDA's requirements, including for quality, which can impact its safety and performance. We do not expect any delay in vaccine availability due to this process."
Now that countries are vying for a limited supply of the drug, the U.S. has ordered an additional 2.5 million doses of Jynneos from Bavarian Nordic. The company recently signed contracts with Germany, Italy, Sweden, and the U.K., according to Politico, and is considering using contractors again to ramp up production, while insisting that the transition to its new filling facility has had no impact on the timely distribution of vaccine orders.
Nowhere has the vaccine scarcity — and lack of urgency — been more apparent than in the city, where the nation's largest single outbreak is underway with confirmed cases of monkeypox up 370 percent in the past two weeks. "It just doesn't seem like anybody's talking to one another," Hall said during a phone interview from his apartment, where he has been quarantining for the past 12 days. "Or if they are talking, that messaging is just failing."