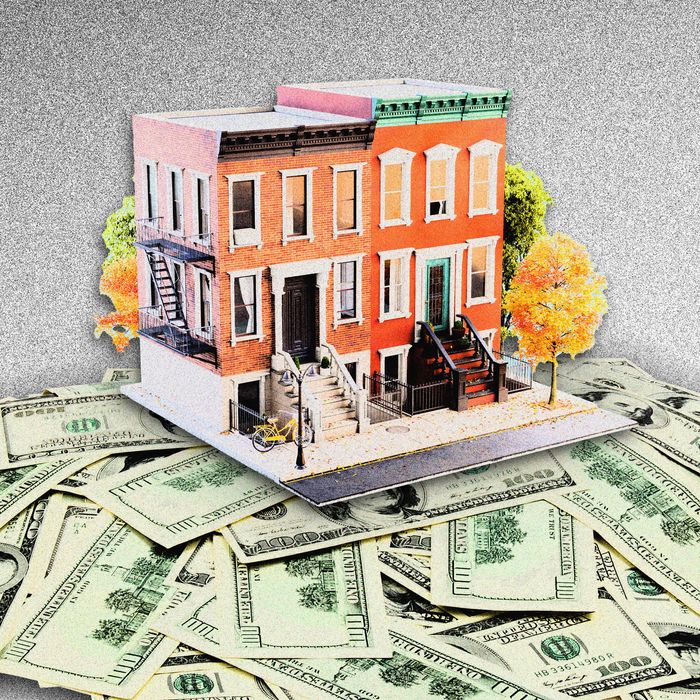 Photo-Illustration: Intelligencer; Getty Images
For a brief moment in New York City, shortly before the devastating outbreak of COVID, renters were granted a rare and unexpected gift. The New York Department of State ruled in February 2020 that landlords, not tenants, had to pay the fee of the broker when renting out an apartment. The payments, which can range from one month's rent to 15 percent of the annual rent or even more, have long been the bane of tenants in the five boroughs who face this unique burden; few other major housing markets in America spare landlords the broker fee.
New York's Department of State had interpreted a provision of the sweeping housing package that passed the State Legislature in 2019, which was the first in decades to grant significant new protections to tenants. Less than a year later, it appeared city renters had been handed the equivalent of manna from heaven, a way to potentially save thousands of dollars while apartment-hunting.
It was not to be. A judge blocked the ruling from taking effect, siding with the Real Estate Board of New York, the prime lobby for the industry that had brought a lawsuit along with other industry interests. The provision was later struck down altogether. Tenants are back now to paying additional hefty fees to rent apartments. A bill to ban the practice has been making progress in Albany but will not pass before 2023.
Tenants in San Francisco, Chicago, Nashville, and almost anywhere else do not pay anyone to show them an apartment. (Boston, industry observers agree, is one of the last broker's-fee holdouts with New York.) Landlords and management companies pick up the expense. While buying or selling an apartment is a complex process that requires the involvement of multiple brokers, renting in the internet age is rather simple. A prospective tenant goes to a website like StreetEasy, browses photos, and books a showing with a broker. If the tenant likes the apartment, paperwork can be signed quickly. Tenants, in most cases, do not choose their brokers, and they are asked to pick up a bill for a service they do not need.
In a moral real-estate market, tenants would not be asked to pay for services they don't require or even ask for. New York City is always a challenge, with demand — outside of a stretch of time during COVID — perpetually high. Now, though, it is overheated to a degree rarely seen in its history. The median Manhattan rent has surpassed $4,000 a month. Bidding wars for rentals, once unheard of, are now becoming common. Tenants who could, with some ease, rent no-fee apartments in all five boroughs are now finding themselves having to pay far more than one month's rent in a broker fee to secure an apartment. Fifteen percent of the annual rent is becoming the going rate for more desirable apartments, with demand high enough that brokers can just send over video tours rather than offer in-person showings.
Brokers and landlords have all the leverage now. And until the law changes in Albany, that will continue to be the case. Pressure on rentals should ease a bit in the fall, as fewer summer interns and seasonal workers scoop up apartments, but the city's supply is still limited enough — the city must build a lot more housing — to keep demand high. The growth of remote work has attracted more affluent renters who want to live in the five boroughs. Landlords, meanwhile, are intentionally keeping rent-stabilized units off the market in an apparent bid to get Albany to alter the 2019 housing laws to make it easier, once more, to charge much higher rents after apartments are renovated.
Democrats control both chambers of the State Legislature, and pro-tenant progressives have more clout now than they ever did before in Albany. But the developer-and-landlord lobby is influential and savvy. Progressives still can't pass the good-cause eviction bill, a sweeping change to statewide housing law that would make it much harder to evict tenants and rapidly increase rents at the point of renewal. Banning the practice of tenants paying broker fees should be an easier lift, according to lawmakers, but it will likely meet swift resistance from real-estate brokerages who do much of their business through the collection of rental fees. Two Democratic Socialists, Jabari Brisport and Zohran Mamdani, are carrying the bill in the State Senate and Assembly, respectively. In the Assembly, where Democrats tend to be more moderate than their Senate counterparts, the bill actually made it out of committee and almost got a floor vote before the legislative session ended in June. In the Senate, the legislation still needs to be pushed further.
Backers of New York's current system argue the cost of the broker fee will just be passed onto tenants through higher rents if the practice of charging tenants is banned. Some brokerages could also go out of business as smaller landlords balk at paying brokers to show apartments. Yet almost every other major American city has managed to maintain relatively healthy real-estate markets without saddling tenants with additional fees. For working- and middle-class tenants, paying another month's rent just to access an apartment is a prohibitive burden. Wealthier tenants in such a system are able to easily compete for the best apartments. Market pressures, rather than broker fees charged to landlords, will probably be what determines rents in the future. When demand fell dramatically in 2020 and early 2021, almost all landlords paid the broker fee and offered other enticements for tenants, like reduced and free months of rent. Renters gained leverage they would later lose when the pandemic waned. By 2023, it's possible the real-estate market will look different than it does now. If Albany follows through and allows New York, at last, to join the rest of America in a fee-free future, tenants will have a rare victory they can cherish for years to come.