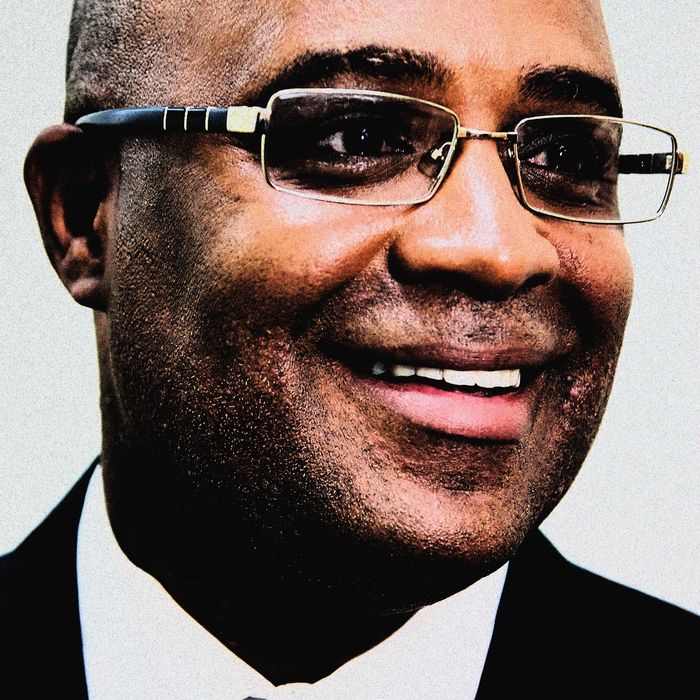 Photo: James Keivom/NY Daily News via Getty Images
After he was elected on a pledge to reduce crime, Mayor Eric Adams announced a new position dedicated to the task. For the first time in three decades, New York City would have a deputy mayor for public safety. In his announcement, Adams said he needed "a partner in government who understands what it takes to keep New Yorkers safe. Phil Banks is that person."
Banks, now 59, had climbed the ranks of the NYPD to become the department's highest-ranking uniformed officer before he abruptly retired nearly eight years ago and was later implicated in a federal bribery case. Despite Banks's checkered history, Adams maintained that he was the right man for the job as the city grappled with a spike in crime that would continue with the subway killing of Michelle Go, the slaying of two NYPD officers, and shootings across the city.
In the seven months since Banks's appointment, however, the deputy mayor for public safety has yet to address the public, even though crime is its top concern: A recent poll showed that more than three-quarters of New Yorkers say they are personally concerned they will be a victim of a violent crime. It is not clear what Banks is doing in his position, leaving observers to rely only on clues dropped in the form of press releases. "There's nothing I've seen that has definitively defined what is the role of Mr. Banks as the deputy mayor for public safety," says Bill Bratton, who served twice as New York City's police commissioner. "What is the responsibility or the reporting relationship? What is the commissioner's reporting relationship to the deputy mayor, to the first deputy mayor, and then to the mayor himself?" An official organizational chart shows Banks on a similar tier as the first deputy mayor with several agencies such as the Department of Corrections and the fire department as falling under Banks's purview. The mayor's office declined to comment.
To be sure, Banks has received several public assignments from the mayor. For instance, when Adams was considering adding weapons detectors to the subway system following April's mass shooting, he put Banks in charge of researching its feasibility. Banks was also named the co-chair of an interagency task force created to address the crisis on Rikers Island, where ten inmates have died in custody this year. When Adams announced the creation of a gun-violence prevention task force in early June, Banks was merely named a member and would not lead the panel.
"I would think that what the deputy mayor for public safety does is think about how to coordinate all these different pieces — DAs, defenders, courts, corrections — into a strategy that makes New York safe," says Elizabeth Glazer, the former director of the office of criminal justice under Mayor Bill de Blasio. "And then also brings to bear all the other civic services that we have such great evidence about that also make us safe." But as for Banks? "It seems that the role has been defined, or he's defined it for himself, quite narrowly."
Banks has taken a less visible approach to his job compared with the five other deputy mayors in the Adams administration. "I think the reason why you want to have that public role or engagement is because you want to convey what the strategy is that you're doing," says Glazer. "You want to be able to convey to New Yorkers what's actually happening on the ground so that they have confidence that, even if crime is going up, that this is the approach that we're taking, that this is what their role could be. But it all has to start from, what is it that you're trying to do?," Glazer adds.  "Unless it's connected to something, I'm not quite sure what you accomplish."
Banks joined the NYPD in 1986, following in the footsteps of his father, who retired as a lieutenant. (His brother, David, is the schools chancellor.) Over the next three decades, Banks would take on many roles throughout the department. He served as the commander of precincts that covered parts of Brooklyn and Central Park. He became the chief of community affairs and eventually rose all the way to chief of department, becoming the force's highest-ranking Black officer at the time and only the second to hold that position. "One of the things he clearly adds that the mayor would find a significant benefit to him is his expertise," says Bratton. "That he's a career member of the NYPD who rose through the ranks, lived in the city, grew up in the city. So he's got a lot of understanding of the department, of the city, of its issues, which the mayor clearly values."
In 2014, just after it was announced that he had been chosen as the department's first deputy commissioner under Bratton, Banks retired. It was initially reported that he was unhappy with the parameters of the role. But the timing of his resignation took on new meaning when it was revealed years later that Banks was being investigated as part of a federal probe of police corruption. The New York Post reported that an affidavit filed as part of a wiretap application had named Banks one day before he decided to resign.
The probe centered on two businessmen, Jona Rechnitz and Jeremy Reichberg, who were accused of bribing police and public officials with expensive dinners, tickets to sporting events, lavish trips, and other gifts in exchange for favors such as fixing parking tickets and obtaining placards allowing them to park their cars in prohibited locations. The New York Times reported in 2018 that Rechnitz had testified that Banks joined him and Reichberg on trips to Israel and the Dominican Republic and took part in pricey dinners that Rechnitz paid for. Rechnitz even said that he had given Banks a ring that was reportedly once owned by Muhammad Ali.
According to the Times, Banks didn't claim these gifts on disclosure forms to the Conflict of Interests Board and also neglected to report rental income. When the Feds indicted both Rechnitz and Reichberg, Banks was named an unindicted co-conspirator in their scheme. Though Rechnitz, Reichberg, and several police officials were convicted in the scandal, Banks was never charged with a crime and has long maintained his innocence. People with ties to the investigation told the Times earlier this year that prosecutors had declined to charge Banks owing to a lack of evidence that he personally "took official action" in exchange for gifts. After retiring in 2014, he founded CitySafe Partners, a security company that consulted with different cities and police departments.
When Adams, a former NYPD officer himself, was elected, he selected Banks to serve on his transition team and later tapped him to become deputy mayor of public safety. Banks made the announcement himself with an op-ed he wrote in the New York Daily News. In the piece, Banks wrote that he didn't break the law during his time as chief of department and maintained that his reasons for retiring were unrelated to the investigation. But he expressed regret over his association with the men at the center of the bribery scheme, calling his interactions "a mistake." "These two men were attempting to corrupt public officials — and I now regret the time I spent with them. I realize now that even the appearance of our friendship was damaging to my profession. I hope that from here on, I can serve the people of New York excellently to prove my commitment to them," Banks wrote. The official announcement from Adams's office followed Banks' editorial hours later.
"The announcement itself was odd. An assignment of that magnitude and stature, you would think, would ordinarily be made by the mayor, rather than the person themselves," says Bratton.
What Banks didn't say was that he was already in charge. A day earlier, in one of his first acts as deputy mayor, according to the Daily News, he personally told NYPD Deputy Commissioner Joseph Reznick that he was to be replaced by the incoming administration. Reznick had led the NYPD's Internal Affairs Bureau, which assisted the federal investigation into Banks. Bratton calls such a move confusing, given that Banks is not part of the chain of command of the police department. "Traditionally, the police commissioner replacing deputy commissioners informed those people that are being let go in person," he says. "I know I certainly never delegated that responsibility. I always directly did that myself."
Since Banks took over public safety, the administration has taken several steps to address crime, which, according to the most recent data from the NYPD, was up 31.1 percent overall last month compared to the same time last year. It reinstated a disbanded plainclothes unit rebranded Neighborhood Safety Teams with the goal of getting guns off the streets and increased police patrols in the subway. "Six months into the administration, you almost have to withhold judgment because he's still dealing with so much of what occurred before he came in," Bratton says. "But after six months, he owns it."
There is a perception from some that Adams and Banks are turning back the clock on policing in order to get crime under control. "What I know about Deputy Mayor Banks is that he and Mayor Adams are very closely aligned around addressing quality-of-life offenses, which we know to be 'broken windows' policing, which has been largely discredited and that we know firsthand has had a hugely negative impact on communities of color in New York," says Priscilla Gonzalez, a board member of the Justice Committee, a grassroots organization that advocates against systemic racism and police violence. "Historically, when Banks was chief of the department, he was responsible for pushing officers to aggressively enforce quality-of-life offenses." Following the 2014 killing of Eric Garner by police on Staten Island during an arrest for allegedly selling loose cigarettes, it was reported that the order to crack down on illegal cigarette sales came directly from Banks himself in his role as chief of department under Bratton.
Then there's Rikers Island, where ten inmates have died so far this year. Adams has sought changes to the state's bail-reform law that would see more people spending time behind bars, and Banks chairs an interagency task force on the jail crisis alongside the mayor's chief counsel. "When we have an administration that says that they're supportive of closing Rikers Island and we do see members of the administration who are working towards things like the contracting for the new jails and transferring parcels of Rikers Island out of the Department of Correction control, that's wonderful. But those are tiny, shading-on-the-edges steps, and what we need is to take a concerted effort led by our deputy mayor, led by our mayor and his administration, to decarcerate Rikers Island," says Jullian Harris-Calvin of the Vera Institute of Justice, a criminal-justice-reform nonprofit that called for Adams to appoint a deputy mayor for public safety through Vera Action, its political arm.
When Adams held a press conference last week about the administration's crackdown on illegal license plates, he attributed recent success on the issue to Banks, saying he brings a "smart coordinating policing mind-set" to tackling crime. Banks, however, was not present.
"I don't have any inside knowledge, but it appears to me that Adams wants to be the face of public safety in New York. Adams is creating a brand of being an expert when it comes to public safety and knowing what the city needs to do," says Harris-Calvin. "So I don't know that there's space for Banks to step into that."