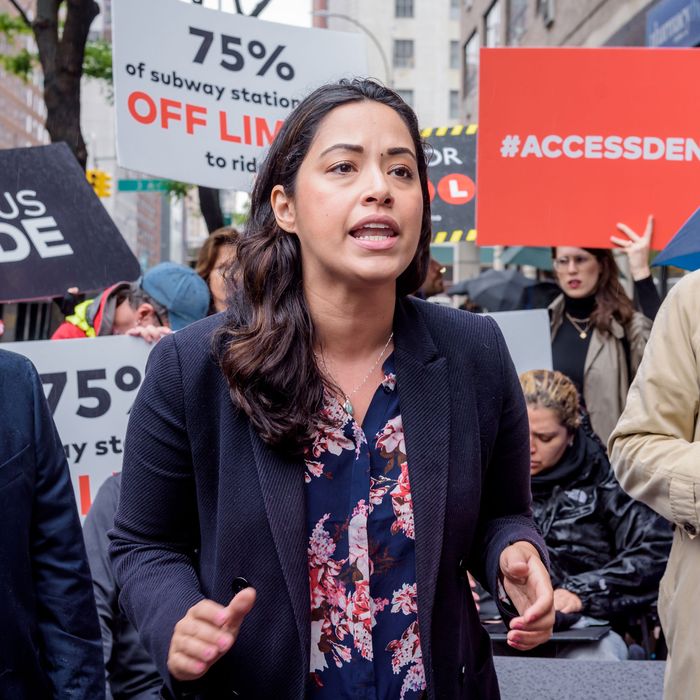 Photo: Erik McGregor/LightRocket via Getty Images
"This is my home. This is where I've spent my whole life," Carlina Rivera says, sitting at a table at El Castillo de Jagua, a Dominican restaurant just a few blocks away from where she grew up on the Lower East Side. She's represented the area in the City Council since 2018 and now she wants to do the same in Congress, running in the newly redrawn Tenth District that covers lower Manhattan and parts of Brooklyn. Across the district, she says, voters' top concern is the lack of affordable housing. "I think what people want to see is how are we pushing to solve this problem?"
It's the most competitive race in New York this year, pitting her against a handful of other candidates who all could win the Democratic primary on August 23. Rivera, 38, has some advantages over the field that includes veteran federal prosecutor Daniel Goldman, state assemblymember Yuh-Line Niou, and Congressman Mondaire Jones: She's backed by SEIU 1199, the influential labor union that represents health-care workers as well as Representatives Nydia Velázquez and Adriano Espaillat.
A week ago, I spoke to Rivera about how she would work in a potentially divided Congress, how the Democratic Party can improve its outreach to Latino and Hispanic voters, and her support for the controversial flood-proofing project on the East River.
What do you think your first priorities would be if you were elected?When you're looking at some of the committees right now, something like transportation and infrastructure has no New York City member. The reason why something like that would be so important to have a New York City member is one, we have the largest subway system in the country that floods even when it rains a little. Twenty-four percent of that system is ADA accessible, accessible to people with limited mobility and the BQE is falling down. So, I feel those two particular issues, which are kind of an NY-10 issue, are going to require federal intervention. They're going to require federal support.
You've recently received endorsements from Nydia Velázquez and Adriano Espaillat, two prominent members of Congress who opted to back you over one of their colleagues in the House, Mondaire Jones. What did it mean to you to receive their support?
Well, having Nydia's endorsement early on, that was a really big deal. One, because I have a tremendous amount of respect for her. Growing up and coming up and getting into public service and organizing, she was there. She was a congresswoman, which not a lot of people have someone that looks like them, that has a story. So just knowing that she was willing to mentor and support me even throughout my city council career. She's very very good at that. She has a lot of younger mentees because she really believes in cultivating the next generation of leadership. And I'll give that to Adriano too. Adriano's doing the same because you can see that even with my own council colleagues like Shaun Abreu and Carmen De La Rosa. And with Nydia, over 45 percent of her old district being in the new NY-10? It was big.
We don't have a lot of representation at these higher levels. I'm a proud Puerto Rican woman and then knowing that I have these Latino heavyweights that people know and respect, it feels good.
The 2020 election showed how pivotal the Latino and Hispanic vote can be, but the Democratic Party has been criticized for lackluster outreach. What should the national party be doing more of to reach Latino and Hispanic voters? 
Well, one thing I think about — and this goes also to your question about Adriano and Nydia supporting me — is we're here to build a Latino bench, but we're also here to build a generational bench. I think what happens is typically, people come in, they're running, they say they're going to engage Latino voters. They go into the communities, sometimes there's this tendency to treat us like a monolith, like we only care about one issue or two issues. If you go right out here, they're gonna ask you about the price of milk, about whether their nephew is gonna be able to find a job or get housing.
So I feel like engaging with Latino people in a very honest way and don't do it every two years. Maybe keep the communication going. I know we say that a lot. We're going to be better communicators and we're going to try. But if you go and you court the population and then you suddenly disappear and you don't cultivate leaders. You don't mentor this next generation of folks. They become disengaged. I think you saw that in 2020. You saw that right here in New York City with some of the folks that changed their party line. And I've tried to understand what it is, but you just have to speak directly to our folks and be honest. Unfortunately, some of what was captured in terms of people who were reconsidering their political options, they just felt like the Democratic Party wasn't talking to them. It was, "I need your vote right now," you do a little Spanish media and then I don't see you again. We're 20 percent of voters across the country. Here in New York City, we're 30 percent of the population. We're just not making it into these positions. And when you look at what's happening citywide, for example, you're wondering whether we're being seen.
There's a significant chance that, if you're elected, you'll be coming into a House of Representatives controlled by the Republican Party. Coming from the City Council, which has a Democratic majority, how would you work with the opposite party to get things done? 
I mean, some of the Democrats in the City Council are also on this very wide spectrum of ideologies and I've really tried to work with them as best I can on a number of issues. And with Republicans, I mean, maybe on pay parity with EMS workers or working on how we figure out how to be the most responsive in terms of families here, Ukrainian American families and working on aid there and abroad. We work together to actually have the city put in a substantial amount of money to help with the number of services, especially to welcome refugees here.
What I'm excited about and what I'm gonna bring to the seat is that I'm someone who wants to have the conversation. I dig in deep on an issue. Might be some disagreements, a little bit of debate. I think being able to negotiate is really really important, whether that's on a budget and a piece of legislation and then understanding that sometimes it's gonna take some compromise. We have to, as a party, draw our line in the sand and have those cases and those instances where there are just certain things we won't do. There are going to be things that they're going to try to weaken or remove especially if it comes to historically disenfranchised communities. If that sort of thing comes up, we do have to be strong. We have to be united.
I also understand that I'm one perspective, right? I'm a Democrat from New York City. I want to set the urban agenda as a model for the rest of the country. I don't know what it's like to grow up in rural Texas. I don't know what it's like to be on the other coast. So, going in, trying to be collegial. I've always been collaborative, I think you can see that. One, I think the spirit of collaboration is reflected in 25 pieces of legislation being passed. I would also say that when you look at all the people that are supporting me, they're pretty different from different parts of the city. I think that is sort of a testament to what we're able to build and how we're able to just talk to folks in an honest way.
Abortion and reproductive rights are a top issue for you. In light of the Supreme Court's recent decision regarding Roe v. Wade and the potential for it to weigh in on other crucial topics, would you support expanding the Supreme Court? 
So, I think expanding the Supreme Court is warranted. I would say that there are a couple things that we should probably do there. We should probably put in term limits. Maybe we should probably look at how to explore ways that potentially Congress or how we can sort of limit their jurisdiction. And we should end the Jim Crow relic that is the filibuster. We should never give up on that.
There's been a lot of discussion about the East Side Coastal Resiliency Project, particularly in regards to East River Park and the demolition that is taking place there. Why do you support this project and why do you believe that it's important for this construction to happen now? 
So on Monday, October 29, 2012, I was down the street. Lights go out and we're trying to figure out what's happening. Before that night in the days leading up, I was calling the people that I was serving — I did a lot of benefits assistance and housing-eviction prevention for a local organization called Good Old Lower East Side. You know the result: 44 people died, economic devastation in the city. Water came up like eight feet not too far from here and a lot of that was all public housing. If you go along the waterfront, it's all public housing.
So what we did to organize then and create this coalition called Lower East Side Ready and then when we won $335 million. That's good. That's a good start. We have a plan and we have to keep building at it. When the city said we're gonna match that and bring another billion dollars in, we thought, Well that's a testament to what we did. With the city and communication not being great, but us figuring out at the end what we had to do, which was make a decision. Do we rebuild and fortify the coastline so that this didn't happen again and preserve a park for future generations? That's what we decided to do.
We came to a compromise and now we have pretty much the first-of-its-kind project, not just in the city, but a pretty substantial investment that's unlike anything in the country that is directly adjacent to public housing. So those same people that knew that I took a position that maybe didn't make me the most popular at the time, but they knew why I was doing it. That's my North Star. Who are we helping? And now this is going to be a part of the conversation. Social resilient infrastructure, whether it's looking at our waterfronts, our piers. It's happening right now in Battery Park. It's gonna have to happen in Wagner Park downtown. They're going to build up even higher. They're going to build up ten feet and it certainly has to happen along places like Red Hook. I was just trying to look out for people that, every time heavy rain falls, they relive that moment. So, not easy, but what I have also discovered is that sometimes there's a very well-resourced vocal minority of people who don't reflect the quieter, more silent majority of people that can't spend all their time on Twitter.
So you think that most of the pushback is coming from this louder minority of people?
I think so. And I would say that when I ran for reelection last year, we were out there with factsheets, ready to have the conversation with people. Of course they had questions because it was new and people understood ultimately why we had to do it. And to get it done quick, right, because people want their areas back where their kids play baseball or where they barbecue. We want the amphitheater back for our shows. And now it'll be a world-class park, deserving of investment for people that have been historically overlooked.
What would your approach to foreign policy look like?
I do think as a member of Congress that you should be visiting countries that are allies, that have important economic and cultural ties and that kind of goes to Nancy Pelosi's trip to Taiwan. Here's an ally. We have cultural and economic ties. We would never want to do anything to put them in harm's way. I do think she's someone who is very thoughtful and strategic and I trust her judgment in going on this trip. I realize she's experienced pushback from the president himself. But again, I trust her judgment and I think the way that she's been leading the body is significant.
How I'd approach it is intersectionally, thoughtfully, being prepared. I feel like being prepared and understanding that there are so many people in DC and abroad who are both working in service to our country who are able to bring you the information, the experiences and the perspectives that you need. I will not be able to tell you how we're going to get to a peaceful two state solution when it comes to Israel and a safe and secure Israel and a free and independent Palestinian state. It's up to the people that live there.
I think one thing to do as a member of Congress is to make sure that we have that transparency so we know what we're actually funding. Right now, something like the war in Ukraine, that funding is appropriate, shouldn't be conditioned. I've been unapologetically in support of the Ukrainian people. I represent Little Ukraine. I think what's so special about NY-10 is that it is this really diverse place of people and opinions who have concerns about what's going on here and internationally. So how do you best represent that with fairness and honesty and being very sensitive that people have concerns about what is going on abroad? Because nothing stays local for long. It'll hit the families here, just like it has with the Ukrainian community. I think what we can be is this example of how you create this constructive coexistence, even just in the district.
This interview has been edited for length and clarity.