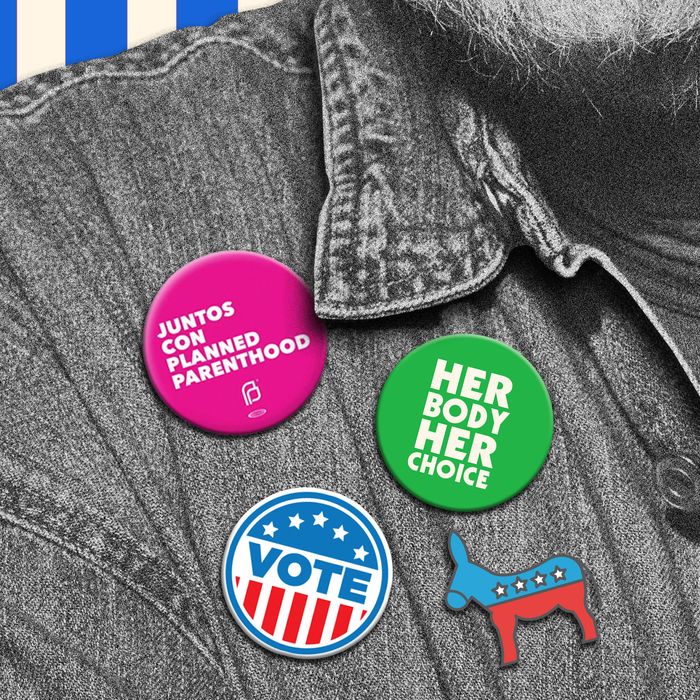 Abortion rights are heating up as a midterm election issue — particularly in states, like California, with ballot measures in November.
Photo-Illustration: Intelligencer; Photo: Getty Images
A lot of national-media attention is understandably being devoted to red-state ballot measures on abortion policy following the U.S. Supreme Court's reversal of Roe v. Wade in June. The overwhelming defeat of an anti-abortion state constitutional amendment by Kansas voters on August 2 represented a badly needed tonic for besieged defenders of reproductive rights and a reminder that this is still a pro-choice country when it comes to public opinion. We can expect equal attention for upcoming votes on abortion in Kentucky, Montana, and possibly Michigan.
But there are also going to be ballot measures on abortion in two very blue states in November. Vermont is so pro-choice that the amendment enshrining reproductive rights in the state constitution is supported by the Republican governor. In California, voters will almost certainly approve a proposal to add a right to contraception and abortion to the state constitution. In fact, pro-choice sentiment in California is so high that support for the measure could boost Democratic turnout in November, affecting down-ballot races that matter to people well beyond state boundaries.
A new Berkeley IGS–L.A. Times survey finds that support for Proposition 1 is broad, deep, and quite intense. Polled registered voters supported the amendment by a 71-18 margin. Support increased to 74-14 among independents and 89-5 among Democrats, but even 35 percent of Republicans backed it. Across party lines, 75 percent of women and 79 percent of voters under 30 said they supported Prop 1.
The survey also asked for opinions on the aggressive efforts of California Democrats to make the Golden State a sanctuary for women from other states who seek safe and affordable abortions. Of those polled, 65 percent approved of these more controversial initiatives — with both 50 percent of people overall and 72 percent of Democrats approving "strongly." In another intensity metric, when asked how important the abortion issue would be to personal 2022 voting decisions, 77 percent of Democrats (but only 43 percent of Republicans) deemed it "very important." Among self-identified "strongly liberal" voters, 85 percent called abortion "very important" to their own voting behavior.
This is pretty vivid evidence that the abortion crisis spurred by the Supreme Court's Dobbs decision may play a disproportionately strong role in stimulating Democratic turnout in November — including among voting groups (e.g., younger voters) who don't usually show up for midterms. And it could put pressure on the sizable number of pro-choice Republicans and independents to vote Democratic.
While this may not matter as much in terms of statewide elections in very blue states, California is one of the places where control of the U.S. House of Representatives will be determined: Republicans are defending four seats they flipped in 2020 and feeling some heat in a few other vulnerable districts as well. Keeping these seats in the GOP column (much less flipping Democratic ones) will be a lot harder than it might have been had the Supreme Court not abolished federal constitutional abortion rights and made this a ubiquitous political issue. And from a long-term perspective, as long as the GOP is out of sync with public opinion on abortion, Democrats have a wedge issue that will impact elections in both red and blue states. Republicans may soon regret becoming the dog that caught the bus on abortion rights.