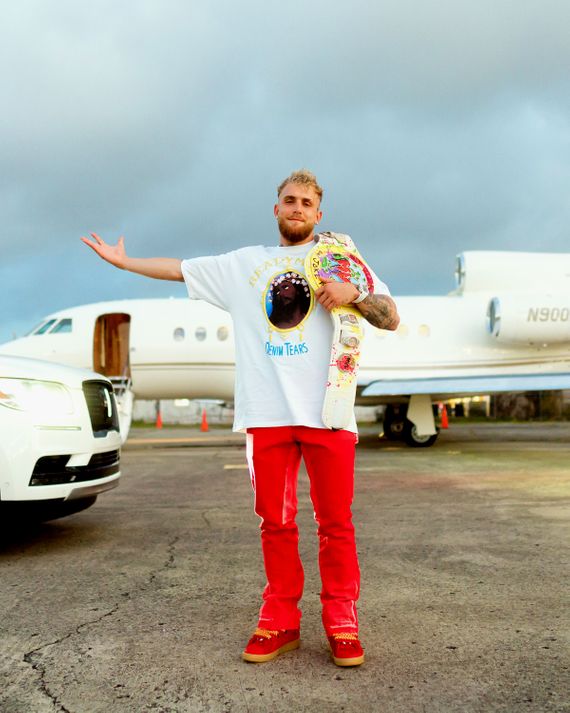 Between strength training sets at his gym in Miami, influencer turned boxer Jake Paul is talking trash about Stephen A. Smith, the ESPN commentator who has carved out a Hall of Fame career artfully yelling insults at athletes — like when he shouted last year that Paul was "lying" about being a pro fighter.
"Maybe he was innovative 25 to 30 years ago, but he's been doing the same thing for 25 years," Paul says on the phone from the gym. "It's a new generation; it's a new era. I just look at TikTok as the North Star. That's where everything is heading: TikTokification. And none of these sports shows even have a million followers on TikTok." To his credit, Smith does have just north of a million followers on the social-media platform popular with Gen Z. But Paul has more than 16 million followers watching TikTok clips of him jumping off the third deck of Jeff Bezos's yacht and running over piñata likenesses of his rivals with a lifted pickup.
The TikTokification of the mind is a trend Paul thinks he can use to make a lot of money with his new sports-media and mobile-betting company, Betr. Announced this month with $50 million in series-A funding, the plan is to break into the industry by having Paul host a weekly flagship show to drive his young audience to the app in what his business partner describes as a "clever hack" to "convert users to the real-money-gambling business." Where most wagers on billion-dollar apps like DraftKings and FanDuel involve betting on outcomes that take most of a game to unfurl, Betr will focus on wagers that resolve in a few seconds of play: I bet $10 that the next pitch is a strike. I bet $5 that the Jets will get a first down here. A recreational version of the app with no money involved will debut in the next few weeks, with real gambling attached in legalized states at a later date.
With the app and Paul's fame among a young audience with disposable income, it could be a smart bet. Sports fans and drunk uncles have been making dumb money guesses like this for generations, and Betr's early social-media push shows how much fun instant gratification can be. He and his friends will gamble on literally anything. Will a FaceTime call with his mom be over or under five minutes? Are the designer sneakers on a guy at a party worth more or less than $15,000? Who is willing to swim closest to a shark while snorkeling? "I think that culture between our friends is definitely something we're looking to emulate inside the app," he says. "When we're all in a house together, there's got to be at least two bets going every hour."
Like in sports gambling, there has been some collateral damage. In one video celebrating Betr's launch, the team bets on who is going to get the most drunk going out. Paul's content manager technically loses, but the real loss went to the member of a rival influencer house whom Paul pinned to the ground in a club later that night, yelling at him to say he was sorry for an off-camera slight.
If Betr can break the mobile-sports-gambling duopoly of DraftKings and FanDuel, it wouldn't be the first time Paul has beaten the odds to make his way in a new industry. As a teenager, Paul's aggro class-clown antics on Vine and YouTube attracted millions of followers as he grew up in front of the camera, learning to monetize nearly every moment of his time. With his older brother, Logan, he helped set the tone for the first wave of bro-y influencers living together in what are now known as hype houses. There were commercially — if not aesthetically — successful forays into music and acting. Then, in 2017, he was booted off a Disney Channel show after his West Hollywood neighbors complained he was making life a "living hell" recording stunts like lighting his mattress on fire on his patio and riding a dirt bike into the pool.
Paul wasn't down for long. The next year, he and Logan got into celebrity boxing, matching up against the British influencer KSI and his younger brother; Logan's match was a draw, but Jake won in a fifth-round technical knockout. Logan is now suplexing wrestlers in the WWE, but Jake found a home in the boxing world, where he has been driving pay-per-view sales with his DNA-level drive for self-promotion, a knack for starting feuds, and a right hook mean enough to knock out four amateurs who didn't really know how to block a punch. Paul's detractors still say he is a distraction and point to the fact that he hasn't actually faced any pro boxers. (His fight in early August against Hasim Rahman Jr. was canceled after the pro failed to slim down to the proper weight.) To show he means it, Paul has gotten extremely ripped and has won each time he has stepped into the ring against pros from other sports like mixed martial arts and basketball. Whatever boxing fans think of him, the prankster has become a serious force in professional fighting, earning seven-figure purses and feuding with UFC president Dana White over providing lifelong health insurance for its fighters.
At 25, Paul hopes to pivot again, this time to a role that doesn't involve him getting punched in the face. Last summer, while shopping around for investments for his venture-capital firm, Anti Fund, in the new money heaven of Miami, he met Joey Levy, the founder of a company called Simplebet, which develops the back-end software to make micro-betting a reality. Paul wanted to found a business with real prospects; Levy wanted to market to consumers without spending millions on advertising. "When I met Joey, it was a total, full-circle aha moment," says Paul. His firm led a $30 million investment round into Simplebet, which closed shortly after the company agreed to a multiyear deal with DraftKings to build out fast-turnaround bets on its app. After a year of development, Levy left Simplebet to spin out Betr with its celebrity host.
DraftKings and other platforms currently offer versions of micro-betting: Will Jacob deGrom throw over/under 15 pitches this inning? But Levy thinks that unbundling these short bets from the big apps will make gambling a lot more fun, avoiding many of the complicated terms — what does +135 odds mean? — that scare some new users away. "It's kind of like what Robinhood did to day-trading," Levy says. "Ten years ago, E-Trade, Fidelity, Charles Schwab were the main day-trading apps. But the mass-market consumer was not engaged in day-trading because it was not intuitive for the normal person. Robinhood created a really simple intuitive user experience to enable people to seamlessly buy and sell stocks."
It's an ambitious move, but there is an obvious playbook to borrow from. Over the past decade, Dave Portnoy has built a loyal audience of young men coming to Barstool Sports for a mix of Everyman takes on sports, pictures of hot girls, and mobile gambling. At this point in the venture, which is now valued at $450 million, it's impossible to sever the celebrity founder from the company he founded. "I think we do completely separate things," says Paul, citing the fact that Portnoy's main show is a podcast. "But I think there are some similarities in our brazenness in our attitude toward how we approach things, for sure." (Like Portnoy, Paul has also denied allegations of sexual misconduct.)
As with his foray into boxing, Paul has his doubters when it comes to Betr. Matt Buchalter, an actuary by trade who runs the gambling consulting firm Plus EV Analytics, points to what he calls the "churn problem." While the house is always going to win, a faster pace of betting means it's going to win a lot faster. "I don't think people are gonna scale things down in their heads, betting a buck-50 because they're going to make 50 bets within a game," says Buchalter. "They're going to bet five bucks or ten, and they're going to go bust very quickly."
The audience Paul is sending to the Betr app tends to be a few years younger than he is, an issue that has caused problems before. In 2018, some followers accused him of promoting gambling to kids by featuring a site on which users can pay $100 for mystery items ranging from Converse sneakers to a Rolls-Royce. "By mentioning TikTok, they're basically saying, 'We're pitching this to really young people,'" says Lia Nower, the director for the Center for Gambling Studies at Rutgers University. "What we know is that the younger people start gambling, the more likely they are to develop a problem down the road." Levy denies that premise, saying that the only way to build a business "that's going to endure for the next 20 to 30 years" is by "really championing responsible gambling and being incredibly focused on that."
The play for a sports-media empire is a little immature as well. The first YouTube episode of BS w/ Jake Paul, Betr's sports talk show, began with a prayer from co-host DCut to be "better humans" — cut short when the other co-host, Paul's girlfriend, Julia Rose, pretended to go down on him. On the phone, Paul described his vision for BS as a showcase "for the greatest athletes in the world in a short, condensed, and easily digestible way for the Gen-Z culture. Something that's easier to consume and easier to understand versus the super-hard-core sports fan." But the 30-minute pilot largely sticks to the template of sports-talk past: airing of grievances followed by longform interviews with pros like UFC bantamweight Sean O'Malley and lightweight boxing champion Devin Haney.
Once Paul dials in the formula for the BS show, there is reason to believe that Betr could carve out some market share from both ESPN and DraftKings. Putting the star boxer in front of the camera and getting users to spend big on little bets is right in line with two of the dominant trends in sports media today: a push for active pros to become talking heads and a full pivot toward siphoning money from fans through gambling. The $50 million in funding doesn't hurt either.
Paul, who claims he turned down $40 million in sports-betting endorsements to start Betr, thinks the best reason to bet on his company is himself. "I fully believe I'll be the Jay-Z of this generation and this will be a billion-dollar company — my first billion-dollar company," he says. "This is what I love. I'm a Capricorn; I was built to work."