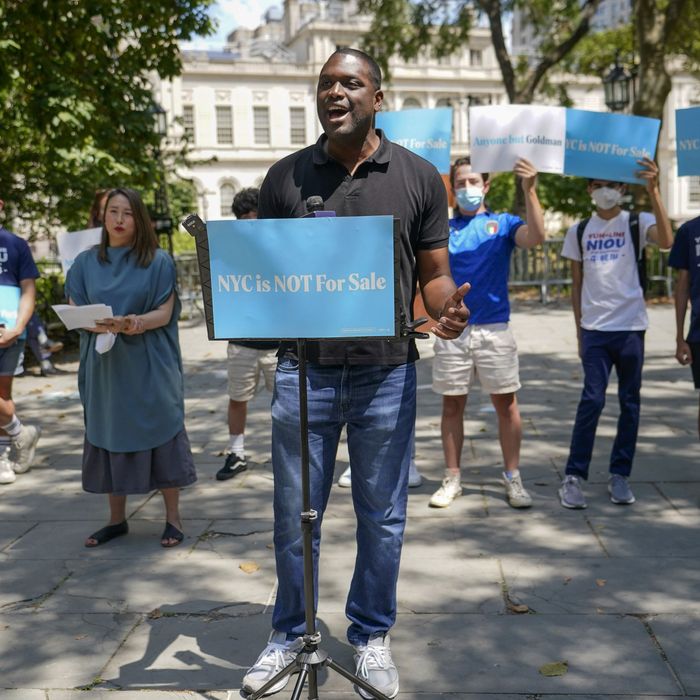 Photo: Mary Altaffer/AP/Shutterstock
Mondaire Jones was first elected in 2020 to represent parts of Westchester County and Rockland County in Congress, becoming one of the first Black and openly gay members of Congress. But this year, a fiercely debated redistricting process merged his district with that of another fellow progressive, Jamaal Bowman. Rather than challenge Bowman, Jones moved 30 miles south to Brooklyn, where he's running in the newly redrawn Tenth Congressional District.
As a result, the congressman has drawn predictable allegations of carpetbagging in his race against a large field of primary candidates, including City Councilmember Carlina Rivera, State Assemblymember Yuh-Line Niou, former congresswoman Liz Holtzman, and veteran federal prosecutor Dan Goldman (who was recently endorsed by the New York Times editorial board).
In his bid, Jones has been backed by the Speaker of the House Nancy Pelosi and many of his congressional colleague,s including Representatives Jamie Raskin and Pramila Jayapal and Senators Cory Booker and Ed Markey. I spoke to Jones about his decision to run in another district, what actions should be taken on student-loan debt, and how Democrats need to improve their messaging to voters.
It goes without saying that redistricting forced a lot of people to change their campaign plans. For you, that resulted in you choosing to run in the Tenth District. What went into that decision?
New York's redistricting has been a disaster. The Republican acting Supreme Court judge adopted a Republican gerrymander intended to reduce the number of Democrats in New York's congressional delegation and reduce the number of progressives of color. My residence was drawn into the same district where Jamaal Bowman had announced his candidacy. My options were to run against a fellow Black progressive and one of the few people who fully appreciates the threats that we face as a nation in this moment or to run against the chair of the DCCC, whose primary job responsibility it is to help us keep our majority and defeat fascism in America. It was an impossible situation. I decided to run to represent a community that has given me a lot to me. One that helped me come out as an openly gay man in America and live an authentic life. A community that I have worked in and that I now live in. And, most importantly, one whose communities I have already been fighting for and delivering for as a sitting member of Congress.
What would you say to voters who might know and respect your work in Congress but wonder if you know the district well enough to represent it? 
I have been working diligently with stakeholders throughout lower Manhattan and Brooklyn, diving into issues like the BQE and Gowanus Canal and the Lower East Side Coastal Resiliency Project, as well as having done a listening session with leaders in Chinatown around public safety, anti-AAPI hate, and our broken economy. I'm proud to be endorsed by four different labor unions as well as the Grand Street Democrats and tenant-association leaders like Dereese Huff in Campos Plaza.
Why are you the best choice to represent the Tenth District?
Voters in the Tenth want and deserve a progressive champion with a track record of actually delivering results. I am that candidate in this race. I am a leading progressive member of Congress who has helped bring billions of dollars to New York City for schools, housing, and health care. I also played a key role in getting not just Build Back Better passed through the House last fall but in enacting the Infrastructure Investment and Jobs Act into law through bringing progressives like myself and our conservative Democratic colleagues together to pass both of those bills. Now, billions of dollars are coming to New York City for infrastructure and I am running, in part, to bring as many of those dollars to lower Manhattan and to Brooklyn as possible. I'm also the guy who had the vision to introduce legislation to expand the Supreme Court, long before it became popular, because I knew that we would find ourselves in this moment. My Democratic colleagues scoffed at me at the time, but now the American people are on my side. We need bold, visionary leaders like me in Congress who are willing to fight with Republicans while pushing our fellow Democrats to fight harder for the things that we say we believe in.
What did you make of the Times endorsement of Dan Goldman?
Many people who read the New York Times endorsement, which featured more favorable references to the work I've done as a sitting member of Congress, were left wondering why the endorsement was not explicitly of me rather than Mr. Goldman. Since the publication of that endorsement, New York City's press corps is abuzz with discussion of the publisher potentially having intervened and overruled the editorial board with an instruction to endorse Dan Goldman over me in this hotly contested race. [A Times spokesperson says there's no connection between Goldman and the paper
's publisher.] My job is to run the strongest possible race and to let journalists do whatever investigatory work that they want to do about this.
You recently just teamed up with one of your opponents in the race, Yuh-Line Niou, for an event urging voters to support anyone but Goldman. Why?
This is one of the most progressive districts in the entire United States. The idea that a self-funder — who supports abortion restrictions and opposes progressive priorities like Medicare for All, a Green New Deal, and my legislation to expand the Supreme Court — could buy his way into Congress is horrifying. It is especially horrifying at a time when we face overlapping crises requiring bold progressive leadership to get us through the climate crisis and the assault on fundamental rights as well as rising wealth inequality and wage stagnation. Can you imagine Mr. Goldman, who would become the richest member of the House, and who has not been civically engaged during the time he has not been spending at one of his many summer homes, representing NYCHA residents in Congress?
Congress just passed the Inflation Reduction Act, which includes significant funding for climate initiatives. What other actions should be taken to further address climate change? 
We need more than rebates and tax credits. We need affirmative mandates on the business community so that we can accelerate our reduction of carbon emissions by the year 2030 and by the year 2050. We also have to do more to make clean, renewable energy affordable for working-class people. We need to retrofit our public housing, and we need to create millions more electric-vehicle-charging stations. We need the Department of Defense to do the things that I've been calling for it to do, which is reduce its carbon emissions.
An issue that's on the top of the minds of many voters is that of student-loan debt. President Biden has already taken some steps with debt relief, particularly dealing with for-profit schools, but do you believe Biden should tackle student-loan debt in a more substantial way?
I am proud to have helped get this president to a point where he will now cancel some student debt. I think all of it should be canceled. We have reached a legislative impasse that requires executive action, specifically under the Higher Education Act. When I met with the president in the Roosevelt Room a few months ago, I told him that student-debt cancellation isn't just an issue of racial justice and of gender justice. It is also an issue of LGBTQ+ justice. We know that members of the LGBTQ+ community disproportionately have student-loan debt because their families are more likely to disown them and not provide the support that other people in our society received from their family members.
That is the value of having bold progressive leaders like me in Congress who are able to pivot to other ways, outside of the legislative process, of accomplishing progressive goals while still fighting hard legislatively in Congress. I also did this with Cori Bush and AOC last August when we rallied outside the Capitol on those steps for days on end calling for the president to reverse his position and instruct the CDC to extend the nation's eviction moratorium, which he did. That's the kind of savvy progressive leadership that I have already demonstrated. Many people have asked the question, Why would you not send someone like that back to Congress? Especially in such a time as this when on-the-job training is not something we should be accommodating.
After the Supreme Court overturned Roe v. Wade, there's been a push to codify abortion rights on the federal and state level. What steps are you personally advocating for? 
I have called for a Supreme Court expansion to restore balance, integrity, and a pro-fundamental-rights majority to a rogue, far-right institution. I have also been leading the fight to limit the jurisdiction of the Supreme Court. Most cases decided by the Court, the Court is only able to decide because Congress has specifically legislated jurisdiction for it to do so. I have pushed to include provisions in the Women's Health Protection Act and in my legislation with Jerry Nadler, called the Respect for Marriage Act, to deprive the Supreme Court of jurisdiction to review matters arising under those statutes and to channel jurisdiction to more favorable courts like the D.C. Circuit Court of Appeals. I think that kind of creative, aggressive energy is needed now more than ever to protect fundamental rights. We know that Justice Thomas and his majority are not stopping with the issue of abortion. He said as much in his concurring opinion in Dobbs.
Public safety is a significant issue for many New Yorkers, but, at the same time, there are some who are concerned that some moves to improve safety could come at the expense of criminal-justice reform. How should lawmakers try to balance those two concerns?
New Yorkers deserve to feel and actually be safe. Black and brown communities also deserve to not be overpoliced and brutalized. We need a member of Congress from this district who is going to push state, local, and federal governments not to be reactionary but rather to address the root causes of crime. That means investments in education, housing, and mental-health support. It also means ending the epidemic of gun violence through common-sense federal action, like the assault-weapons ban that I helped pass in the House as a very active member of the Judiciary Committee. And it means giving law enforcement the tools to address the rise in white-supremacist domestic terrorism, whether against our AAPI brothers and sisters, our Jewish brothers and sisters, or other communities of color.
You mentioned making reforms to mental-health care in this country. What are some actions that the federal government could take there that it hasn't so far?
The federal government could pass Medicare for All, which I am proud to co-sponsor and be a champion for, unlike my opponent, Daniel Goldman, who opposes Medicare for All. It would make sure that people have the mental-health support they need as a human right, regardless of their employment status or how much money they have in their pockets or bank accounts.
There's speculation that the Democratic Party could lose control of the House following November. How are you feeling about your party's chances in the midterms? 
I'm feeling optimistic, especially given the climate and health-care bill we passed last Friday (the Inflation Reduction Act), which the president will sign today. However, we need to be able to message our accomplishments to the American people in a way that is galvanizing. We also have to assure people that, if we retain the majority, we will continue to make transformational change. Those two projects have not been well executed this congressional term. We've got to tell people not only to vote but what we're going to do if they vote us back in. It means we've got to tell people we're going to pick up just at least two more Democratic Senate seats to make future filibusters an impossibility.
So you feel that there's sometimes this disconnect between what the party can and has accomplished and how much voters know about that and understand that?
There is that disconnect. There is also a disconnect among many people in the House Democratic Caucus and how Democratic voters in particular are feeling. It's not enough, as I have reminded some of my colleagues, to tell people that we are better than the other folks. Most Americans know that. Most Americans also agree overwhelmingly with the policies that we propose.
The issue is that people don't trust us to get these things done. They see unified Democratic control of the federal government in this moment, and they wonder why we haven't passed the George Floyd Justice in Policing Act after the largest protest movement in generations a few summers ago. They wonder how it could be that we couldn't get Build Back Better through the House last fall when we've got a majority in the Senate, the majority in the House, and a president of the United States who is moderate yet proposed that legislation. This is why we need people like me to continue to give people hope that there are folks within the House Democratic Caucus and within the broader Democratic Party who get what is at stake and what we need to be fighting for in this moment. Not folks like Dan Goldman who think Donald Trump started all of our problems and that all of our problems will go away once he's out of the picture.
I ran for Congress last cycle because I knew firsthand based on my upbringing and based on being an openly gay Black man in America that we had a lot of problems in this country even before Donald Trump was elected president of the United States in 2016. For me, policy is personal.
So you think there is too much focus on Donald Trump?
As I said during the last debate, the Republican Party was an anti-democratic, racist party long before the election of Donald Trump in 2016. Donald Trump didn't happen overnight. Voters in the modern-day Republican Party were prepared to vote for a figure like Donald Trump and are prepared to reelect him in 2024, despite all of the evidence of his criminality and mismanagement of our economy during his first presidency.