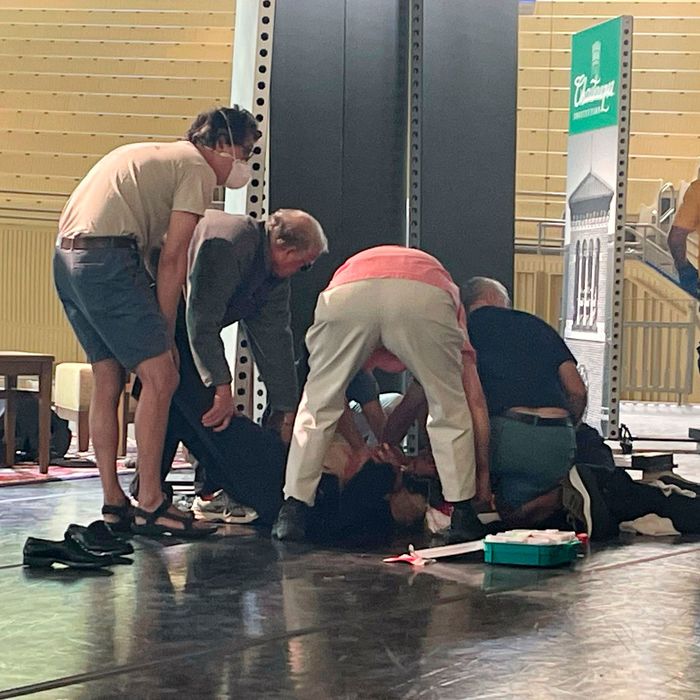 Author Salman Rushdie is tended to after he was attacked during an event at the Chautauqua Institution in Chautauqua, New York.
Photo: Joshua Goodman/AP/Shutterstock
Salman Rushdie was stabbed and grievously injured at an event in western New York on Friday. The 75-year-old author — who has faced death threats over his writing for decades, including a longstanding fatwa issued by the former supreme leader of Iran — survived the attack but suffered numerous serious wounds and remains hospitalized in critical condition, his son said Sunday. The assailant, 24-year-old New Jersey resident Hadi Matar, was arraigned on attempted murder and assault charges Saturday. He pleaded not guilty, and is being held without bail. Below is what we know thus far.
Rushdie is expected to recover
Rushdie's agent, Andrew Wylie, said Sunday in a statement that, "He's off the ventilator, so the road to recovery has begun. It will be long; the injuries are severe, but his condition is headed in the right direction." On Friday night, Wylie said that Rushdie "will likely lose one eye; the nerves in his arm were severed; and his liver was stabbed and damaged."
Rushdie's son, Zafar, said Sunday that the writer was still in critical condition, but able to speak. "Though his life-changing injuries are severe, his usual feisty and defiant sense of humor remains intact," he said. "We are so grateful to all the audience members who bravely leapt to his defense and administered first aid, along with the police and doctors who have cared for him and for the outpouring of love and support from around the world."
What we know about the attack
The attack began at 10:45 a.m. Friday as Rushdie and co-speaker Henry Reese, 73, were preparing to speak from the stage of the amphitheater at the Chautauqua Institution. The assailant, Matar, rushed the stage and attacked the author, stabbing him ten times before being subdued and then detained by police.
"Within about 15 seconds, someone jumped onstage and began to pound Mr. Rushdie," said eyewitness Charlie Savenor, who was seated about 50 feet away. The assailant repeatedly struck the author. "I saw the arm go up and down." The attacker, who was reportedly dressed in black and was wearing a mask, "did not say anything," Savenor added.
Chautauqua County district attorney Jason Schmidt called it a "targeted, unprovoked, preplanned attack" during Matar's arraignment, noting that it wasn't yet clear whether he acted alone.
Blood could be seen splattered on the stage and backdrop near where Rushdie was attacked.
"Rushdie was quickly surrounded by a small group of people who held up his legs, presumably to send more blood to his chest," the AP reported, before he was taken by helicopter to a hospital in Erie, Pennsylvania, where he then underwent hours of surgery.
Reese, the co-founder of the Pittsburgh nonprofit City of Asylum, including a gash to his head. He later called the assault on Rushdie "an attack against his body, his life, and against every value that he stood for."
Rushdie and Reese had been invited to speak at "a discussion of the United States as asylum for writers and other artists in exile and as a home for freedom of creative expression," according to the Chautauqua Institution's website.
The institution, which acts as a kind of intellectual and spiritual summer camp for adults, is located about 55 miles southwest of Buffalo. An usher at the event told the New York Times that there didn't appear to be any additional security for those attending the discussion. Another attendee told the Guardian that the audience was prevented from bringing food or drink into the amphitheater, but there was no other screening. There were, however, a state trooper and a sheriff's deputy assigned to the event. Governor Kathy Hochul said on Friday that the state trooper had saved Rushdie's life.
What we know about the suspect
More information is slowly emerging about the assailant, Hadi Matar, whose Fairview, New Jersey home was reportedly searched by FBI agents on Friday. District Attorney Schmidt said Saturday that the 24-year-old had obtained an advance pass to the Chautauqua Institution event, which he traveled to by bus. He arrived the day before, and was carrying a fake ID.
The Associated Press reports that Matar was born in the U.S. to Lebanese parents who immigrated from the village of Yaroun in southern Lebanon. "Flags of the Iran-backed Shia militant group Hezbollah, along with portraits of Hezbollah and Iranian leaders, were visible across Yaroun before journalists visiting Saturday were asked to leave," the AP noted.
NBC New York reports that according to a law-enforcement person with direct knowledge of the investigation, "a preliminary law-enforcement review of Matar's social-media accounts shows he is sympathetic to Shia extremism and Islamic Revolutionary Guard Corps causes," though shows "no definitive links" between Matar and the group. Then on Sunday, VICE World News reported that Matar had been in direct contact with members of the IRGC, according to European and Middle Eastern intelligence officials who spoke with the publication:
A NATO counter-terrorism official from a European country said the stabbing had all the hallmarks of a "guided" attack, where an intelligence service talks a supporter into action, without direct support or involvement in the attack itself. … There's no evidence Iranian officials were involved in organising or orchestrating the attack upon Rushdie. Security officials who confirmed the social media contact would not elaborate on the nature of the communications because investigations are ongoing. They would not disclose who initiated the contact, when it took place, or what was discussed.
"A 24-year-old born in the United States did not come up with Salman Rushdie as a target on his own," a Middle Eastern intelligence official commented to VICE. A senior Lebanese security official also told the publication that the U.S. has been investigating whether or not Matar had traveled to the country, and if so if had received any training from Hezbollah militants there. In an interview with the Daily Mail, Matar's mother said that in 2018, he spent a month in Lebanon visiting his father, whom had returned to the Middle East after they divorced in 2004. When Matar returned to the U.S., she said, he acted like a different person — moody, introverted, and more religious. 'I was expecting him to come back motivated, to complete school, to get his degree and a job," she said. "But instead he locked himself in the basement. He had changed a lot, he didn't say anything to me or his sisters for months."
The threats against Rushdie and his associates
Rushdie has received multiple death threats during his writing career. The most infamous was the 1989 fatwa (death sentence) ordered by Grand Ayatollah Ruhollah Khomeini, the late Iranian supreme leader, over Rushdie's novel The Satanic Verses, which many Muslims considered blasphemous.
The threats and standing death sentence initially forced Rushdie to spend nearly a decade in hiding under the protection of the British government. But the author had long since resumed what he recently described as a "very normal" life over the last 20 or so years.
The fatwa also applied to anyone involved in publishing the The Satanic Verses. In 1991, two translators of The Satanic Verses were attacked: Its Japanese translator, the Islamic scholar Hitoshi Igarashi, was stabbed and killed at a university near Tokyo; the book's Italian translator, Ettore Capriolo, was attacked and stabbed in his home in Milan but survived. In 1993, a large mob targeting the Turkish translator, the leftist author Aziz Nesin, set fire to a hotel in Sivas, Turkey, killing 37 people (Nesin escaped). And later that year, a gunman in Oslo opened fire on the book's Norwegian publisher, William Nygaard, who was shot three times in the back but survived.
By the end of 1989, The Satanic Verses (which rose near the top of Amazon's list of best sellers in literature and fiction over the weekend) had been effectively banned in more than a dozen countries, and prompted numerous protests around the world — some of them deadly. There were also multiple bombings targeting bookstores in the U.S. and U.K. over the book.
Could Iran be somehow involved?
Though we still know very little about the assailant and his motives, at this point, no links have been publicly confirmed between the Hadi Matar and members of the regime in Iran or its affiliates. On Monday, a spokesperson for Iran's foreign ministry, Nasser Kanaani, denied that the regime was involved in the attack, but suggested that Rushdie deserved what happened to him. "We don't consider anyone deserving reproach, blame or even condemnation, except for (Rushdie) himself and his supporters," Kanaani said, adding that the "the insults [Rudshdie] made and the support he received was an insult against followers of all religions."
On Sunday, Secretary of State Antony Blinken released a statement condemning the attempt on Rushdie's life, and though he did not directly implicate Iran in Friday's attack, he called attention to how the regime in Iran has "incited violence against Rushdie for generations."
Reformers in Iran have long sought to distance the country from the fatwa on Rushdie, but as Robin Wright explained Sunday at the New Yorker, the death sentence was never disavowed by the country's hard-line clerics. In 2012, a religious foundation in Iran offered a more than $3 million reward for Rushdie's death.
"Iran certainly doesn't benefit in any way from staging this attack, given its own myriad political, economic, and social crises," commented Nader Hashemi, the director of the Center for Middle East Studies at the University of Denver, to Slate on Friday. Noting how shocking the attack was, Hashemi emphasized how "the political and global context of the Salman Rushdie saga is very different at this moment in time than it was when the death sentence was first proclaimed, over 30 years ago," and that "there has been no discussion, chatter, [or] indication that anything like this was on the horizon."
The country has also undergone a hard-line shift in recent years, however. "Rigid ideologues now dominate the executive, legislative, judicial, and military branches," Wright points out, noting that one news outlet in Iran republished the fatwa just five days before the attack on Rushdie. And there are indications that regime elements have grown bolder in their efforts to target enemies abroad. Last week, the Justice Department unsealed charges against a member of the Islamic Revolutionary Guard Corps over an alleged plot assassinate former Trump national security adviser John Bolton, as well as former Trump administration secretary of state Mike Pompeo.
Some pro-regime and hard-line media outlets in Iran have heralded the attack on Rushdie, with several framing the stabbing as justified revenge on an apostate. But as the Observer noted Saturday, there was little public comment from senior government officials. The reaction was also mixed among a handful of Iranians who spoke to the Associated Press on Saturday, with some worrying that the attack — and the fatwa — would end up further isolating Iran from the world.
This is a developing story, and this post has been updated.