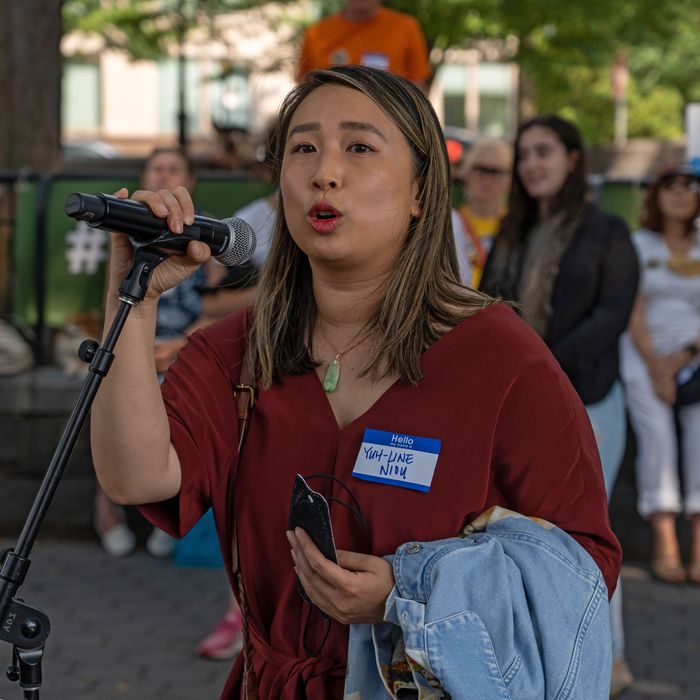 Photo: Ron Adar/SOPA Images/Shutterstock
Yuh-Line Niou is used to running in a crowd. In 2016, she defeated five other candidates to win the Democratic nomination for the Assembly seat vacated by Speaker Sheldon Silver when he was indicted on corruption charges. Six years later, she is running for Congress against a dozen other candidates, including fellow front-runners City Councilwoman Carlina Rivera, former House impeachment counsel Dan Goldman, and Representative Mondaire Jones, in the newly redrawn Tenth District. It includes Chinatown and the Lower East Side, which she represents in Albany.
If she wins, 39-year-old Niou — whose parents emigrated to the U.S. from Taiwan when she was a child — would become only the second Asian American elected to Congress from New York, after Grace Meng. She has been endorsed by progressive heavyweights like the Working Families Party and Sunrise Movement NYC, as well as by some of her fellow state lawmakers, like progressives Julia Salazar and Ron Kim, whom she used to work for as his chief of staff. Earlier this week, Niou was also backed by Jumaane Williams, the city's public advocate.
I recently spoke to Niou about the importance of Asian representation in politics, what she thinks of how her party is doing in Washington, and why, according to her, it's crucial to center disability issues in policy.
What made you decide to run for Congress?
What do you see as the biggest challenges facing the city and state right now?
I think that we need to take back our economy and that we need to make sure that we are fighting for everything through a lens of looking at things like social justice, racial justice, economic justice, environmental justice, and climate justice, because we need long-term solutions to protect our communities here in Lower Manhattan and Brooklyn. Folks don't realize this, but a large fraction of this district is public housing, and we really need to make sure that people are able to get the protection they deserve. We have had huge divestment from the federal government on our public housing, and we have not had huge infusions of dollars except for the little that we were able to finally obtain. I was central in securing the first state dollars to support public housing. Now, we have over $1 billion in capital improvements, but we still need to make sure that we have the $70 billion that's needed. Otherwise, it's like throwing bubblegum into a volcano, you know? It's not going to fix anything.
Because of redistricting, Chinatown is now part of the same congressional district as Sunset Park, connecting two of the city's largest areas of AAPI New Yorkers. What does it mean to unite these two neighborhoods and what should advocacy for these communities look like? 
I mean, I would hope it would look like us. It's really important for us to make sure that we have more of a voice. Asian Americans are the most underrepresented racial and ethnic group in Congress. We make up about 7 percent of the country's population, and yet we have less than 1 percent of the representation. In New York, we have only one Asian American congressman. I think it would be really great to have another. We have been experiencing upwards of a 300 percent spike in anti-Asian hate and violence, and it's really important that we have the ability to fight back against that. I think that a lot of that is representation, making sure that we have somebody with our lens who will be able to legislate in a way that will help. Language-access services, social services that will benefit our communities.
On the state level, just in the past two years, I was able to bring $30 million for our AAPI community and to do anti-hate work. I was the first to really call out the fact that we never had a set line item for Asian American community organizations in our state budget. Our speaker was kind, and when I first asked him, he was finally able to get us $300,000, and that was the first year. This year, with more AAPI elected officials in the actual legislature, we were able to get that $30 million. My co-chair Zohran Mamdani and my Senate colleague John Liu and I were the ones who really fought for this funding, and it's important that we were able to secure it and that we were asking for it to be something that continues for our communities. Right now, it's important to be able to secure those kinds of dollars on the federal level, including making sure that we can have a lens that actually includes us. That's something I hope I can bring for our two Chinatowns — to be able to work together.
It's been written that you will likely be the first openly autistic member of Congress if elected. What would achieving that milestone mean to you?
I still remember, as a young person, I had taken sign language in school and later taught at the Washington School for the Deaf when I was younger. One of the things that ended up happening was that there was a hearing that was held in the Washington State Legislature, and they didn't have any interpreters, even though it was a hearing for an issue regarding hearing aids. Nobody on staff was able to do sign-language interpretation for the audience, and they asked me to do it, and I was like, "I can't because I'm not a professional interpreter, and people need to actually have professional interpreters, you know." I was at least able to explain to them that we did not have a professional interpreter. But this is something that's very lacking.
People really need to think about accessibility for every single issue, and there are so many things that we can do better. I had a very small bill — but it was a big bill in the sense that it affected so many people — on big font. I know that sounds like something anybody would be willing to pass. But it was a fight that I fought for four years to make sure that if people who are hard of seeing checked the box that said that they were, collections agencies would have to give their bills in large font. I got so much pushback on it that I had to debate the bill four years in a row on the floor. It's so important that we're tackling some of these issues that people don't really think are issues. You would think it's just common sense, but it's not thinking about everyone unless you're thinking about everyone.
If elected, what will your first priorities be in Congress?
We have to make sure that we are securing our bodily autonomy, that we codify abortion rights into law. We need to make sure that we ban assault rifles and assault weapons. And also, of course, I think that we need to make sure to pass the Green New Deal, especially when it comes to climate change for my community. I actually really, really liked the greening our public-schools bill that Jamaal Bowman has. Also, to build more public housing on top of the Green New Deal for Public Housing. It'd be really great to repeal the Faircloth Amendment, because we need more public housing, not less.
One of the biggest things that has affected my community that I've continued to work on is stopping predatory lending. I base all my bills, by the way, on issues that come up in my district or that people have told me about or on trends that have been happening to people here. One of the things that we saw was these predatory-lending companies that were trying to get small businesses to take on certain kinds of loans, like equipment loans, that would trap them in a cycle of debt. So we helped to get a couple of companies out of those kinds of loans. We've also seen robocalls prey on Chinese-language speakers, which basically are saying, "Hi, I'm from the Chinese Embassy. You have a package here." That particular robocall actually fleeced our community of, I believe, over $4 million. So it's really important for us to be able to regulate some of those unfair, deceptive, abusive, and predatory practices. I actually have a bill in the state legislature that would do that, and that's something that we should also be doing on the federal level.
You've kind of alluded to how important climate policy is to your platform. What do you think of the Inflation Reduction Act? What do you think of the impact it could potentially have?
We should try to get that bill passed. I mean, it's not the reconciliation bill. It's a Joe Manchin bill. There are a lot of things in it that I am a little concerned about. I'm concerned about the lack of holding the fossil-fuel polluters to account. I think that there was only one thing in there that was doing that, the methane-gas piece. There were a couple of really good pieces in there. I do think that the experts have been saying that it will help us get a lot closer to our climate goals than nothing, obviously. So I think that we have to take it forward as long as we can get some of that money. But one of the things that I'm concerned about is definitely the fact that we have some basic things that are missing from there that I was hoping to see. But I mean, we can't have perfect, I guess. I was hoping that they would close the carried-interest loophole. But right now, it's pretty amazing that we could get $369 billion into climate and energy programs. That's something that's really huge and then, on top of that, with just these little tiny tax tweaks, they're able to get $300 billion also in deficit reduction and then another $64 billion for the ACA. That's something that's not to be looked at lightly.
The Democratic Party has control of the White House and also both chambers of Congress, though by slim margins. What do you think of the job that the White House and Congress have done in the years since Trump left office? What more could be done? 
To me as somebody who's sitting here in New York, it's been a little bit frustrating to watch. Like you said, we have a Democratic president, we have a Senate majority, we have a House majority, and I think that there are moments when people are more concerned about saving their seats than they are about saving the lives of their people. It's a lack of political courage in this moment, and I think that right now, more than ever, what we need is political courage. I don't think that it's okay to just lean back and say, "I'll fight another day," when the fight is here on our doorstep and we're losing our rights. That's why it's such a big deal to run right now, because it's really important for us to make these decisions that will help us get people to understand that the government is supposed to be here to protect them.
This interview has been edited for length and clarity.