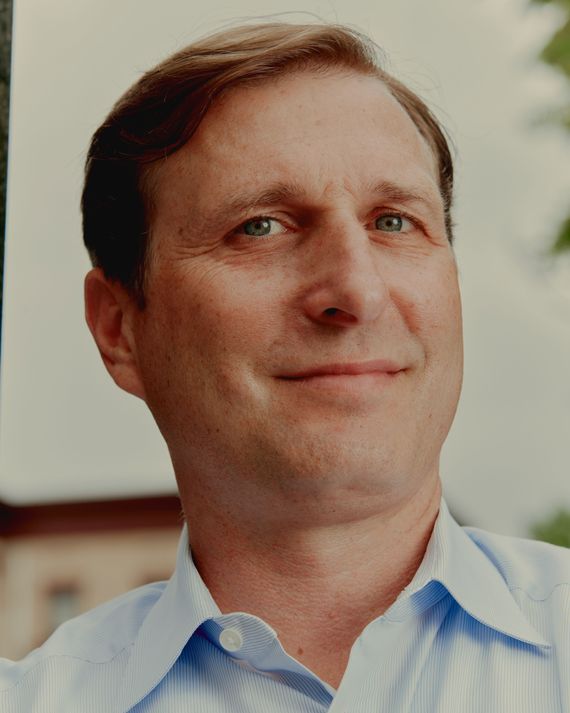 Walking into a juice and smoothie shop near Prospect Park on Wednesday afternoon, Dan Goldman looks especially relaxed. Hours earlier, his rival in the Democratic primary for Congress, Yuh-Line Niou, closed the door on challenging him again in the general election. With virtually nothing standing in his way to being elected outright in November, he is already acting like a congressman.
"I am excited to get started doing the work, and I've already begun the process of reaching out to many of the various leaders and elected officials and community organizers and activists to begin the process of building these relationships," Goldman says. He's met with tenant association leaders at the Red Hook Houses and recently held a press conference at the Jacob Riis Houses in the East Village, calling on Mayor Eric Adams to provide hot meals to NYCHA residents there who have been unable to use their tap water to cook with or drink after tests showed traces of arsenic.
It's been three weeks since the 46-year-old former federal prosecutor and Donald Trump impeachment veteran was declared the winner of the primary for the open seat in the Tenth Congressional District that spans Lower Manhattan and Brooklyn. With a campaign powered by his extraordinary personal wealth and the endorsement of the New York Times, the first-time candidate defeated a crowded field that included experienced politicians such as Niou, who serves in the state assembly, and, at one point, former mayor Bill de Blasio.
It was a narrow victory, though, with Goldman receiving 26 percent of the vote, defeating Niou by a margin of a little more than 1,300. Since then, Niou's allies had been urging her to run against Goldman again on the Working Families Party ballot line with the belief that voters in the safely Democratic district who cast ballots for a multitude of progressives in the primary would be more likely to support her in a smaller field over Goldman, whom his opponents described as a moderate or even a conservative Democrat.
"I think the biggest misconception is that I'm not a progressive. I share the progressive ideals and values of the other top candidates in the race," Goldman says. He supports an assault-weapons ban and term limits for Supreme Court justices but doesn't explicitly support Medicare for All.
A far more common criticism leveled at Goldman concerned him pouring close to $4 million of his own money into his campaign. One of the heirs to the Levi Strauss & Co. fortune, with a net worth of at least $64 million that would make him one of the richest members of Congress, he doesn't see his ability to self-fund as an unfair edge over candidates of lesser means. "Everybody comes into an election with advantages and disadvantages," he says. "As a first-time candidate in a very condensed election period running against people who have been in politics for a long time and had relationships with other organizations and advocacy groups or officials that I did not have or came from a different district with millions of dollars. Those were advantages I did not have."
Goldman's campaign quickly blanketed the airwaves with advertisements — alongside Representative Mondaire Jones, who moved from Rockland County to Brooklyn to run as a result of redistricting only to finish third. "So, I had a choice to make, which was, I could speak to donors or I could speak to voters," he says. "I wanted to get my message out, and I wanted to speak to voters directly, and I wanted to make sure that the voters in this district knew personally from me and over the media exactly what my message was so that they were fully informed when they voted."
The late avalanche of cash was enough to unite Niou and Jones, who held a joint event a week prior to Election Day where they urged voters to support anyone but Goldman and accused him of trying to buy a seat in Congress. "There are plenty of candidates for office who have self-funded, put a lot more money in than I did, and lost, and you need only look at the 2021 mayoral race to see some of those," Goldman says. "So the notion that anybody can just buy a seat is a little misguided. But it was an advantage I had that I felt was going to offset some of the advantages that my opponents had."
The late alliance didn't work, and Goldman secured the Democratic nomination as polling had suggested he would. But his victory was marked by low turnout, likely because of the odd circumstances of the race being the second primary during an off-election year. As a result, he will represent a district where almost three in four voters didn't support him.
"I know I got 26 percent of the vote, which means 74 percent of people who voted did not vote for me, and I have a lot of sympathy for people who are concerned about that," Goldman says. "You should need more than 17,000 votes to be elected to Congress in districts that have 770,000 people." After the election was over, some observers speculated about the effect that ranked-choice voting would've had on a race with such tight margins. "I think that anything that gives more power to voters is something that I support," he says.
Given his narrow victory, Goldman says he's going to spend the next few months before moving to Washington working on winning over those who didn't support him in the primary. "I think what I want to do is make sure that everyone recognizes that they have an advocate for them in Congress. I am really determined to make the outreach to all of the voters, to the community leaders, to elected officials who endorsed other candidates, to labor unions who endorsed other candidates, to other organizations who may have endorsed other candidates."
"I take the victory with a lot of humility and a lot of recognition that there are a lot of bridges to be made with so many of the leaders in this district, and I look forward to doing that," he says.