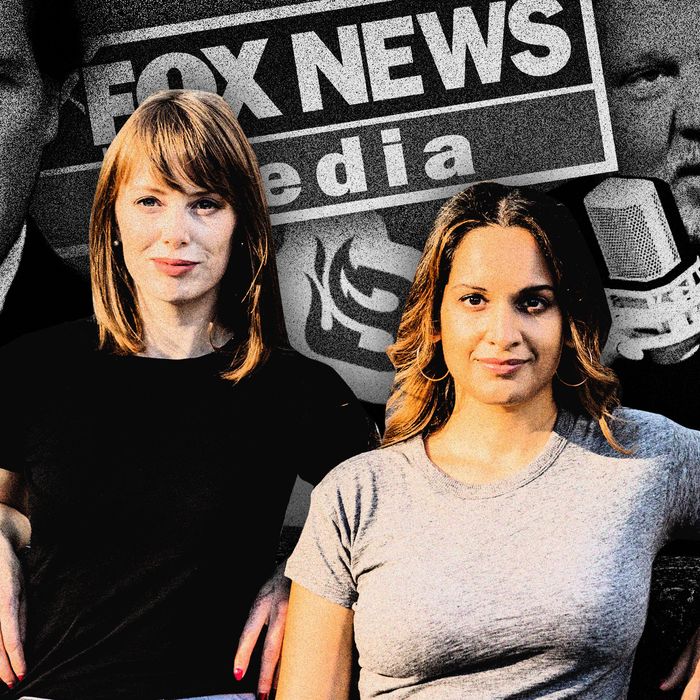 Photo-Illustration: Intelligencer; Photo: Jon McMorran
This article was featured in One Great Story, New York's reading recommendation newsletter. Sign up here to get it nightly.
"We got Yahoo to kill their Glenn Beck ads," Nandini Jammi announced during a private video call in February with two colleagues from the group Check My Ads and 20-odd supporters. "I'm sorry — I'm using very violent language — to block Glenn Beck from their inventory."
On the screen, a row of faces nodded. They knew Jammi was referring to Yahoo Ad Tech, a part of the web pioneer Yahoo, Inc., that places ads for thousands of other companies on sites across the web but, she said, had just stopped placing them on The Blaze, which was started by Beck. Yahoo had provided almost "instant gratification," Jammi added, acting within 12 hours of receiving emailed complaints that Blaze TV had promoted "voter fraud claims" and that two days before a pro-Trump mob stormed the Capitol, Beck had said on his brodacast: "It is time to fight. It is time to rip and claw and rake. It is time to go to war, as the left went to war four years ago."
Beck had not called for attacks on the Capitol, and a day later he told people planning to march in Washington, D.C., to "channel your inner Martin Luther King," but his first remarks had violated Yahoo's community guidelines that prohibit content promoting "domestic violent extremism," according to emails Jammi and others had sent to executives at the company. They did not reply, Jammi said, but she had gotten a sympathetic message from one of their employees: "There was someone from Yahoo in my DMs on LinkedIn who was like, 'I completely support everything you do.'"
Jammi, a former marketing manager, helped pioneer a form of activism that has removed millions of dollars in ad revenue from websites she accused of spreading disinformation. She and her institute are major players in the burgeoning — and to some controversial — industry devoted to fighting falsehoods that exploded after Donald Trump rode a wave of lies to victory in 2016. (Jammi and her colleague Claire Atkin sit on the advisory committee of Good Information, Inc., a group the billionaires Reid Hoffman and George Soros helped start and that finances efforts to fight online disinformation.)
Although Jammi began her career as an activist by questioning companies whose ads appeared on one specific right-wing page, she has lately focused on the industry that places ads for countless companies on sites across the web, including those that trade in disinformation. All of the sites they criticize advance far-right views, but Jammi and her colleagues at the Check My Ads Institute maintain that their work is meant to elevate facts over fiction, not support one political orientation over another. The only way to halt lies spread online, she believes, is to remove the advertising money that supports deception-fueled outrage. So she has been pressuring leading companies in the multibillion-dollar world of ad tech, taking the fight to the people who have underwritten fantastical claims including that the 2020 election was "rigged."
The term ad tech is often used broadly to describe the vast digital-ad marketplace, the constellation of companies that do business there, and the software they use. While it is still common for print advertisers to buy ad space directly from newspapers and magazines, about 90 percent of online ads are placed by middlemen without contact between buyers and sellers. The world's biggest ad-tech companies, such as Google and Amazon, make millions of matches a day, instantaneously. That makes it easier for ads from one source to run on hundreds or thousands of websites, but ad-tech users, including Fortune 500 corporations, may have no idea where on the web their ads are appearing and whom they are financially supporting. Leading ad-tech companies aim to allay concerns that might arise from that by setting standards for the publishers for which they supply ads. Google ad tech, for instance, prohibits "claims that are demonstrably false and could significantly undermine participation or trust in an electoral or democratic process." Magnite does not allow "harmful disinformation." Criteo doesn't permit content that "shares mistruths and falsehoods."
Jammi says advertisers tend to rely on ad-tech companies to weed out problematic publishers. But she and her colleagues have hundreds of examples of ads appearing on sites that have published lies or that could be construed as promoting antagonism. And they can point to instances in which sites that were blocked or dropped by ad-tech companies continued to profit from ads by disguising who they were or where ads were going — while also continuing to generate falsehoods.
Once published online, bits of disinformation can spread rapidly, and their cumulative effect is to inject cynicism into the culture at large and undermine the very idea of objective truth. That way, any fact can be questioned and any falsehood can be presented as a fact. People who spread and subscribe to conspiracy theories often claim that powerful forces are trying to suppress them. That creates an aggrieved paradigm in which believers are inoculated against reality. Information that contradicts a lie is seen as further proof of its validity, and anything that debunks a conspiracy theory is absorbed into its perfect, paranoid vision. "Disinformation thrives in today's digital economy," Jammi says. "There's no way for responsible news organizations to compete with people who can open up a fire hose of lies."
But if the people with the fire hose have "an inalienable right to lie," as Jammi puts it, then advertisers have a right to steer clear of them. Cutting purveyors of disinformation off from revenue can slow the spread of falsehoods, she believes, and make that practice less lucrative. It also introduces some accountability into ad tech, which Jammi and her colleagues refer to as a "black box." She argues that very few advertisers would choose to place ads on fringe political sites and that almost all are eager to remove those ads when they learn about them. Sites that spread disinformation aren't being treated unfairly when they lose revenue that advertisers did not intentionally send their way, Jammi says, adding: "Taking away ads that a business never meant to place is not censorship."
To Jammi, who grew up outside Washington, D.C., the daughter of an economist and a lab technician, marketing is a form of problem solving. "I was always fascinated by how to use words to move people in a certain direction," she said. In 2016, she was living in Berlin when she realized that ads could be a lever against far-right sites and teamed up with a freelance copywriter in San Francisco named Matt Rivitz to anonymously run a project called Sleeping Giants. It started tweeting at companies whose ads appeared on Breitbart, described by Steve Bannon, then its chairman, as "the platform for the alt-right." Companies, including Allstate, Kellogg, and Warby Parker, said they would stop advertising on Breitbart — many stated they had no idea their ads had appeared there. Bannon later estimated that the site lost 90 percent of its revenue after the Sleeping Giants campaign began. Sleeping Giants, meanwhile, moved on to pressure companies whose ads ran on Bill O'Reilly's show on Fox after he was accused of sexual harassment.
By 2019 Claire Atkin, a marketer from Vancouver, had become a fan of Sleeping Giants, and when she saw on Twitter that Jammi was coming to town she got in touch. The two ended up speaking for hours about how marketing and technology had helped give voice to falsehoods and violent rhetoric. "We were kindred spirits in an industry that was otherwise turning a blind eye," Atkin says. While working with tech startups, she had begun thinking about what could happen if the marketing tools she was using to help clients were adopted to manipulate the public. She was also disturbed by the ripple effects of Trump's election. "It was the hatred and the racism," she says. "I saw that it was giving people with bigoted views the opportunity to express them." That summer, during TuringFest in Edinburgh, Atkin shared a hotel room with Jammi, who gave a talk in which she told a tech-industry audience that they had enabled "hate and disinformation merchants" like the Proud Boys and Tommy Robinson, a British anti-Muslim agitator whose supporters had attacked police officers. "The public understands," she added. "And the public now expects you to answer for that."
At that point Jammi was barely on speaking terms with Rivitz. A year later she announced her departure from Sleeping Giants in a Medium post saying he had not given her proper credit for her work and had "gaslighted" her out of the movement they created. Rivitz said recently that the first few years of Sleeping Giants included good and bad decisions. He added: "I continue to be so impressed by what Nandini and Claire are doing now in taking on ad tech." In 2020 Jammi teamed with Atkin to consult with companies over ad placement and publish a newsletter titled Branded that serves as a venue to expose the secrets of the online ad world and to demonstrate Atkin and Jammi's ability to unearth them.
Over the past couple of years they have functioned like digital-age muckrakers, collecting information from researchers and ad-tech insiders, then publishing stories in Branded that aimed to shake up the industry. Last year, Branded reported that ten ad-tech companies, including Google, were financing SouthFront, an English-language site the U.S. government had sanctioned, saying it receives directions from Russia's Federal Security Service, and had claimed that voter fraud took place during the 2020 election. Mark Warner, the chairman of the Senate Intelligence Committee, cited Check My Ads in a letter to Google's chief executive, Sundar Pichai, writing: "Unfortunately, your platforms continue to be key vectors for malign actors — including, notably, those affiliated with the Russian government — to not only spread disinformation, but to profit from it."
Late last year, Atkin and Jammi started the Check My Ads Institute, which was recognized as a nonprofit and has raised more than $1 million in donations and grants from organizations including Pierre Omidyar's Democracy Fund. The institute's first campaign was announced in January. Called "Defund the Insurrectionists," it aimed to lock six people whom Jammi and Atkin see as promoting lies that led to the attack on the Capitol — Bannon, Beck, Dan Bongino, Tucker Carlson, Charlie Kirk, and Tim Pool — out of ad tech. First, Check My Ads identified when those figures appeared to be violating ad-tech company standards. Then, templates enumerating those violations were sent to the institute's supporters who emailed complaints to those companies. Atkin and Jammi say they chose their Defund targets because among the figures who fostered doubts about the election, they had the biggest voices, the most ads, and the greatest potential to encourage future violence. "They are essentially creating an army," Jammi says. "And they are the generals."
Atkin and Jammi see one another as complementary and indispensable. "I'm a bit of a chaos agent," Jammi says. "And she is order." Both describe their political views as closer to the center than the edge and do not see themselves as picking a side in a battle between political parties but in one where the lines are drawn in a more elementary way, between people who believe that democracy requires a shared sense of what constitutes a basic truth versus those who see that requirement as providing a loophole to be exploited for political gain. To be neutral in that kind of struggle, Atkin says, is to let extremism define what is seen as mainstream, adding: "As a brand, it's weak." Atkin and Jammi both use social media as a soapbox, thanking companies that ditch sites that publish falsehoods, castigating companies that ignore calls to stop, and sometimes mocking responses that seem maladroit or manufactured. Jammi tweets more often than Atkin and with more of an edge. "If you want to come for us," she once told a Mozilla blog, "we will come right back at you."
Last year Jammi began tweeting about ad-tech companies that were doing business with a website belonging to Dan Bongino, a former Secret Service agent and unsuccessful congressional candidate whose podcast has topped the iTunes list. Six days after Biden won the 2020 election, Bongino hosted an episode that included Trump lawyers Jenna Ellis and Rudy Giuliani. "We've seen some real anomalies in this election, in Pennsylvania and elsewhere," Bongino said, adding that "the media" had "coronated a new king." Ellis said the Pennsylvania legislature might have to appoint electors and called an electronic voting system she said had been used in multiple states "incredibly problematic," adding: "This isn't just about glitches, this is about intentional fraud." Giuliani claimed that American votes were counted in Barcelona by a company that former Venezuelan president Hugo Chávez established "to steal elections."
As Jammi's tweets about Bongino mounted, his site published a string of stories accusing her of making errors and calling her a "Soros-backed Antifa-linked activist," a "cancel-culture activist," and a "crackpot." For a while, Bongino's pinned tweet included a link to a story on his site about Jammi saying she had written a blog post years earlier in which she "argued for lesser punishments" for juvenile sex offenders. Jammi tweeted that the post was from the summer after her freshman year of college, when she was an intern with the National Crime Prevention Council. She added in another tweet: "I was arguing about how to help/rehab kids who likely experienced abuse themselves." When someone tweeted at Jammi about disavowing the old blog post, she replied: "I'll disavow what I said when Dan Bongino wins an election." A right-wing Canadian website called The Post Millennial also published a series of stories criticizing Jammi, who received a flood of abusive messages, including one suggesting she "might want to consider wearing a kevlar vest." Some of the messages were frightening, but they were also evidence that Bongino's site and The Post Millennial were violating ad-tech company standards, Jammi says. Soon, she adds, both were losing ads.
Early this year, Bongino was banned from YouTube after violating its COVID-misinformation policy by posting videos saying cloth and surgical masks were useless in stopping the spread of the coronavirus. Before his banning, Bongino posted a video to Rumble, a video site popular on the right, in which he said he was an investor. There, he showed the text of an email he said was to YouTube in which he predicted the company would "silence" him, promised to keep posting videos about masks, and dared YouTube to respond. After it did, Jammi asked via Twitter why Bongino was blocked from YouTube, which Google bought in 2006, but not from Google ads. Soon he was. Now when Jammi speaks in public, she sometimes cites Bongino while explaining how Check My Ads operates. 
A representative at Fox News, where Bongino has a television show, responded to questions for him by citing previous statements in which he said, among other things, "I never got in this for the money," and described Google ads as "one of the most powerful, devastating tools the left has to censor conservative voices."
Since the Defund campaign began, Jammi said, ad-tech companies have also stopped placing ads on Timcast, the website of Tim Pool, who made videos before the 2020 election titled "Mail in Voter Fraud CONFIRMED But Democrats DENY And Lie Even As 1 Million Votes Compromised" and "The Election Is Being Rigged AGAINST Trump And Its INSANELY Obvious, Democrats Are Cheating To Win." After Election Day, Pool said in videos that 6,000 votes in Michigan that went to Biden should have gone to Trump and that 10,000 votes in Nevada were cast by people who do not live there. He said voter fraud had not been proven but that evidence of widespread fraud existed. In late December 2020 he stated "the reality is, Biden didn't win." Pool added that the conspiracy broadcaster Alex Jones had said people would occupy Washington, D.C., and prevent Biden from taking office. Then Pool said: "On January 6, if Trump supporters show up and prove to Trump that they are willing to travel from all over this country in support of him, then Trump probably will take action."
Even if Pool's site has lost ads, his YouTube videos are packed with them. Check My Ads has tweeted about those but has not organized any campaign directed at ad-tech companies that supply them. YouTube videos by Pool have recently included ads for Chevrolet, White Claw, Puma, and the Florida gubernatorial campaign of Ron DeSantis. Pool wrote in an email message that he had removed ads from Timcast for reasons unrelated to Check My Ads. "I don't think they are doing anything relevant," he wrote."They have had no impact at all on us." He added that he had "always maintained" that Trump had lost the election and that his loss had nothing to do with fraud, writing: "Trump lost because people hate him."
In March, Jammi appeared with Atkin on a stage at South by Southwest and asked: "Who here knows Dan Bongino?" A wave of laughter from the crowd followed. "Yeah, we do too," she replied. A few days later Atkin was on a panel in Washington, D.C., organized in part by the R Street Institute, a libertarian think tank, where she said Check My Ads believes in free markets and "in the free speech of advertisers to stay the hell away from the things that are dangerous to their employees, their communities and their families." A few days after that she was in New York City to talk with prospective employees and donors.
Early this spring, she sat outside a Japanese restaurant a few blocks from City Hall, sipping from a cup of hot water with lemon while talking about why countering online disinformation is about more than fact checking. "This is an anti-authoritarian movement," she said. "We are in a moment in which the myths of anti-democratic forces are upon us, and they are using hate and bigotry and fear to seed doubt and to make people feel like authoritarianism might be the answer."
People who spread propaganda and lies tend to work in networks, Atkin said, reinforcing one another's narratives, the way The Post Millennial had with Bongino, and repeating untruths until they attain a level of plausibility and then become accepted as fact. The aim is not simply to ask questions or offer opposing views but to alter reality. But the ad-tech companies constitute a kind of network, too, and when one drops a disinformation site it can become easier to convince others to follow. "We set precedent quickly and we move up," Atkin said. "It's just a question of one after the other."
Over the next few weeks, Check My Ads tweeted about ad-tech companies dropping a media company with ties to Bannon. The Defund campaign had been a success, Atkin said by phone, though she and Jammi were still strategizing about how to address perhaps their most imposing target, Tucker Carlson, who had just been the subject of a lengthy story in the New York Times that described his show on Fox as perhaps the most racist in history of cable news. "The playbook is the same," Atkin said. Eventually Check My Ads announced a Defund-style campaign aimed at all of Fox News online. (Fox News Media said it "strongly supports the First Amendment and is proud to lead the industry in featuring more dissenting viewpoints on the major issues facing the country than our cable news competitors, which is why we attract the most politically diverse audience in television news.")
While promoting that campaign, Atkin and Jammi have continued monitoring the constant churn of voices striving to rise above the din of online disinformation and go viral. For a certain type of person, the idea of becoming the next Steve Bannon or Alex Jones holds a powerful appeal. That status might consign one forever to the fringes, but it can also bring a devoted audience, influence within far-right circles, and, perhaps most important, numerous moneymaking opportunities.
There are a couple of people in particular who Atkin said were already associated with disinformation sites and seemed to be taking steps to elevate their personal brands and make the leap to super-spreader stardom. "These people aren't famous yet," Atkin says. "But they sure want to be."