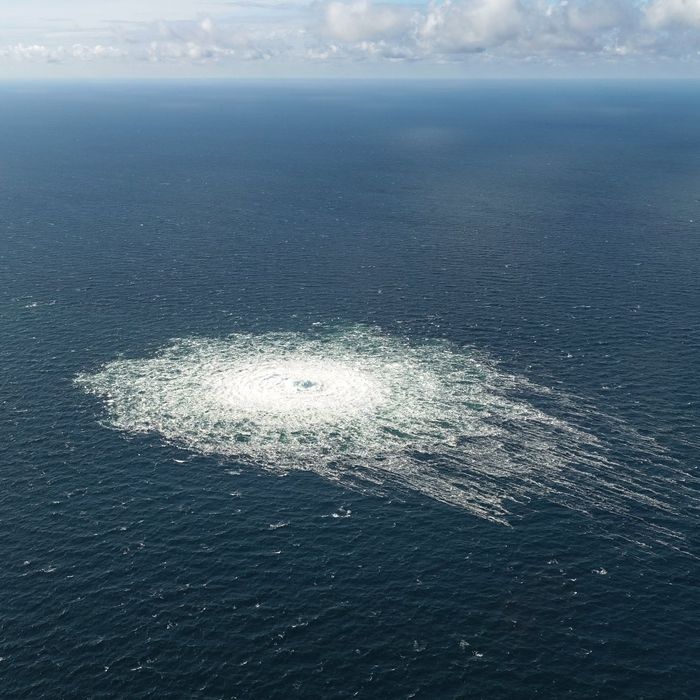 If European officials were ever holding out hope that diplomatic relations with Russia would soon get back to normal, and that natural gas could once again flow throughout the continent, that appears to have been blown up — four times, in fact. On Thursday, a fourth natural-gas leak was detected from two gas pipelines running through international waters that connected Germany with Russia, after officials previously thought that there were only three. These pipelines, the Nord Stream 1 and 2, had been turned off or were never fully operational since the start of Russia's invasion of Ukraine in March, but had held tons of idled pressurized natural gas. That has since been spewing into the Baltic Sea, with one of the largest explosions off the Danish Coast. The sea borders Poland, Germany, and the Scandinavian and Baltic countries, in plumes that are reportedly about a kilometer wide:
This was sabotage, according NATO officials, echoing earlier comments made by German and Polish officials. "We can't imagine a scenario that isn't a targeted attack. Everything speaks against a coincidence," a German official told the newspaper Tagesspiegel. Vladimir Putin called it an act of "international terrorism," without saying who exactly was behind it. Underground oil pipelines like these — which hug the floor of the sea — don't typically leak, as each segment of pipe is coated in concrete and weighs about 24 tons. The operator of the pipelines initially said there was "a pressure drop on both strings of the gas pipeline" and that it was investigating; then later added that the leaks lead them to "a strong assumption" that the pipeline was physically damaged, and that a perimeter of five nautical miles has been established around the leaks. As Bloomberg columnist and energy expert Javier Blas points out, natural or more prosaic explanations for the leaks are unlikely.
The evidence so far is pointing toward some kind of deliberate explosion. The Swedish National Seismic Network said that it detected blasts in the Baltic Sea. "There is no doubt that these are blasts or explosions," Björn Lund, a seismologist with the Network, told SVT, a Swedish news site. On Thursday, German newspaper Der Spiegel reported that German officials believe that an underwater explosion equivalent to 500 kilograms of TNT were used to destroy the pipelines. European officials are still investigating the blast, however, and it could take as long as a week to stop the gas leak.
The environmental impact is complicated. The Baltic Sea has been hostile to marine life since around the 1950s, when it was a dumping ground, and has suffered from a process called eutrophication, which leads to reduced oxygen levels in the water. The estimated amount of gas that was sitting in the pipeline would make it the largest known leak ever — around 1 percent of what Germany produces annually — but still a small amount compared to the overall world emissions, according to Politico.
So why is this happening now? That is still unclear. Late on Tuesday, Der Spiegel reported, and the New York Times confirmed, that the C.I.A. had given some non-specific warnings to a few countries, including Germany, that the pipeline could be a target. The Nord Stream 1 had the capacity to deliver 550 billion cubic meters of gas a year to Europe, but it had essentially been turned off for months as part of Europe's sanctions against Russia — one of the main reasons for soaring gas prices in Europe. The Nord Stream 2 was never operational, with Germany opting out of activating it to punish Russia.
Despite the accusations from European officials, it's still unclear who might have blown it up. White House spokeswoman Karine Jean-Pierre said the administration would not speculate as to who was behind it. "Our partners are investigating this, so we stand ready to provide support to their efforts once they have completed their investigation," she said. The Russians denied responsibility, and have tried to pin this as a false-flag operation by the U.S. or Ukraine. This was happily taken up by Tucker Carlson, who went on his show to suggest that the U.S. was responsible for the explosions as a way to get more people to buy electric vehicles. This was immediately co-opted by Russian propaganda outlets.
But European analysts suggest Russians might have had a reason to do it themselves — even though they are the owners of the pipelines. An adviser to Ukrainian President Volodomir Zelenskyy called it a "terrorist attack" by Russia that was meant to destabilize the European Union. Recently, Polish and Danish heads of state had participated in a ceremonial opening of another gas pipeline, and the nearby explosions may be intended as "a signal that something could happen to the Norwegian gas," Anders Puck Nielsen, a researcher with the Center for Maritime Operations at the Royal Danish Defence College, told Reuters.
What could happen next is unclear. The pipeline is majority-owned by Russian entities, and its destruction has not caused any energy problems that haven't already been apparent for months. "Any deliberate attack against Allies' critical infrastructure would be met with a united and determined response," according to NATO's statement — which seemingly is written in a way to rule out any escalation with Russia.