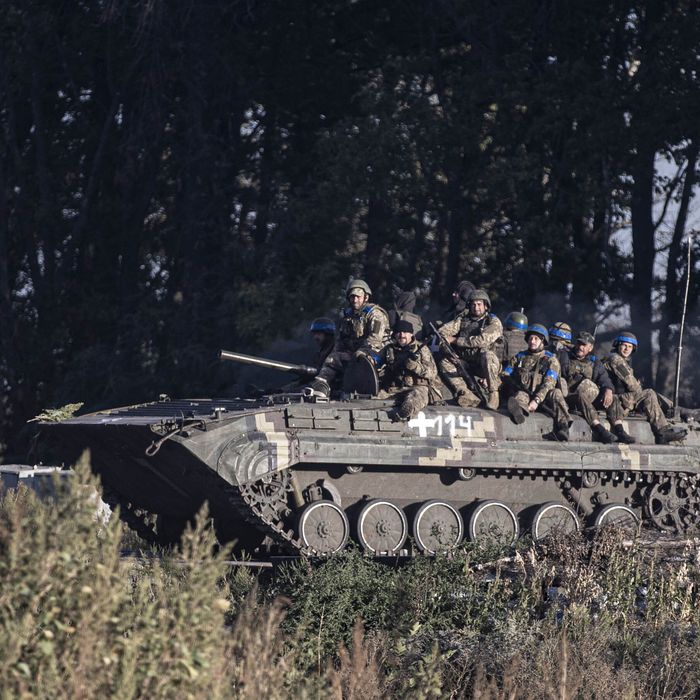 Ukrainian forces patrol after the army took control of some of the villages in Kharkiv, Ukraine, on September 9.
Photo: Metin Aktas/Anadolu Agency via Getty Images
A fast-moving major offensive by Ukraine has liberated a wide swath of territory from Russian forces in the northeast Kharkiv region, shocking military analysts and not just breaking what had been a long stalemate, but marking what appears to be a turning point in the nearly seven-month-old war.
Ukrainian forces continued to push deep into what had been Russian-occupied territory over the weekend, as Russian forces rushed to fall back in what may be an attempt to avoid thousands of its troops being suddenly surrounded. The stunning mechanized advance, which began on Tuesday and seems to have caught Russian forces off guard, has been confirmed by images shared on both Ukrainian and Russian Telegram channels. Even the Russian Defense Ministry has acknowledged being pushed back — though it described the rout as a "regrouping." In fact, it appears that Ukraine's blitz has collapsed Russia's northern front.
On Sunday, Russia reportedly retaliated with strikes on the region's energy infrastructure that caused, according to a tweet from Ukrainian president Volodymyr Zelenskyy, "a total blackout in the Kharkiv and Donetsk regions, a partial one in the Zaporizhzhia, Dnipropetrovsk, and Sumy regions."
Late Saturday, the Institute for the Study of War assessed that "Ukrainian forces have penetrated Russian lines to a depth of up to 70 kilometers in some places and captured over 3,000 square kilometers of territory in the past five days since September 6 — more territory than Russian forces have captured in all their operations since April." The ISW later noted in a tweet that Ukraine "has decisively won the Battle of Kharkiv Oblast" by "recovering its territory northwest, north, and northeast of [Kharkiv] and ending the Russian ground and artillery threat to Ukraine's second-largest city." It says the advance is Ukraine's largest victory in the war since repelling Russia's attempt to capture Kyiv in March.
On Saturday, Ukraine recaptured two key cities southwest of the regional capital of Kharkiv, both of which were railway hubs, and despite efforts by Russia to reinforce its forces in the area. Ukraine first retook Kupyansk, and soon after, Izium, which Russia had held for six months, and was an important military stronghold and critical logistics hub.
The Russian Defense Ministry acknowledged on Saturday it had withdrawn from Izium, which is about 125 kilometers southwest of Kharkiv. However, as the New York Times has cautioned, it's not clear how secure Ukraine's control of the city is, particularly if Russia tries to mount a counterattack.
The Wall Street Journal notes that ahead of the offensive, Ukrainian forces had been using Western-supplied weapons, including long-range High Mobility Artillery Rocket Systems (HIMARS), to attack frontline Russian positions and disrupt Russian supply lines. A Ukrainian military intelligence source told The Economist that Western weapons systems have also successfully limited Russia's ability to use air power to target the advancing Ukrainian forces.
On Sunday, there were reports that Russian forces in the Kharkiv region were once again forced to abandon a number of tanks and other equipment during their hasty retreat.
And while Ukraine has been utilizing Western-made weapons — with great apparent success in its new offensive — Russia has been having trouble restocking its own war machine, recently turning to North Korea for more ammunition and Iran for more drones — though U.S. and allied security officials say Russia had problems getting the drones to work.
This post has been updated.