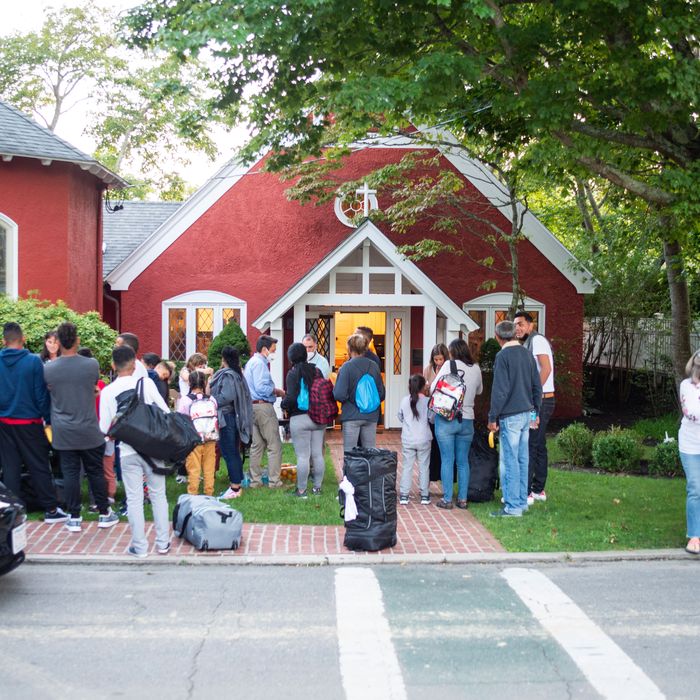 Migrants and volunteers outside St. Andrew's Episcopal Church in Edgartown, Massachusetts.
Photo: Ray Ewing/Vineyard Gazette
Governor Ron DeSantis vowed on Friday to continue to use Florida taxpayer dollars to fund more stunts like the one his office orchestrated earlier in the week when it misled, then flew group of migrants to Martha's Vineyard unannounced. The migrants are now staying at a military base on Cape Cod after being relocated to the mainland. Meanwhile the fallout and outrage over what DeSantis did, and how, continues to build. A prominent civil rights group in Massachusetts is now calling on state prosecutors to open a criminal investigation into the matter, while pro bono immigration lawyers work to help the migrants navigate their sudden change in circumstances and meet their upcoming legal obligations.
When the migrants arrived on Martha's Vineyard, unannounced, aboard two planes on Wednesday afternoon, it was initially not clear to local officials who had arranged the charter flights, which had apparently originated in Texas, with a stopover in Florida, before heading to the island. DeSantis's office then took credit on Wednesday night.
About 50 people from Venezuela, Colombia, and other Latin American countries were aboard the planes, mostly men in their 20s and 30s, but also seven families, including four young children. One of the migrants told reporters that they had been staying in San Antonio after crossing the border before being informed by a "refugee organization" they could go north, they were told, to Boston. Others have detailed a range of false promises made to them by those who organized the flights, including guarantees of job opportunities, childcare, and immigration assistance.
The flights, which no one knew had the migrants aboard until they touched down, mark another escalation of the tactics started this year by Texas governor Greg Abbott and Arizona governor Doug Ducey, in which Republican-led states send large numbers of migrants to liberal-run cities far from the border — including Washington, D.C., Chicago, and New York — in an attempt to criticize the Biden administration's immigration policies. DeSantis, it appears, now wants to get in on the act and grab some headlines for himself. Except this time, instead of sending people to a large city, he sent them to an island community of about 15,000 residents.
It's not clear how DeSantis decided on Martha's Vineyard as the destination, but he apparently previewed the plan at a fundraiser last weekend. During his speech at the event, DeSantis reportedly referenced the $12 million the GOP-controlled Florida state legislature appropriated for relocating migrants before musing on where he might send them, according to the Washington Post. "I do have this money. I want to be helpful. Maybe we will go to Texas and help. Maybe we'll send to Chicago, Hollywood, Martha's Vineyard. Who knows?" he said, drawing applause from the audience of top donors.
Fox News host Tucker Carlson also publicly floated the idea during a July 26 segment. And, of course, Martha's Vineyard is also where Barack and Michelle Obama own a home.
At a news conference on Friday, DeSantis again doubled down on the idea, vowing to use "every penny" of the money to send migrants by bus and plane to other states. But there are at least some signs that the stunt could cost DeSantis and Florida Republicans politically, particularly among South Florida's large population of Venezuelan Americans.
Soon after the flights' arrival on the island, local and state officials, as well as volunteers from across Martha's Vineyard, quickly sprung into action to provide food, temporary housing, interpreters, and other assistance for the migrants. The Vineyard Gazette reports that the passengers were initially relocated to a local high-school cafeteria, then given shelter in St. Andrew's Episcopal Church in Edgartown.
"People were served breakfast this morning by the parish and served lunch by the school system. We are a community that helps one another, and you can see that here," Massachusetts state representative Dylan Fernandes said during a press conference on Thursday, emphasizing that local officials and volunteers had the situation well in hand.
"We are a community that welcomes immigrants and that helps one another, and you see that here today embodied on Martha's Vineyard," he said. But he also decried the cynical way in which the migrants had been used. "To use women and children as political pawns is cowardice. Governor DeSantis is a coward," he said. "Their communication on this, Governor DeSantis's on this, was to jump on Fox News and beat his chest about how tough he is on immigration. It's inhumane. It's depraved."
On Wednesday, Massachusetts state senator Julian Cyr compared the stunt to tactics used by segregationists against the civil rights movement: "Just like the reverse freedom rides in the 1960s, this endeavor is a cruel ruse that is manipulating families who are seeking a better life."
"Some of them were told lies," Fernandes said Thursday. "They were told they would receive housing and jobs immediately upon arrival."
One of the passengers, a 25-year-old Venezuelan named Eduardo, told the Boston Globe that "we decided to accept it to see if there were more job opportunities there [we could get] quickly and all because here we want to work quickly."
He also said that the initial confusion after their arrival — for everyone — was soon followed by compassion:
At first they were surprised, just like us, but as soon as we arrived, about 15 or 20 minutes later they adapted just like us, they began to make a list and called the local police and they have been very supportive. We hadn't eaten anything, they gave us food, they offered us to sleep, rest. They tested us for COVID. And they've been supporting us a lot, really a lot.
"Imagine being dropped in here knowing no one. Absolutely no one. It's heartbreaking," the CEO of Martha's Vineyard Community Services, Beth Folcarelli, told the Vineyard Gazette. She also said that the people had been given folders containing a booklet that listed MVCS as a place they should seek help from. Folcarelli, like everyone else, didn't know they were coming until they literally showed up the organization's doorstep.
The idea of shipping migrants who cross the southern border north to Democrat-led states and cities originated during the Trump administration, reportedly spawned by Stephen Miller, the notorious architect of the administration's often objectively cruel immigration agenda. Then-president Trump never followed through with the plan. But governors Abbott and Ducey put their own versions into action earlier this year. Since then, they have bused thousands of migrants to faraway cities while doing essentially nothing to help local authorities in those destinations prepare to receive and assist the people — other than publicize the fact they that were sending them in the first place.
State officials and volunteers are now figuring out longer-term housing and assistance for the Martha's Vineyard migrants. Massachusetts governor Charlie Baker has activated state emergency-management resources, including the possible use of national guard members, to help. A team of immigration lawyers is also working to provide legal aid to the new arrivals, one of the attorneys, Susan Church, told the Globe. She also condemned how the migrants were "duped" into agreeing to board the planes — saying that it was "akin to kidnapping."
This post has been updated.