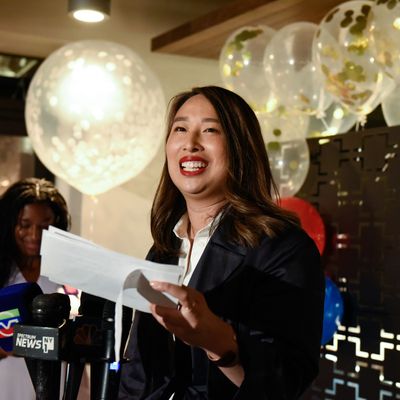 Photo: STEPHANIE KEITH/STEPHANIE KEITH/The New York Tim
For two weeks, Yuh-Line Niou kept the political world waiting. Almost as soon as the Democratic primary for the Tenth Congressional District was called for Dan Goldman, her supporters urged her to run again in the general election on the Working Families Party's ballot line. Niou, they hoped, could pull together enough votes from the divided progressive field to beat Goldman in a one-on-one rematch after he narrowly won in a field of a dozen-plus candidates.
On Tuesday, she delivered her answer in an emotional seven-minute video to her supporters, who have described themselves as heartbroken over her decision not to run in November. "I'm heartbroken too," she says in a Manhattan coffee shop where she explains her choice.
The 39-year-old state assemblymember still seemed to be processing all that had happened this summer, after a tumultuous redistricting process left the city with an open House seat covering lower Manhattan and parts of Brooklyn. She had jumped at the opportunity to climb from Albany to Washington, running against heavy hitters such as Representative Mondaire Jones, Councilwoman Carlina Rivera, and former mayor Bill de Blasio, who later dropped out. As Primary Election Day neared, Niou pulled ahead as the leading progressive in the race with polls consistently showing her neck and neck with Goldman, a wealthy former federal prosecutor who put $4 million of his own money into his campaign and also won the endorsement of New York Times.
As the race narrowed to a two-person battle, many of Niou's supporters voiced their desire for one or more of her fellow progressives to drop out and coalesce behind her to defeat Goldman, who was accused of trying to buy the seat. "I think that everybody probably thought they had a chance to win, and that's probably why they didn't. I think that very few people understood what was at stake here," she says. "We were very much in the top two every single poll and so I was looking like the person to beat and I think that a lot of people felt like they always were within a stone's throw."
Niou didn't limit her criticism to other candidates. "I think that one of the biggest things that we really needed to do probably was to door-knock and call more in some of these areas that I already represented and then also on the West Side" of Manhattan, she says. "We only had such a short period of time, so we prioritized high-voter-turnout areas. So I think there were a lot of strategic things that we could have done a little bit differently."
The race was called for Goldman hours after the polls closed, but it was close and Niou held out for outstanding absentee ballots to be counted. She was also mulling whether to use New York's fusion voting system to run in November on the ballot line for the Working Families Party, which endorsed her in the primary. (The two had been allies since her very first campaign, when she ran solely as a WFP candidate in the 2016 special election to replace Assembly Speaker Sheldon Silver and lost. Months later, she ran in the Democratic primary and won the seat she will hold through the end of the year.)
For her supporters, the conditions were right for an independent-party run. It's a safe Democratic district with no chance of a Republican being able to pull out a win. Critics made the case that challenging a Democrat nominee would waste resources that the party needs to use on other races in New York to maintain its thin House majority. "It was a decision made together. It was a lot of endless conversations about what to do, how it would look, and what it would take," Niou says of her discussions with the WFP. "What we didn't want it to take was to take away from some of the larger fights across the nation," she says.
Niou says that she hasn't heard from Goldman since Election Night or since she conceded. When asked if she would reach out herself, she was noncommittal. "I don't know. I personally don't know what his contact is. But I am very open. My DMs are open. I am a public servant. I still have an office available. But nobody's reached out to me yet," she says.
With the remainder of her term in the Assembly left to finish, Niou says it's too soon to consider another run for office. "I think that's gonna be still several months from now," she says. As for now, her focus is figuring out the best way to mobilize her base of support looking toward the midterms. And as for whether Niou might be hitting the campaign trail for other candidates this fall? "I will be," she says with a laugh. "Count on it."