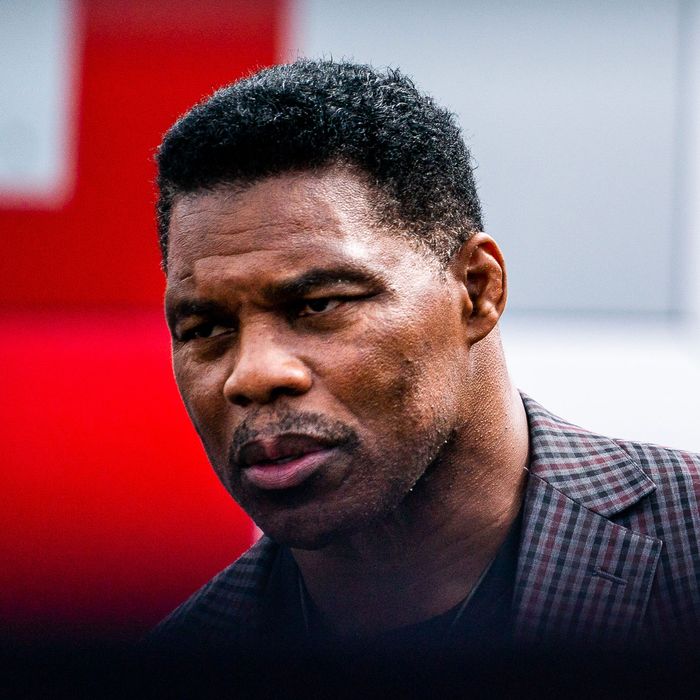 Photo: Demetrius Freeman/The Washington Post via Getty Images
Five weeks out from Election Day, Herschel Walker and his campaign are learning the very basics of crisis communications, including rudimentary lessons like "when the pro-life Senate candidate in Georgia paid for a girlfriend's abortion and his staffers know about the matter, it's probably a good idea to have a game plan ready for when the story comes out." But since the Daily Beast reported that the former football star paid $700 for a girlfriend to terminate a pregnancy in 2009 — and sent a get-well card with his signature on it — the campaign has been scrambling to respond.
It began with an outright denial on Monday with Walker calling the story a "flat-out lie" on Twitter and threatening to sue the Daily Beast over what he said was defamation. That same night, he went on Fox News with a less combative approach:"I send money to a lot of people," he told Sean Hannity, though he still denied paying for the abortion.
By Wednesday morning, Walker all but admitted to paying for the procedure. "People see someone sitting in front of you right now that's been redeemed," he told Fox & Friends co-host Brian Kilmeade. "And I want America to know I'm living proof that you can make mistakes, get up, and keep going forward."
Walker also responded strangely to a viral tirade from his son, Christian, in which his eldest child berated him for lying, claimed that the handwriting in the card was his father's, and alleged that his father "threatened to kill us and had us move over six times in six months running from your violence." His answer — that Christian represented "the left" doing "whatever they can to win this seat" — didn't make too much sense considering that his son is a conservative influencer.
On Thursday, after the Daily Beast reported that the woman who had the abortion is also the mother of one his children, his explanation changed from inconsistent to incoherent. In an interview with conservative radio host Hugh Hewitt, Walker said the allegation was "untrue," designed to "distract people," and that "if I've been forgiven, why in the world would I not be forgiven of something like that?"
Hewitt pressed Walker, a born-again Christian, on that hypothetical, asking if God had specifically forgiven him regarding the paid-abortion allegation. He said he had been forgiven for his actions while suffering from mental illness (he claims he was diagnosed with the extremely rare dissociative identity disorder) and that if he had paid for an abortion, he would have admitted that.
"If that had happened, I would have said, 'There's nothing to be ashamed of there,'" Walker told Hewitt, a strange thing to say for a candidate who supports a nationwide abortion ban with no exceptions.
Later in the day, after drawing out reporters to a campaign event in the state's rural center where he talked about his football career, Walker briefly answered questions about the scandal, repeating that if he did pay for an abortion, he would have copped to it when he became religious.
According to Politico, Walker's team was aware for months of the allegation he paid for an abortion — to the point that it was common knowledge among Republicans in the state. "It was, 'Eh, it's not going to come out, you're being hyperbolic,'" one said. "The reaction was not, 'They're not going to say that because it never happened.' It was like everything else, 'Eh, people aren't going to find out.'" The campaign also reportedly moved to keep Christian from exposing the abortion allegation over the summer.