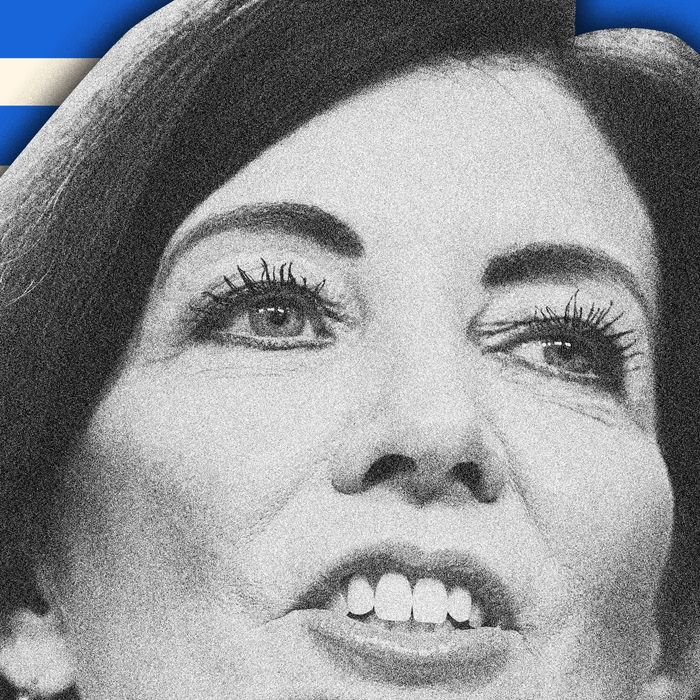 Photo-Illustration: Intelligencer; Photo: MANDEL NGAN/AFP via Getty Images
To understand why sitting Governor Kathy Hochul holds a surprisingly narrow single-digit lead over GOP opponent Lee Zeldin in the race for governor in a state where a Republican hasn't won statewide in 20 years, you have to first go back to the middle of May, when she unveiled a ten-point plan to make changes to the state's controversial bail-reform law.
At the time, crime in New York was surging, up 28 percent from 2021, which was itself up 21 percent from 2020, and worries about crime were surging even further. Months earlier, Eric Adams had been elected mayor of New York on a pledge to address the problem, and Democrats running in the city's suburbs had just seen a major wipeout as part of a voter backlash to the law, which eliminated the use of cash bail for most misdemeanors and some nonviolent felonies. The role that the new laws were playing in the nationwide rise in crime was uncertain — but, regardless, had led to loud howls of outrage from conservative media outlets like the New York Post and Fox News.
In March, Hochul rolled out a ten-point public-safety memo that included a rollback of some of the bail-law reform, but lawmakers would have needed to approve it, and legislative leaders from her own party responded with a simple answer: no.
"Well, obviously the ten points took me by surprise," said Andrea Stewart-Cousins, the leader of the State Senate, who pledged that her caucus was determined to not "go backwards" on criminal-justice reform — including the bail law.
"I know our opponents are going to say, They are being soft on crime; they don't care about victims," said Carl Heastie, the Speaker of the State Assembly. "That's all bullshit."
Their reasons were partly substantive. Criminal-justice reform had long been a priority of state Democrats seeking to unwind Rockefeller-era drug laws. (New York's was just one of many bail-reform laws passed in states across the country in recent years.) But they were partly political, too: Democrats have a supermajority in both houses of the legislature, and legislative leaders have had the luxury of more or less tuning out pleas from suburban lawmakers who said that unless the law was reformed, their seats would be lost.
In closed-door conferences, the leaders and the lawmakers who favored keeping the new laws told worried legislators that the Republicans and right-wing media were going to attack them no matter what they did and predicted that by election time the furor would die down with the public. "The feeling from them was, 'We are not going to put a bunch of young Black men in jail just to make the New York Post happy because they are never going to be happy,'" said one state senator pushing for changes to the laws.
Had the Democratic majorities in the legislature been truly at risk, it might have been different, but New York City was set to gain seats in redistricting, further entrenching those Democratic majorities, and the concerns of suburban Democrats were not considered particularly important in a legislature where Republicans had held sway for most of the previous half-century.
"They are going to have the majority no matter what happens to us," one Long Island lawmaker said. "So they couldn't give a shit about us."
"Honestly," said a New York City–based lawmaker who is a supporter of the bail-reform laws, "I think we'd be happy to lose the more conservative members of our conference."
People close to Hochul say that she considered siding with the suburban lawmakers, drawing a line in the sand, and going to war with the legislative leadership and the proponents of the new bail law. This is almost surely what Andrew Cuomo, the governor she replaced after a sexual harrassment scandal, would have done. Cuomo signed the reform into law but almost immediately said it should be reviewed. His signature move was triangulation, and he preferred running against the legislature. It is easy to imagine a world in which he would have linked arms with Democratic lawmakers in the suburbs and Mayor Adams, banged on the bail-reform drum, and refused to sign the budget — which was also loaded with Democratic lawmakers' pet items — until they did something to change the law.
But Cuomo had the most famous last name in New York politics and a base both in the suburbs and in the city's communities of color, in part from the time he himself spent (before he was in electoral office) working to unwind the Rockefeller drug laws. Hochul is from Hamburg, a small town in Erie County about 20 minutes outside of Buffalo, and was making her first foray onto the big stage of a gubernatorial election. She lacked the relationships with the base of the Democratic Party that Cuomo had. Going to war with Heastie and Stewart-Cousins, both of whom are the first Black leaders in their respective chambers, would have been politically problematic for someone counting on the Democratic base coming out to vote for her.
"Bail reform and crime became synonymous in the minds of many voters, and someone has to pay the price for it," said Hank Sheinkopf, a veteran Democratic consultant. "Kathy Hochul gets the blame because the legislature is unassailable."
Complicating matters further was the presence of Adams. He made curbing the new bail laws a priority, but Stewart-Cousins, lawmakers say, evinced a distaste for Adams dating back to his time in the State Senate, when she saw him as aligned with a group of conservative Democrats who caucused with the GOP. As the mayor pushed on bail reform, the Senate leader dug in further. In this year's primaries, he backed a number of candidates for the legislature who supported his efforts, some of whom were running against incumbent lawmakers. They nearly all lost, but the incumbents were furious and became even less inclined to make changes to the bail law.
Zeldin has seized on the schism among Democrats, citing Adams — who has officially endorsed Hochul — whenever he can and telling reporters last week that he and Adams are old friends from their time in the state legislature. He added cryptically that their conversations have "continued till far more recent than you would ever imagine."
Hochul ultimately pushed for some more minor changes to the bail law in the state budget, hammering out an agreement to allow judges once again to consider cash bail for repeat violent offenders and giving prosecutors more time to turn over evidence to defense attorneys. The changes did not meaningfully impact media coverage of bail reform, nor did Republicans like Zeldin to stop howling about how the original law unleashed a wave of violence onto the streets, proving Heastie and Stewart-Cousin's point about trying to appease the likes of the Post.
And so, as the race reaches its final days, Hochul is in an exquisite box. Thanks in part to media coverage, crime and bail reform have become the most salient issues in the campaign, outstripping even abortion, and Zeldin is pummeling her on both.
"We can continue with the status quo where they believe they haven't passed enough pro-criminal laws," Zeldin said last week at their only debate. "Or we can take control of our destiny and make sure law-abiding New Yorkers are in charge of our streets again." He accused the governor of championing "catch-and-release policies."
"Anyone who commits a crime under our laws, especially with the change we made to bail, has consequences," Hochul said in exasperation at one point. "I don't know why that's so important to you. All I know is that we could do more."
I spoke to dozens of campaign aides and political operatives, Republicans and Democrats alike, and none thought Zeldin was the favorite to win next week. Polls show Hochul with a lead in the mid single digits, and there is a reason that New York now has the longest Democratic winning streak for statewide office of any state in the union: Democrats outnumber Republicans two to one, and the city can usually reliably overwhelm GOP gains elsewhere.
But Democrats, for the first time in a generation, are clearly nervous. And a big part of the reason is that Hochul is getting hammered by Zeldin in the suburbs and upstate, while not barnstorming in Black and brown communities in the city and other urban centers as the defender of the bail laws.
"Someone clearly told her that if you have Black New York with you and you don't have any scandals, you are going to win," said one lawmaker who pushed for reform of the bail laws. "But that only works if you can turn the city out. She could have taken her opponent's best argument off the table, and she chose not to."
In 2014, Andrew Cuomo was facing re-election in a year that saw Republicans sweep elections around the country. Cuomo, though, romped in the city and won 82 percent of the Black vote statewide while running a campaign firmly focused on the suburbs, pointing to his cap on property taxes and pledging to create jobs and build infrastructure. Still, he only garnered 54 percent of the vote, despite having vastly more resources than his Republican opponent. By contrast, Hochul has kept a more limited campaign schedule in the city, focusing on persuading swing voters upstate, and until the race's waning days had not stumped alongside Democratic members of Congress and other lawmakers who could provide validation in communities where she is not well known.
Zeldin, meanwhile, backed by $11 million in super-PAC spending, has made a brazen play for the city vote. On a rainy day last week, he appeared at a press conference outside of Rikers Island, slamming Hochul and the Democratic legislature for what he called soft-on-crime policies and pledging to call a "crime emergency" in the state and reintroduce solitary confinement in prisons.
"There is a crime emergency right now in New York State. The governor is unwilling to call it for what it is. Many of her allies are unwilling to call it for exactly what it is. The public is being lectured to and told to look away," Zeldin said while receiving an endorsement from the correctional officers union. "And what they want to be told from elected officials is what they are going to do to solve the crime issue completely."
Meanwhile, Hochul campaign aides who over the summer boasted that they would beat Cuomo's 2014 showing are now just talking about getting a win.
"The toughening national environment certainly doesn't stop at New York state lines," said Meredith Kelly, a Hochul spokesperson, in a statement. "And combined with unprecedented independent spending for Lee Zeldin, we have long known this would be a fight."