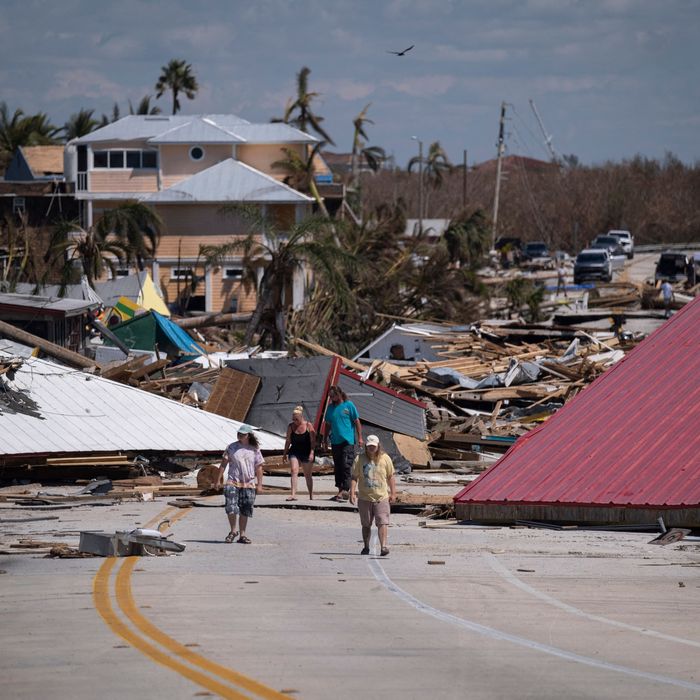 People walk pass destroyed houses and businesses in the aftermath of Hurricane Ian in Matlacha, Florida on Saturday.
Photo: Ricardo Arduengo/AFP via Getty Images
What began as a relatively quiet hurricane season in the Atlantic is quiet no more, after Hurricane Ian slammed into Florida's Gulf Coast on Wednesday as a Category 4 storm, one of the strongest to make landfall in the U.S. in years. The storm killed dozens of people, mostly in Florida, where residents and authorities are still struggling to pick up the pieces. Ian struck the Carolinas on Friday, and more flash flooding caused by the remnants of the massive storm could strike in the the central Appalachians and mid-Atlantic region over the weekend, warns the National Hurricane Center. Below is a look at the storm's impact thus far, the recovery efforts, and the most stunning footage of the destruction it the storm caused in Florida.
Death toll continues to rise, more than a thousand people rescued in Florida
Water rescues continued across Florida on Saturday, where more than 1,100 people have been plucked from the floodwaters since Ian struck midweek. NBC News reports that at least 77 storm-related deaths have been confirmed as of Saturday, almost all in Florida, where still-flooded waterways are hampering recovery efforts. The New York Times reports that at least 35 people have been confirmed dead just in Florida's Lee County, where Ian made landfall. Lee County was the last county in the region to issue evacuation orders, after local officials apparently assumed, for too long, that the storm would strike further north on the coast as was originally forecast.
More than 835,000 customers remain without power in Florida as of Sunday morning, according to Poweroutage.net, including a majority of customers in Lee and Charlotte Counties where the storm hit hardest.
Ian forced multiple rivers over their banks across Florida, and 11 river gauges still reported major flooding on Saturday. On Friday night in southwest Florida, part of Interstate 75 was temporarily shut down over concerns it would be inundated by the rising Myakka River. The flooding is expected to continue into the week, and there were new evacuation orders issued in part of Osceola County on Sunday.
Ian batters South Carolina and North Carolina
The remnants of Ian continue to affect the Carolinas, where the storm knocked out power for some 850,000 customers on Friday, and caused significant coastal flooding, particularly in South Carolina. Four people were killed in North Carolina on Friday mostly in storm-related car accidents.
Ian was briefly downgraded to a tropical storm on Thursday after losing steam traveling over Florida. But Thursday night, its winds rose again to the level of a Category 1 hurricane as it traveled over the Atlantic toward South Carolina, where it it made landfall on Friday afternoon, bringing what may be as much as a seven-foot storm surge to the coast north of Charleston.
As of Friday morning, the storm's cloud coverage ranged from Jacksonville to Pittsburgh to Boston:
Massive waves from a monster king tide in Florida in Ian's aftermath
The east coast of Florida was struck by some very big waves on Friday afternoon, in part thanks to Ian:
Footage of the destruction in southwest Florida
What it looked like before:
For reference on the above:
Footage of the storm as it raged
In Fort Myers:
In Naples:
In Bonita Springs:
In Placida:
Assessing the damage
By Thursday morning, Hurricane Ian had been downgraded to a tropical storm as it makes its way farther up the East Coast. But in its wake, the storm left immense flooding and millions of Floridians without power.
The Tampa Bay Times reported that a large section of the Sanibel Causeway, which connects Sanibel Island to mainland Florida, had collapsed as a result of the storm.
The overnight hours also saw scenes of intense flooding in cities like Naples and Kissimmee.
President Biden approved a disaster declaration for the state of Florida, which will make federal funds available for recovery efforts. Biden also spoke to Governor Ron DeSantis Thursday morning and said he was sending the FEMA administrator to the state tomorrow to "check in on response efforts and see where additional support is needed."
During a morning press availability, DeSantis said hundreds of people in southwest Florida have called emergency officials for help during the storm, according to the Miami Herald. The governor said that reports on the number of casualties are unconfirmed at this time.
Ian officially makes landfall in Florida
Shortly after 3 p.m. on Wednesday, Ian plowed into Florida near Cayo Costa, Florida with maximum sustained winds registering at 150 mph, according to the National Hurricane Center.
Massive storm surges have inundated cities like Naples and Cape Coral, where streets look like rivers. In Fort Myers, emergency alerts have informed residents who stayed that rescues will begin when the storm passes: "This could last all night."
As the sun starts to set over Florida, roughly 1 million residents are without power. National Hurricane Center deputy director Michael Brennan warns that Ian could remain a hurricane for several hours. "Right now we're expecting it to eventually weaken below hurricane strength sometime overnight tonight or early Thursday morning," he told CNN on Wednesday. "It's going to take some time for that circulation to spin down." Still he says it will remain a "strong tropical storm when it reaches the east coast of Florida."
The storm is pummeling the southwest Florida coastline
While the Tampa Bay area was originally predicted to receive the brunt of the hit, Ian is now bearing down on the Fort Myers area about 130 miles to the south. The metro area, with a population of more than 750,000, is looking at a nine-foot storm surge, dozens of inches of rain, and widespread wind damage.
The Fort Myers metro area has been one of the fastest-growing cities in the U.S. over the past decade, with thousands more residents living in the area than when the last major hurricane struck. Many of its neighborhoods are uniquely susceptible to storm surges:
Large numbers of residents have already evacuated areas in the storm's path. Governor Ron DeSantis said on Wednesday that people still in Collier, Charlotte, Lee, and Sarasota Counties — some of the hardest-hit areas — should stay in place, as it is now too dangerous to leave.
The eye wall nearly crashed a hurricane hunter
Hurricane hunters with the National Oceanic and Atmospheric Administration captured stunning images of hurricane's powerful center. One flight into the storm to collect data nearly crashed after it fell 1,200 feet when it hit the eye wall.
Ian sucked the water out of coastal towns and residents played in the mud
As the hurricane closed in on the coast, many southwest-Florida residents are seeing the shoreline recede as counterclockwise winds and low pressure at the center of the storm draws water in:
The Florida Division of Emergency Management has warned residents in Tampa Bay and Charlotte Harbor not to walk out into the temporarily dry harbors because the water will soon return as a dangerous storm surge. Meanwhile, some swimmers in Fort Myers are playing in the dangerous waves encroaching on the city. Parts of Fort Myers Beach are already experiencing a significant storm surge:
Florida braces for a historic impact
NBC News reports that as of 8 a.m. on Wednesday, Ian's maximum sustained winds had reached 155 mph, just shy of the mark for a Category 5 storm. Only four hurricanes on record have ever hit the continental U.S. with higher wind speeds.
In an early-morning news conference, Governor Ron DeSantis said the state is expecting the storm to make landfall later in the day in southwest Florida and that several tornado warnings were issued through the night, something he expects to continue through the day. "This is gonna be a nasty, nasty day, two days," he said. "We think now it will be exiting the peninsula sometime on Thursday."