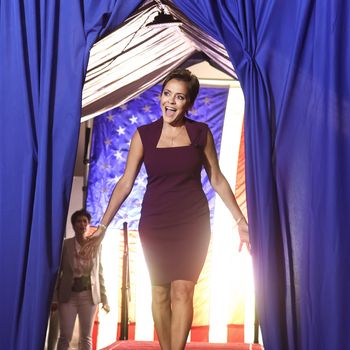 Photo: Mario Tama/Getty Images
In a few weeks, one of the more audacious political gambits Democrats have made in recent memory will either bear significant fruit or prove uniquely disastrous. Throughout the primary season, a political party that constantly invokes the horrors of January 6 and the threat a Donald Trump–run GOP poses to American democracy roved around the country, spending heavily to aid certain Republicans in their primaries. These were not the moderate, Trump-resistant Republicans in short supply; they were the MAGA infantry, the election deniers and conspiracy theorists who could bring the GOP the House majority next year.
The Democratic reasoning was simple enough: By helping fringe candidates enter competitive general elections, mainstream Democrats could swat them down. In Michigan, Democrats helped torpedo Peter Meijer, one of the few House Republicans to vote to impeach Trump after January 6, so Democrat Hillary Scholten would have an easier path to victory against a far-right candidate named John Gibbs. It seems to have worked: Scholten is now forecast to carry the swing district; theoretically, she would've been in a much tougher fight against Meijer. The Democratic strategy, if well executed, could also have the effect of deterring more talented Republicans with crossover appeal from running in future elections: The Meijers of tomorrow may never enter politics at all, giving Democrats a more competitive landscape.
But the downsides of propping up the far right are evident enough. In a volatile midterm year like this one, some of them will win. In particular, Democrats may come to rue the day they tried to make Kari Lake the Republican nominee for governor of Arizona. A charismatic Trump backer who used to be a local television broadcaster, she believes wholeheartedly, against all evidence, that the 2020 election was stolen from Trump. Arizona, which Joe Biden barely won two years ago, was ground zero for the election-denying fringe, who are mobilizing aggressively for 2024. Another close election will undoubtedly embolden them. In the meantime, Lake won't commit to accepting the outcome of her own election if she loses.
Arizona's state Democratic Party wanted Lake to win her primary over a more moderate rival, Karrin Taylor Robson, who it believed was more electable and had the backing of the outgoing governor, Doug Ducey. During the primary, the state Democratic Party blasted out an email thanking Robson for her past donations to Democratic candidates. The hope was it could tar Robson with hard-right voters, thus elevating Lake. "As the Republican primary for governor continues to stir toxic infighting, the Arizona Democratic Party will always be grateful for Robson's longtime support in helping elect Democrats up and down the ballot, including this November," Josselyn Berry, a spokesperson for the state party, said in July. In the end, Trump's endorsement of Lake was probably decisive, but it didn't hurt to have some help from Democrats in tearing down Robson.
Lake is as charming as she is fiery, a committed right-winger with a long history of speaking in front of television cameras. She's been polling close against her Democratic rival, Arizona secretary of state Katie Hobbs. Meanwhile, Democratic senator Mark Kelly has built a far larger lead in his campaign against another Trump acolyte, Blake Masters. While some of this disparity is a testament to Kelly's relative strength and the bumbling nature of the Masters campaign, it also speaks to Lake's ability to break through. Like Trump the presidential candidate, she has been a constant fixture in the media and kept an intense campaign schedule, outflanking Hobbs, a more milquetoast rival.
Lake's long career in local broadcast television makes her especially daunting for Arizona Democrats. Before her hard swerve to the right, she was a longtime evening-news anchor and interviewed Barack Obama in 2016. For a time, she was a registered Democrat. The peripatetic nature of her political past mirrors Trump's. For today's politics, there is no better training ground than television. It's worth as much as a seat in the state legislature or Congress — or even much more.
Unlike Doug Mastriano and other flailing contenders of the MAGA right, Lake has become a favorite of the Republican elite. These days, Ducey is an enthusiastic supporter of her. National donors are enthralled. The Republican Governors Association is fully invested in her victory.
For the wealthiest Republicans still somewhat wary of Trump's unruly base, she promises a more polished veneer.
This is dark news for the Democrats who hoped Trump's eventual exit from the political scene would diminish his movement. He may or may not run again in 2024, but the Republican base is largely in lockstep with his politics. Almost all of the top GOP contenders in this cycle have run in Trump's reality-denying image even when he endorses other candidates. For those like Lake, who have drawn ever closer to him, the next steps are clear: Cement power by any means necessary.