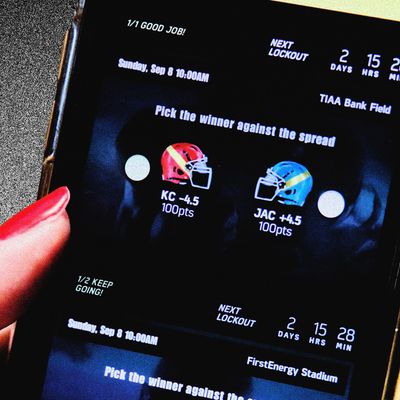 Photo-Illustration: Intelligencer. Photo: John Locher/AP/Shutterstock
All across America, politicians are racing to legalize mobile sports betting. Since the Supreme Court struck down a law preventing sports wagering beyond Nevada four years ago, more than half of all states have permitted betting on sports, with 21 making it legal to wager online. Making sports betting legal has been a rare bipartisan cause: Republican- and Democrat-run legislatures alike have pursued it with almost equal zeal.
Of late, it's been Democrats at the vanguard. Stacey Abrams, making her second run for governor of Georgia, has attacked Brian Kemp, the Republican incumbent, for not yet allowing sports betting in the state, timing her TV spots to the start of college-football season. The Democratic governors of Pennsylvania, Michigan, Illinois, New Jersey, and Connecticut have all legalized online betting. In California, two statewide propositions would make sports betting legal, one reserving it for racetracks and Native American casinos and the other making it permissible online, as it is in New York. It's plausible both could pass in November, setting up an ambiguous legal scenario in which both regimes could somehow exist.
The arguments for making sports betting legal are compelling enough. A portion of the revenue generated from each bet can be kicked into a state's general fund, helping to support worthy initiatives such as public education. Sports fans gamble illegally under the table anyway, so why not have the state capture some of that cash? Online sports betting in particular is enormously popular. In New York, online sports books, which began taking bets in January, have already generated almost $400 million for the state. With the NFL and college football in full swing, that revenue is projected to surge even more, hitting a half-billion dollars by year's end.
But politicians — Democrats in particular — have little idea what they have wrought. Permitting sports betting is defensible, but enabling smartphone wagers will create deep social costs for years to come. Gambling addiction is akin to drug addictions and ruinous to a similar degree. Organizations that treat gambling addictions have seen cases skyrocket over the past year with many young men pulled into vicious downward spirals they can't readily escape. Studies of sports gambling are new, and data points are still being gathered, but experts on addictions fear a crisis is afoot. As of now, the gambling-addiction rate in America is roughly one percent of adults, according to the International Center for Responsible Gaming. If that percentage seems low, even a small uptick could impact millions of people. Some states have taken steps to help problem gamblers, setting up counseling resources for addicts. Michigan, for example, gives bettors the ability to ban themselves for a period of time. How much any of this will help remains to be seen.
New revenue streams are nice. But the dark truth that states will begin to reckon with in the 2020s is that the money is not worth it. Generating $400 million or $500 million or even $800 million annually for New York sounds impressive until the actual scope of the state budget is considered: $220 billion, making the new gambling revenue barely a rounding error. Take for example New York City's $40 billion education budget: If all the mobile sports-betting cash in the state were funneled into it, the amount would make only a marginal difference.
The trouble with smartphone gambling is that it's a 24/7 proposition. At any given moment — during the workday, late at night, on a lazy Saturday — you can place a bet. Even if you are a marginal sports fan, gambling advertisements are a constant. Every television and radio broadcast is deluged with ads from popular sports books such as FanDuel and DraftKings. Promos are constantly offered to hook potential bettors. What makes mobile sports betting so addictive is how instantaneous it all is: The ability to bet on conceivably anything is now at a finger stroke. Want to bet on whether the next pitch is a ball or strike? On total field goals in the quarter of a basketball game? Or maybe whether the next football play will be a run or pass? Trying to beat the point spread on Thursday Night Football is just the beginning.
Many years ago, politicians agreed there should be limits placed on cigarette advertising, and alluring ads for Marlboro and Virginia Slims disappeared from television screens and magazine pages. Smoking was viewed as such a scourge that cities and states readily hiked taxes on cartons of cigarettes. No-smoking areas sprung up in bars, restaurants, and airplanes. Smoking was never banned. It simply became much harder, through these societal roadblocks, to become addicted to smoking. Prohibition doesn't work — the movement to legalize marijuana has been much needed since there is a social-justice component to letting people smoke a relatively safe drug — but there's no reason to drop all guardrails around the most addictive and dangerous vices. Unlike the bans on marijuana use, laws against mobile sports betting were wholly effective at keeping people from placing bets on their phones. Before 2022, a New Yorker with a smartphone had to physically travel to New Jersey to make a bet on an upcoming football game. This hurdle probably kept many residents from placing bets at all.
For many decades, gambling in America was not easy to do. And then the floodgates opened. Casinos flooded the market beyond Las Vegas. Betting on sports became legal, and smartphone technology facilitated it in ways that had been unimaginable even ten years ago. The greater question is why: Why are so many states invested in making it far, far easier to legally gamble? Wouldn't it be enough to simply allow sports bets at casinos and leave it there? It would. And the cost of that online money — the gambling addictions seeded — is too heavy to bear. California still has a chance to do what New York could not: reject online sports betting altogether and let other states grapple with the consequences.