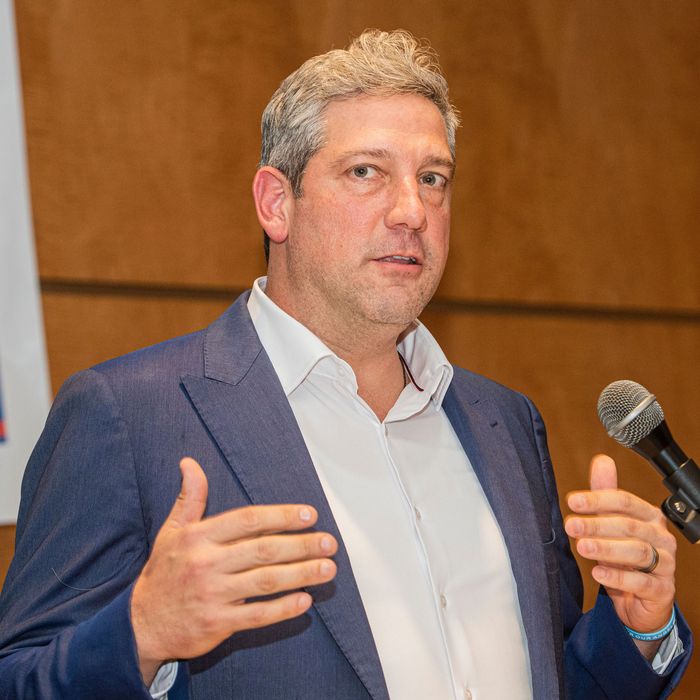 Photo: Phil Long/AP/Shutterstock
Since Donald Trump upended politics as we knew it in 2016, Democrats have hunted desperately for the tribune who can lure back the white working-class voters who drifted into the Republican fold. States and counties that Barack Obama carried twice became GOP strongholds, and there has been no shortage of debate over how to make rural America Democratic again.
Tim Ryan, the Ohio congressman seeking a promotion to the Senate, is the latest Democrat to join the fray, running against the midterm headwinds to flip a state that twice voted for Trump. National Democrats aren't sure he has much of a shot — Trump carried Ohio by eight points in 2020, and Republicans are on the offensive everywhere — but Ryan, 49, has made the race for the open Republican seat surprisingly competitive. He trails J.D. Vance, the Hillbilly Elegy author and venture capitalist, by an average of just two points in the polls and seems bound to at least run ahead of where an Ohio Democrat in a red-wave year would normally end up. Part of the reason, he believes, is because he's doing what seemed impossible.
"We're absolutely going to win this race. The modeling of the polling does not account for the level of crossover, the quiet crossover from Republicans that we're getting," Ryan said during an interview on Wednesday. "Conservative Republican Trump voters are coming our way. The Ukrainian population in Ohio who has been absolutely trashed by J.D. Vance is a huge bloc, primarily Republicans. They can't be accounted for in polling."
It's a spectacular claim, but a recent poll showing Republican governor Mike DeWine cruising to reelection found that some of his supporters said they will vote for Ryan. "Everyone I talk to is like — our Republican rank-and-file members in steelworkers, building and construction trades — 'We're coming to vote for you,'" he continued. "That effort is going to continue in the next two weeks."
Representing a swath of northeast Ohio that runs from Youngstown to Akron, Ryan has seen firsthand the many defections, particularly among the white working class, from the Democratic Party. He blames NAFTA and other free-trade agreements for siphoning jobs away from the manufacturing towns where organized labor once formed a voting bedrock for the party. Trump's success there, he argues, boiled down to his toughness on China and his criticisms of free trade.
Ryan's bet is that he can be the Democrat whom a person in Youngstown or Lordstown who agreed with Trump could actually vote for: a white male maverick willing to stick it to his own party. Not coincidentally, he has campaigned with Joe Manchin, the West Virginia centrist who frequently infuriates Democratic activists. Years ago, Ryan mounted a doomed bid against Nancy Pelosi for House Speaker, arguing the party needed new leadership after Trump was elected. These days, he cites his criticism of Joe Biden's partial student-debt-cancellation plan as evidence that he's willing to buck Washington and not be another party-line vote.
With record inflation seizing headlines, Ryan knocks Democrats for not taking voters' concerns more seriously. The party's emphasis on abortion messaging rankles him: "Even though they are supportive of reestablishing Roe v. Wade, it's an economic problem that people have. You look disconnected from the needs and anxieties of the average person, even if they agree with you on [the wrongness of] the Dobbs decision. Our most pressing need is paying the bills.
"You can't say the fundamentals of the economy are good when gas is $4 a gallon," he added. "It doesn't work."
Ryan's pitch for fighting inflation, though, is somewhat ill-defined. He talks often of a "working class" tax cut to alleviate cost-of-living challenges, a move that would probably only further fuel inflation since consumer spending remains high. When pressed on the inflationary aspect of his plan, he bristled: "The home health-care worker in Cleveland, the construction worker in Toledo driving to Detroit to do their job, you tell them economists say it's not a good idea to put money in your pocket. It's total crap. You know, get out of the ivory tower. Get down with the people."
Ryan's blunt rhetoric can help mask how much he is like a conventional Democratic congressman. He almost always supports Biden- and Pelosi-backed legislation. He is a much more reliable Democratic vote than Maine's Jared Golden, who has also fashioned himself as a moderate. On foreign policy, Ryan is wholly aligned with the Democratic establishment's view that military aid to Ukraine must be unrestricted and diplomacy with Russia is a nonstarter: "I think J.D. Vance is gonna completely abandon the Ukrainians both here and in Ohio … If it was up to J.D. Vance, that monster would be in Poland right now. We gotta get Putin out of there. We do it right, we can get him out of there."
"There are two Tim Ryans: the phony Tim who pretends to be a moderate and the real Tim who votes in 100 percent lockstep with Biden and Pelosi's left-wing agenda," said Luke Schroeder, a Vance campaign spokesperson. "Ohioans are smarter than Tim Ryan thinks we are. We won't fall for Ryan's lies, and we'll defeat him in November."
Vance and Ryan have, predictably, clashed bitterly in the race, and some of Ryan's overperformance in the polls is probably attributable to Vance's weaknesses as a candidate. The 38-year-old has never held elected office before, he has kept a relatively light campaign schedule, and he's had a whiplash-inducing evolution from Trump skeptic to Trump sycophant. Ryan insists Ohio is onto Vance's "con" and that the "bullshit detector on Ohioans is so precise that they sniff this guy out. He's not gonna be able to get enough votes."
But Vance, even with Ryan's online fundraising juggernaut, has the cash advantage and plenty of help from outside super-PACs, including Mitch McConnell's. Vance's allies have spent $30 million so far, leaving Ryan more or less on his own when it comes to national help. (Chuck Schumer's super-PAC hasn't helped out, and Ryan has said he doesn't know if he'd vote for Schumer as majority leader.) The national environment is far friendlier to Vance, and he needs to perform only at the baseline Republican level in Ohio to win. As close as the polls are, they've been wildly off in the Buckeye State before, and it's not implausible that the Republican voters flirting with Ryan come home to Vance on November 8.
If Ryan is defeated, what does it mean for the Democratic quest to win back states like Ohio and the white working class more broadly? If his playbook fails, what is the playbook? In another two years, Ohio's other senator, Democrat Sherrod Brown, will face his own daunting reelection bid. It's possible statewide that Democrats could go completely extinct in a place that once picked, with regularity, the winners of presidential races.
For now, Ryan isn't giving much thought to that future.
"We are building a coalition of the exhausted majority of Democrats, Republicans, and independents against the extremists. I believe we are assembling that majority and Ohioans are once again going to lead the country," he said. "That's that."