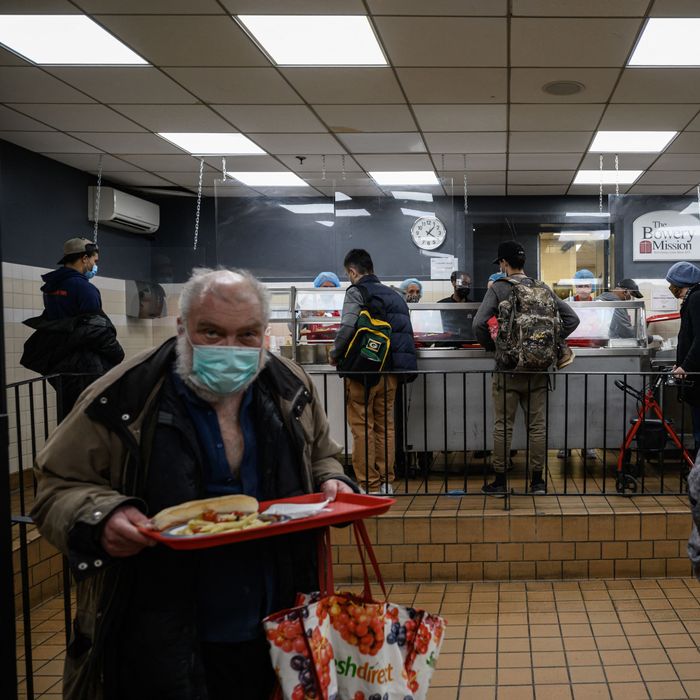 Unhoused people and other New Yorkers in need receive free lunches at the nonprofit Bowery Mission.
Photo: Ed Jones/AFP via Getty Images
Giving Tuesday — an annual event dedicated to global generosity — is a splendid chance to help fix what's broken in New York and around the world. My wholly idiosyncratic method is to send money to groups that have a sensible plan, a verifiable track record, and enough scale to make a dent in problems I care about.
This year, I'm giving money to ten groups based here in the city that are tackling New York's homelessness crisis, developing economic opportunities for working families, helping refugees in Ukraine and elsewhere, fighting for voting rights to preserve our democracy, and teaching culture and arts to young people.
Every night, Samaritan Daytop Village provides shelter and services to nearly 4,500 people, building on a 60-plus-year history of helping New Yorkers overcome substance-abuse disorder. Earlier this year, the group opened an 84,000-square-foot facility in the South Bronx to offer primary medical care, peer counseling, treatment for opioid abuse, and other heath-and-wellness programs. In recent months, the organization has pitched in to help serve some of the flood of migrants sent to New York from the border, so a contribution helps address that crisis, too.
For more than a decade, I've spent part of every Thanksgiving helping to serve meals at the Bowery Mission, which is celebrating 150 years of providing food, shelter, clothing, job training, substance-abuse treatment, and spiritual uplift to needy families and individuals in and around the group's flagship on the Bowery. There's a matching grant to double the size of donations made for Giving Tuesday.
The Brooklyn Movement Center, based in Bedford-Stuyvesant, is a Black-led grassroots membership organization that engages local residents of Central Brooklyn and launches programs and campaigns to address community needs. The group has tackled everything from street harassment of women and girls to the shortcomings of schools in District 16. The members speak and act intelligently about problems in my neighborhood, and charity begins at home, making this an easy choice.
If you're sick and tired of seeing countless families sink into poverty in our wealthy city, make a donation to the New Economy Project, which does top-notch research, mapping, and advocacy, including impact litigation, in support of economic-fairness strategies like land trusts, cooperatives, and credit unions. The group almost single-handedly pressured state officials to drive payday lenders out of New York and is leading the effort to charter a public bank that would provide credit for sustainable-energy projects and community businesses.
As the war between Russia and Ukraine grinds on, the Manhattan-based International Rescue Committee has swung into action to help the estimated 7.8 million refugees who fled the war and need everything from clothing and housing to psychological counseling. The IRC, founded in the 1930s at the request of Albert Einstein, is run by former British foreign secretary David Miliband and operates in over 40 countries to help those fleeing war, famine, and conflict. The group is part of a special United for Ukraine portal that connects refugees with direct assistance.
The remarkable Doctors Without Borders organization, whose U.S. headquarters is on Rector Street, is currently mobilizing squads of volunteer physicians to deal with cholera outbreaks in Haiti and Lebanon, a malnutrition crisis in Somalia, and treating people in and around the Ukraine war zone. Donations to this worthy group are being matched for Giving Tuesday.
Decades ago, a young attorney named Thurgood Marshall drove between tiny southern towns under the cover of darkness, literally a few steps ahead of the Ku Klux Klan, to gather affidavits from people denied the right to vote. The storied organization he later led, the NAACP Legal Defense and Educational Fund, continues the fight today, suing where necessary to prevent voters from being disenfranchised — an especially important effort as the 2024 elections draw near.
The American Civil Liberties Union has long fought for voting rights along with trans rights, prisoners' rights, and civil liberties in general. The organization filed briefs on the losing side of the Dobbs abortion decision and continues its dedication to free speech in the form of the ACLU Banned Books Reading Club, a helpful list of books banned by politicians around the country. While donations to the ACLU are not tax deductible, a matching-funds offer is in effect for Giving Tuesday.
One of our city's more exotic cultural inventions, Afro-Latin jazz was born in El Barrio as the cultural offspring of Harlem jazz musicians and their Latino contemporaries who were laying the foundation for the salsa explosion of the 1960s. The Afro Latin Jazz Alliance goes into city schools to acquaint young musicians with this joyous music. The group is holding a blowout celebration at Drom NYC on Tuesday night; get tickets here.
And for pure fun, check out Friday's online party hosted by the Stars of NY Dance, which holds an annual Dancing With the Stars–style contest to raise money for dance scholarships. Past participants have included political figures like Tish James, Hakeem Jeffries, and Eric Adams.
That's my top-ten list. What's on yours?