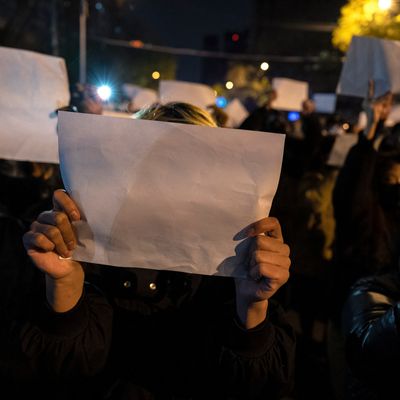 Protesters hold up a white piece of paper against censorship as they march during a protest against China's strict zero-COVID measures on November 27 in Beijing, China.
Photo: Kevin Frayer/Getty Images
An unprecedented wave of public protests has broken out in mainland China, sparked by angry opposition to the country's ongoing zero-COVID policies and recurring lockdowns, and in particular, the deaths of ten people last Thursday in an apartment-building fire in the city of Urumqi, which is the capital of China's northwest Xinjiang region. Many people in China have blamed the deaths on the severe COVID restrictions in the city, which have been in place since early August, though local authorities deny any connection between the deaths and the lockdown. Protests erupted in Urumqi on Friday and spread to multiple major cities over the weekend, including Shanghai, Beijing, Chengdu, and Wuhan — marking the boldest and most widespread anti-government unrest in the country since Chinese leader Xi Jinping began consolidating his power in 2012.
Footage of the demonstrations and many public acts of civil disobedience, including people appearing without face masks or simply displaying blank pieces of paper to protest against censorship, have been widely shared on social media. There have also been public protests reported at numerous university campuses in China, as well as demonstrations outside the country in solidarity.
Most of the demonstrators in China appear to be young people, and at some of the protests, people have even chanted slogans calling for Xi and the Communist Party to step down. Below are just some of the stunning videos and images that have emerged in recent days.
A government crackdown appears to be underway. Police clashed with and detained protesters in Shanghai on Sunday night, and on Monday in both Shanghai and Beijing, there was a heavy police presence in areas where protesters had amassed over the weekend.
Online, bot accounts on Twitter have spammed mentions of cities where protests have occurred with ads for adult content and gambling.
The protests prompted Chinese stocks to fall when markets reopened on Monday. In addition, CCTV broadcasts of World Cup games have reportedly been minimizing footage of fans not wearing face masks in Qatar.