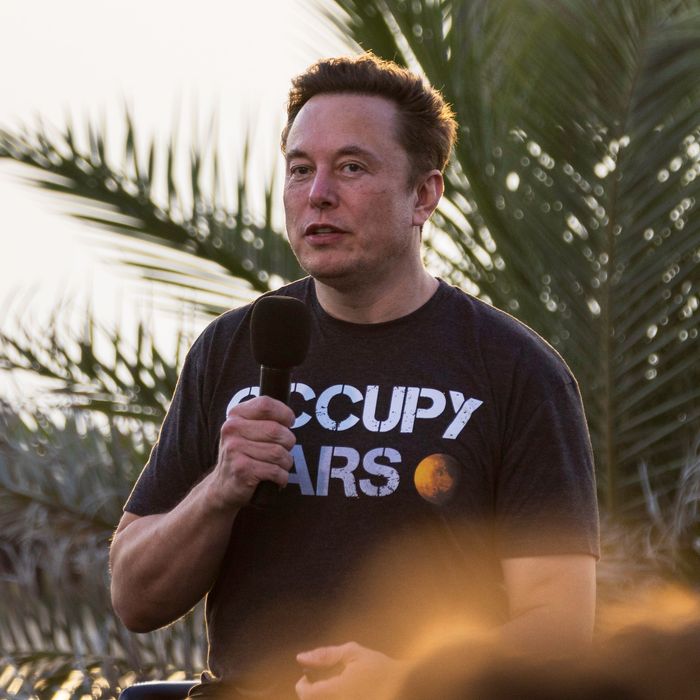 Photo: Michael Gonzalez/Getty Images
From pretty much the moment Elon Musk closed on his $44 billion deal for Twitter, the social media platform has seen a spike in racial slurs and conspiracy theories — including from the new owner — an alarming development for speech advocates who have sought to tamp down the spread of coordinated hate campaigns online. On Monday evening, Musk held a roughly 45-minute Zoom call with representatives from seven nonprofits about hate speech on Twitter. During the online meeting, the world's richest man agreed to hold off on any major changes to the platform's content-moderation policies before the election — including bringing back users who had previously been kicked off the site — as well as to take advice on policies from people who have been targeted by coordinated online harassment and hate campaigns, according to four of the participants in the call. But what is going to happen to one of the world's most influential platforms after next week, however, is still an open question.
"We met to make three immediate requests of him in his stewardship of Twitter," said Jessica González, co-CEO of Free Press, an online advocacy group that has called for advertisers to stop spending on Twitter ads if Musk rolls back content-moderation policies. "These are the tip-of-the-iceberg kind of requests around maintaining election-integrity systems until the election results are certified, not replatforming people without a transparent process and certainly not before the election, and also making sure that when he's developing whatever content-moderation regime he's going to do that he hear directly from people who have faced hate and harassment on Twitter, and can offer some unique insight into how that shuts down free speech."
"He said he's going to meet these requests," she added. "And those are words. Actions speak louder than words. We'll be keeping track and evaluating Musk based on his deeds, not his words."
The call, which Musk had tweeted about late Tuesday night, came after a spike in antisemitism and racism online that Twitter's head of safety called "a focused, short-term trolling campaign," but independent researchers have said is more widespread. The video call was an informal one, with Musk wearing a black t-shirt in a meeting that came together after the Tesla owner reached out to the Anti-Defamation League, said Rashad Robinson, President of Color of Change. Three of the participants on the call described it as an essentially productive, if very preliminary, step forward. Also on the call were Jonathan Greenblatt and Yael Eisenstat of the Anti-Defamation League, the Asian American Foundation CEO Norman Chen, George W. Bush Center CEO Ken Hersh, NAACP president Derrick Johnson, and League of United Latin American Citizens CEO Sindy Benavides. No one else from Twitter was visible on the call.
The core topic of much of the call was about free speech, and what it means, three of the participants told me. In the past, the Tesla CEO has called himself a "free speech absolutist," though he's since dialed that back a bit to say that he'll still follow the laws of local jurisdictions. However, Musk did appear to concede in talking with the group that he would have no problem in limiting the amplification of some kinds of abusive content — a policy that he has not been vocal about since taking over the company. "He did make mention that reach is not the same as speech," Robinson told me.
Also discussed was next week's tightly contested election in the US, which will decide which party controls the House and Senate. "We talked about the importance, particularly around the election, not allowing for the platform to be used for misinformation to undermine our democracy," Johnson of the NAACP said.
The details from the participants add more to what Musk is considering as he and the rest of the company develop content-moderation policies for the platform, which has become one of its more urgent tasks as advertisers like IPG and General Motors pull back from spending. "Twitter will not allow anyone who was de-platformed for violating Twitter rules back on platform until we have a clear process for doing so, which will take at least a few more weeks," Musk wrote. "Twitter's content moderation council will include representatives with widely divergent views, which will certainly include the civil rights community and groups who face hate-fueled violence."
González said that the call was roughly split between Musk speaking and listening to the other participants. When he spoke, he laid out his vision of the future of Twitter. "He talked about, in the meeting, having a broadly inclusive digital town square. I think he believes in freedom of speech for all. The trick is how to get there. And I don't know that he totally knows how to do that," González told me.
One refrain during the meeting was that Musk sets the tone on the platform, González said. A tweet by the billionaire Sunday that spread a fake conspiracy theory about Paul Pelosi and his attacker wasn't directly brought up, but the issues around conspiracy theories spreading through the platform more generally were, she said. She added that his tone was "sincere in the moment."
"We conveyed that when folks are on the receiving end of harassment campaigns, especially when those are really coordinated using Twitter's tools, that is not conducive to free speech, especially when those campaigns are disproportionately aimed at women and people of color," she said. And how did he respond? "He heard that," she said. "There was not a great response. But he didn't blow it off, either."
On Wednesday afternoon, it wasn't really clear where Musk stood, or how he would specifically handle tough questions around free speech. He posted a poll to his 113.4 million followers asking what advertisers should care about: free speech, or political correctness:
I asked Johnson about this. He said that he didn't recall the term "political correctness" being used in the call, and declined to comment specifically about the tweet, but that the issues around hate speech aren't just about what society says you should or should not say. "We're not here for harmful speech that can bring physical harm towards individuals," Johnson said. "It's not about political correctness. That's about keeping society safe."
Update: This post was updated to include new details about the call, interviews with Robinson and Johnson, and Musk's subsequent tweet about political correctness.