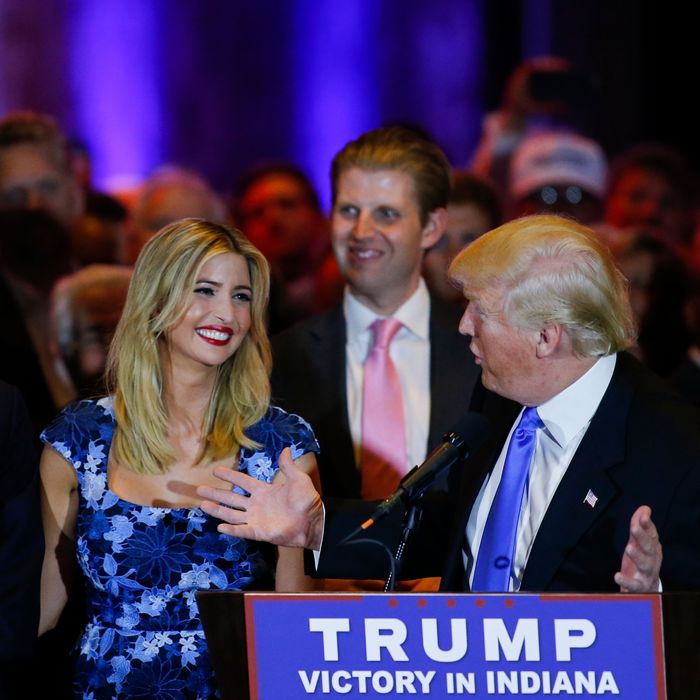 Photo: VIEW press/Corbis via Getty Images
On Tuesday night, Ivanka Trump announced that she's done with politics. She did not attend her father's 2024 campaign announcement (though her husband Jared Kushner was in the audience), and she posted this statement on her Instagram:
She also said she "never intended to go into politics" or spend four years serving as a senior White House adviser in an extended statement to Fox News. "I'm very proud of what I was able to accomplish," she said. "I left it all on the field, and I don't miss it."
Earlier on Tuesday, the New York Post reported that Donald Trump spent part of his daughter Tiffany Trump's wedding last weekend trying to convince Ivanka and Jared to join him onstage for the announcement, to no avail:
"Trump thought he could convince Ivanka this weekend to come back and campaign for him as she was the most requested speaker after the president himself last time around … but so far she's resisting his entreaties and holding firm, as is Jared," one insider said. "They both feel they got burned in Washington and don't want to go back and expose themselves and their children to another bitter campaign."
Even before they left the White House, the couple signaled repeatedly that their careers as political advisers were done. It was reported that during the 2020 campaign, Kushner angrily declared, "I don't give a fuck about the future of the Republican Party!" Sources told the New York Times that Jared washed his hands of Trump immediately after Election Day 2020, as he wanted no part of his stolen-election lies. Trump himself later wrote on Truth Social that Ivanka had "checked out" in the final days of his administration (so her damaging testimony to the January 6 committee couldn't be trusted). Days before the Capitol riot, Ivanka suggested in a CBS News interview that she and her husband wouldn't serve as White House advisers in a second Trump administration.
In 2021, Jared and Ivanka seemed to be distancing themselves from the ex-president on a personal level, too. They rented a condo in Surfside, Florida, and began renovating a $32 million mansion they bought in Miami's Billionaire Bunker. Though their new home is just a 90-minute drive from Mar-a-Lago, they started seeing far less of the former president. In July 2021, CNN reported that Javanka were rarely seen with Trump in Palm Beach — even ditching him on Father's Day — and the distance between them was growing "wider by the week":
"[Jared and Ivanka] weren't around for the usual spring and summer events at Mar-a-Lago," says one clubgoer and family friend, noting the absence of Trump's elder daughter and the couple's three young children.




Simultaneously, the disappearance of Kushner — once the ringleader of Trump's policy operations — was also apparent. A person familiar with Kushner says there were visits from the Kushner/Trump family to Mar-a-Lago before Trump's move North [to his Bedminster, New Jersey, property], but they were sparse, averaging once every three to four weeks.
But it's easy to see why Trump still thought he could lure the couple into working for his 2024 campaign. The Washington Post reported on Tuesday that recently they've been seeing a lot of him in a nonprofessional capacity:
Kushner and Ivanka Trump, however, retain close relationships with the former president, this person added; they golfed with him Friday, and spent the weekend with him at Mar-a-Lago for his daughter Tiffany Trump's wedding, as well.
And Ivanka told Fox News on Tuesday night that she remains "extremely close" with her father.
"That hasn't changed and will never change," she said. "I've had many roles over the years, but that of daughter is one of the most elemental and consequential. I am loving this time with my kids, loving life in Miami and the freedom and privacy with having returned to the private sector. This has been one of the greatest times of my life."
Most people would not say plain old "daughter" is "one of the most elemental and consequential" roles they've played for their father; it's the only role. But this is Ivanka's version of "quiet quitting," a hot trend New York's Sarah Jones described as when "a worker no longer goes above and beyond for the boss." It's easy to imagine how appealing the concept might be to a woman who's spent her whole life performatively hustling to prove she can be a success in her father's various ventures, from real estate to reality TV to politics. For the first time in decades, Ivanka is sticking strictly to her job duties as daughter, not going above and beyond for her dad-slash-boss-slash-president.
This post was updated to include Ivanka Trump's statement.