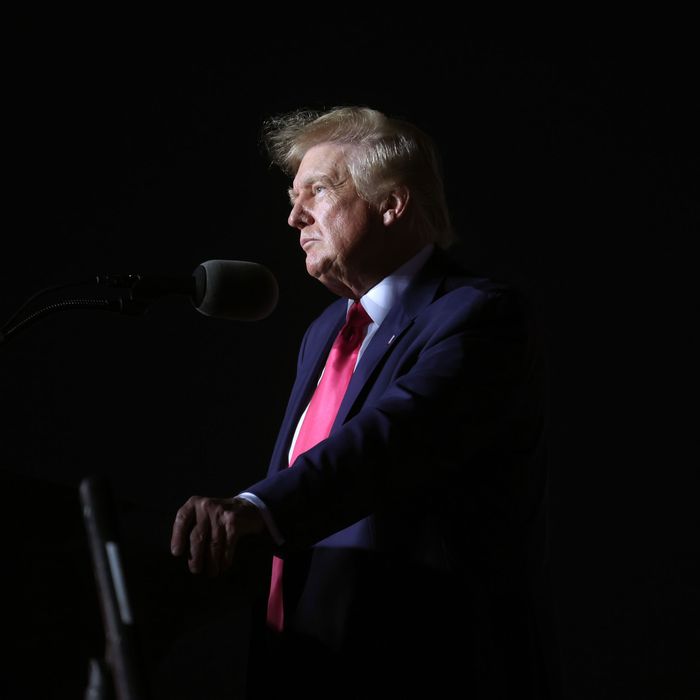 Photo: Scott Olson/Getty Images
As the midterm campaigns draw to a close, so too may an informal détente between Donald Trump and federal prosecutors since the search of Mar-a-Lago in August. While both sides fight in court, the Justice Department has probably refrained from taking major steps in the key investigations into his possession of classified documents and the attack on the U.S. Capitol in order to avoid influencing the elections.
During this relative down period, however, the department has reportedly been fighting an opaque and largely secret legal battle in the January 6 investigation that could constitute its most significant development to date. It could open a floodgate of damaging information about Trump or provide the department with crucial clarity about his conduct with respect to the riot and the effort to overturn the election results beyond what the public has learned so far. Like the search at Mar-a-Lago, this reflects an apparent change in posture at the Justice Department in recent months under Attorney General Merrick Garland, who chose not to focus on Trump's potential criminal misconduct when he took office last year despite ample reason to do so.
And thus far, the Justice Department appears to be winning.
In recent weeks, according to a variety of news reports, prosecutors successfully compelled grand-jury testimony in Washington, D.C., from two key witnesses over the objections of Trump — Greg Jacob, a onetime lawyer for former vice-president Mike Pence who blamed the shoddy legal arguments advanced by Trump lawyer John Eastman for the outrageous violence at the Capitol, and Marc Short, Pence's former chief of staff. The proceedings are under seal for the moment, but they are being handled at the district-court level by Chief Judge Beryl Howell, who has so far rejected Trump's legal challenges. In at least Short's case, Trump's lawyers reportedly sought an expedited appeal to the D.C. Circuit Court of Appeals, which rebuffed them. The Justice Department is now reportedly seeking a similar ruling from Howell that would force testimony — again over Trump's objections — from former White House counsel Pat Cipollone and his deputy Patrick Philbin.
All of the court disputes appear to center on Trump's effort to invoke executive privilege to block top officials in his White House from providing testimony that might incriminate him. As CNN noted, the recent testimony from Jacob was "the first identifiable time when the confidentiality Trump had tried to maintain around the West Wing after the 2020 election has been pierced in the criminal probe following a court battle." The fight is not over: There is apparently still a pending appeal at the D.C. Circuit and likely more litigation before Howell as things continue to play out and additional witnesses are called in, and at some point, Trump could seek the involvement of the Supreme Court to try to bail him out.
At first blush, this may seem like a fight among lawyers with esoteric stakes concerning the scope of executive privilege, but there are significant consequences if the Justice Department successfully continues down this path. Prosecutors could obtain fulsome information about what Trump himself (as opposed to the people around him) was actually saying and doing in the run-up to and during the January 6 siege.
We already know a lot from testimony aired during the January 6 committee hearings over the summer, but there were significant factual holes in the committee's record that appear to have been due in large part to the fact that key Trump White House officials abided by his desire that they invoke executive privilege in order to prevent congressional investigators from learning about the details of his conduct and mental state. That seems to have been the reason so much of the testimony concerned things Trump had been told by advisers — that his claims of election fraud were nonsense, for instance — as opposed to what he said in response, including during key meetings and during the three hours when he was holed up in the White House while the siege was underway.
The committee's record painted a damning picture of Trump's actions and appears to have accelerated and expanded the Justice Department's own investigation over the summer, but the details that remain under wraps could be even worse — and, more to the point, highly relevant to Trump's potential criminal liability. Trump, for instance, is a longtime expert at modulating his instructions to subordinates so as not to explicitly direct them to commit criminal conduct, but there is a dark cloud that hangs over the public record of those few hours in the White House on January 6. Perhaps he was mostly milling about, calling up Republicans in Congress, and yelling at Fox News, but at the moment, it is impossible to rule out even more disconcerting and legally perilous scenarios: that he was, for instance, actually cheering on the rioters, telling people he did not care (or worse) if Pence was in danger (Cipollone was quoted by Cassidy Hutchinson reporting as much), or perhaps even trying to impede the efforts of the people around him to stop his supporters. It also remains something of a mystery whether and to what extent Trump was using White House officials such as chief of staff Mark Meadows to coordinate with outside surrogates who may have had contact with right-wing militias, but the committee strongly implied it believes this may have occurred. Prosecutors are apparently seeking to fill in some of the blanks, which could close the gap between the current public record indicating that Trump may have committed a crime and the more robust body of evidence that would be necessary for prosecutors to actually charge him under Justice Department policy.
Although the committee took center stage this summer, the Justice Department has always been much better positioned to defeat Trump's executive-privilege claims for both legal and practical reasons. As a legal matter, the law strongly favors the department's ability to override claims of executive privilege if prosecutors are seeking the relevant information as part of a criminal investigation. As a practical matter, it would have been a major distraction and legal headache for the committee itself to fight this battle in the courts, and to the members' credit, they clearly structured their work — both the behind-the-scenes investigative components and the public hearings — with the expectation that the committee could be disbanded at the end of the year if Republicans take back the House.
Some caveats apply. This dispute is still playing out in its relatively early stages, and members of the Supreme Court's conservative majority will not hesitate to throw out long-standing precedent if they ultimately want to. We do not know the specific topics prosecutors are actually broaching with these witnesses, though they seem to have widened their investigative ambit to focus on, as one recent subpoena put it, any effort to "obstruct, influence, impede or delay" the certification of Joe Biden's win. In the extreme, it is possible that witnesses could coordinate through their lawyers to lie on Trump's behalf or, more likely, that they might shade their testimony in subtle ways to benefit him or otherwise downplay the severity of his conduct — particularly if they worry that turning on Trump could imperil their professional standing in the Republican Party or even draw the ire of a Trump Justice Department if he manages to retake the White House.
We of course do not know how this will all shake out, but one challenge that looms in the background for any potential prosecution is the calendar. Many observers now assume the Justice Department has a relatively short remaining window to indict Trump — through something like the first quarter of next year — if prosecutors have any hope for a trial before the presidential election, but even that is probably cutting things awfully close. At this point, Trump would have a good chance of pushing the proceedings past the 2024 election with the possibility that he might win and be able to shut the whole thing down once in office.
For the time being, however, prosecutors appear to be getting closer to Trump. His lawyers are fighting the government hard, but should they ultimately lose their bid to use executive privilege to shield him from the investigation, he will be in the most legally perilous position of his life and potentially be criminally charged by the Justice Department in the not-too-distant future.