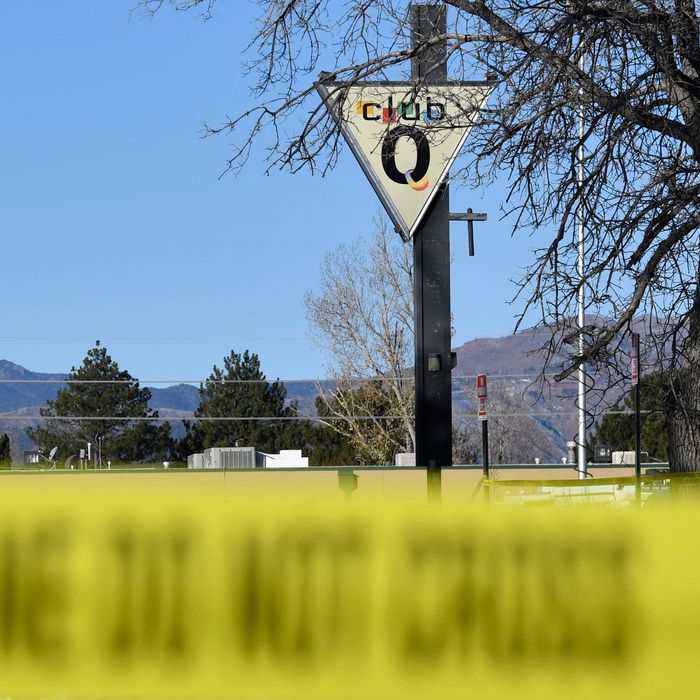 Police tape blocks off the Club Q parking lot Sunday morning in Colorado Springs.
Photo: Jason Connolly/AFP via Getty Images
Five people were killed and at least 18 injured late Saturday night in Colorado Springs when a shooter opened fire inside Club Q, an LGBTQ+ nightclub located northeast of downtown. Local police are still investigating the motive of the 22-year-old suspect, who was subdued by people inside the club before being taken into custody. Below is what we know about this developing story.
The attack.
Shortly before midnight Saturday, a lone shooter, identified by police as 22-year-old Anderson Lee Aldrich, allegedly entered Club Q wearing body armor and carrying an AR-15-style assault rifle. Aldrich immediately began shooting, according to Colorado Springs police chief Adrian Vasquez. The club's owners said Aldrich arrived at the nightclub with "tremendous firepower," with security-camera footage indicating the shooter had as many as six magazines of ammunition.
Five people were killed and 18 injured — 17 by gunshot — in the rampage, which lasted less than ten minutes. It ended when the suspect was subdued by patrons inside the club. In an account given to the New York Times, military veteran Richard Fierro described tackling and beating Aldrich with the suspect's own pistol as he enlisted other customers to help him. "I don't know exactly what I did, I just went into combat mode," Fierro said. "I just know I have to kill this guy before he kills us." The boyfriend of Fierro's daughter was one of the dead.
Colorado Springs mayor John Suthers said the attack "has all the appearances of being a hate crime." Police said two firearms, including a long gun, were recovered at the scene. The FBI is assisting with the investigation. On Monday, court records showed Aldrich had been charged with five counts of murder and five counts of "bias-motivated crime causing bodily injury."
The first 911 call reporting the shooting came at 11:57 p.m.; the first responding officers arrived on the scene at 12:02 a.m. and quickly took the suspect into custody. Aldrich remains hospitalized with undisclosed injuries.
Survivor Joshua Thurman, 34, told the Colorado Sun he was on the dance floor when the shooting started and originally thought the gunfire was part of the music. Thurman, who along with two other patrons was able take refuge in a dressing room, said he saw only the muzzle flash of the attacker's gun. "There was nothing keeping that man from coming in to kill us," he told the Sun. "Why did this have to happen? Why? Why did people have to lose their lives?"
Club Q, in a statement released on its Facebook page early Sunday morning, said that it was "devastated by the senseless attack on our community" and that "we thank the quick reactions of heroic customers that subdued the gunman and ended this hate attack." Club Q co-owner Matthew Haynes said Sunday that the club remained vigilant about security following the 2016 Pulse nightclub massacre in Orlando. "We've worked with the Colorado Springs Police Department and the F.B.I. in response to various threats over the years," he told the Times. "But there had been no known recent threats toward Club Q."
"Club Q is a safe haven for our LGBTQ citizens," Vasquez, the police chief, said Sunday. "Every citizen has the right to feel safe and secure in our city, to go about our beautiful city without fear of being harmed or treated poorly. I'm so terribly saddened and heartbroken."
The Sun reports that multiple events were planned at the club over the weekend, including an all-ages brunch and drag show Sunday morning recognizing Transgender Day of Remembrance:
In two Instagram posts on Saturday prior to the shooting, Club Q announced that Saturday night's party would include a birthday celebration for a community member. In the second post, it announced that a Sunday brunch and drag show would recognize Transgender Day of Remembrance, which honors trans people who have been killed. The drag brunch is a regular event at the club and is billed as being open to people of all ages. Such events have in recent years become focal points for protests by anti-LGBT groups.
Colorado governor Jared Polis, the country's first openly gay governor, called the attack "horrific, sickening, and devastating."
Polis was unable to travel to Colorado Springs on Sunday because he recently tested positive for COVID-19, but he took part in a virtual vigil. The governor ordered flags to be flown at half staff for five days in remembrance of the five victims of the attack, according to the Times.
President Biden responded to the attack Sunday:
The victims.
The five victims have been identified as Raymond Green Vance, Kelly Loving, Daniel Aston, Derrick Rump, and Ashley Paugh.
Vance, 22, whose girlfriend's father, Fierro, attacked the suspect, was visiting Club Q for the first time and was joined by his girlfriend and several others. In a statement provided to CNN, the Vance family said, "Raymond was the victim of a man who unleashed terror on innocent people out with family and friends," Vance's family said in a statement, "His own family and friends are completely devastated by the sudden loss of a son, grandson, brother, nephew, and cousin loved by so many."
Paugh, 35, was visiting Colorado Springs with a friend Saturday and capped off her trip with a night at Club Q. She had an 11-year-old daughter and was an avid hunter and fisher. "Nothing will ever be the same without her," Paugh's sister, Stephanie Clark, told NBC News. "Right now, I don't want to laugh. She was a loving, caring person who would do anything for anybody. We're gonna miss her so much."
Rump, 38, worked as a bartender at Club Q. "He was an awesome guy," Tim Bates, a friend of Rump, told the Sun. "He was the sweetest guy. He was a snarky, snarky, snarky man."
Aston, 28, was a transgender man who also worked as a bartender at the club. Two years ago, he moved from Tulsa to Colorado Springs, where his parents lived. "We are in shock, we cried for a little bit, but then you go through this phase where you are just kind of numb, and I'm sure it will hit us again," Aston's mother, Sabrina, told the AP. I keep thinking it's a mistake, they made a mistake, and that he is really alive."
Loving, 40, was visiting the club during a trip she was taking from Denver, per the New York Times. Her sister, Tiffany, said she learned of her death from the FBI. "She was loving, always trying to help the next person out, instead of thinking of herself," she said.
One of the people injured in the attack was the DJ performing at the club on Saturday night, Tara Bush (DJ T-Beatz), according to a GoFundMe launched to help support her and her family. Bush suffered gunshot injuries and required surgery, according to the page.
CPR has put together a post for anyone who wants to support the victims and their families from near or afar.
Saturday night's attack was the deadliest mass shooting targeting a gay nightclub in the U.S. since 49 people were killed by a gunman at the Pulse nightclub in Orlando, Florida, in June of 2016.
The suspect.
Colorado Springs police identified the shooter as Anderson Lee Aldrich. In court filings Tuesday, Aldrich's attorneys referred to the suspect as "Mx. Aldrich," and wrote that Aldrich is nonbinary and uses they/them pronouns. Aldrich's motive remains unconfirmed. The club's owners said Sunday they had never seen them before.
Using he/him pronouns, the Washington Post reported Monday that Aldrich was known as Nicholas Brink until the age of 15, when he legally changed his name. He grew up in San Antonio, Texas, and his mother was arrested for arson when he was 12. Before the name change, Brink had been the subject of internet harassment, per the Post:
At age 15, he became the target of a particularly vicious bout of online bullying in which insulting accusations were posted to a website, along with his name, photos and online aliases, according to a review of the site by The Washington Post. At some point, a YouTube account was created under his name, featuring a crude, profanity-laden animation under the title, "Asian homosexual gets molested."
In June 2021, Aldrich was arrested in a suburb on the outskirts of Colorado Springs after woman called the El Paso County Sheriff's Office to report that Aldrich had threatened her with a homemade bomb and multiple weapons. Aldrich was eventually arrested after a brief standoff with police, who found no bomb. No charges were filed, however, and the case was later sealed, according the Colorado Springs Gazette. As the Post notes:
Why local prosecutors declined to pursue charges in the case was not clear.




Also unclear was whether any petitions had been filed against Aldrich preventing him from possessing a firearm. Colorado's 2019 "red flag" law gives local judges the authority to order the confiscation of firearms from individuals with a history of mental illness or violence.
Club Q has been a sanctuary for Colorado Springs' LGBTQ+ community.
Club Q has long been one of the only LGBTQ+ nightclubs in Colorado Springs, where it has been in business for 21 years. In an interview with the Sun, co-owner Matthew Hayes explained that the LGBTQ+ community faced discrimination in public when the club opened, and "Club Q was that safe place for people to come and feel and understand that they are normal — that the way they feel is normal and there are people just like them." He said, in the decades since, the venue has been as much a community center as it has been a club. "There have been so many happy stories from Club Q. People meeting and relationships being born. So many celebrations there. We're a family of people more than a place to have a drink and dance and leave." He said he doesn't yet know what will happen to the club in the aftermath.
Several other locals and community leaders emphasized to the Sun how important and welcoming Club Q has been.
A rise in anti-trans rhetoric.
The attack in Colorado Springs comes amid a stark rise in anti-trans rhetoric, particularly in the political world. Nationwide, statehouses have taken up legislation that seeks to ban gender-affirming care for youth or place limits on which sports teams students can join and which bathrooms they can use.
Drag shows have also come under fire, particularly storytelling events held at libraries, which critics deem dangerous for children without citing evidence. In June, a Republican lawmaker from Florida drafted a bill to make it a felony to take a child to a drag show. Drag performances have faced heavy protests with some venues even receiving threats of violence for holding them, resulting in canceled programs.
Club Q, which hosts drag performances and other events, was attacked into the morning of November 20, which is recognized as the Transgender Day of Remembrance, honoring the memory of members of the trans community lost to anti-trans violence and bigotry.
This post has been updated throughout.