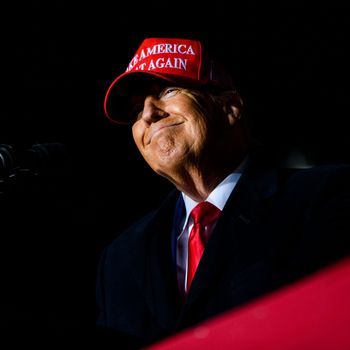 Photo: Stephen Maturen/Getty Images
On Monday night, Donald Trump made an announcement about an announcement. At a rally for Ohio Senate hopeful and Trump ring-kisser J.D. Vance, the former president teased next week as the kickoff for his third bid for the presidency.
"Not to detract from tomorrow's very important, even critical, election, and I would say in the strongest way it's a country-saving election … I'm going to be making a very big announcement on Tuesday, November 15, at Mar-a-Lago in Palm Beach, Florida," Trump said, per CBS News.
Trump's plan graciously gives Americans a full week of respite between the midterm elections — which have made many people want to throw their phones and TVs into the ocean — and the beginning of another endless, surreal campaign from the country's most divisive figure.
Republican leaders in particular were probably breathing a sigh of relief after Trump's comment since multiple reporters had indicated that he was thinking of announcing his run at the Vance rally — which would have, characteristically, drawn as much attention as possible to himself just as his party is on the verge of midterms triumph.
There's little doubt Trump will take another shot at the White House: As he told New York's Olivia Nuzzi this past summer, "I've already made that decision." But he has been coy about the timing. Before Monday, November 14 was thought to be the most likely date for his kickoff.
But Trump has barely been able to stop himself in recent days from jumping the gun and blurting out that he's running for president. Per NBC News, his advisers managed to restrain him from doing so at a rally for the Republican ticket in Pennsylvania. Onstage, Trump came close to declaring anyway, telling the crowd, "I don't want to do that right now because I'd like to do it … I want to have the focus tonight be on Dr. Oz and Doug Mastriano. Because we have to win, all right?"
His advisers had urged him to wait until after Tuesday's elections, and for once it seems like they overrode his impulse to be the center of attention.