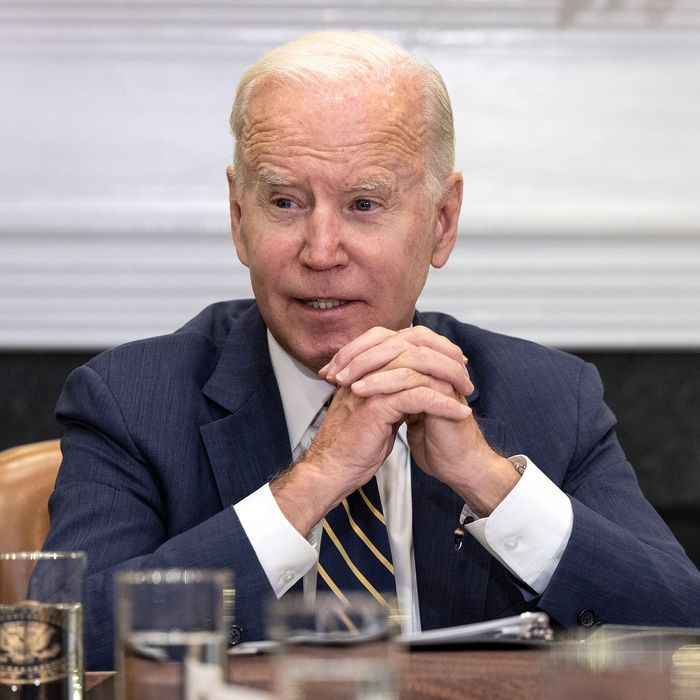 Photo: Kevin Dietsch/Getty Images
For now, at least, no one can stop Joe Biden from having it both ways.
The president and his defenders spent the weeks leading up to November's midterms insisting that no matter how putrid the results would be for their fellow Democrats — no matter how unequivocally voters rejected him — they would have no bearing on Biden's plans to run for reelection. Just remember Barack Obama, the argument went, recalling how irrelevant his 2010 "shellacking" was when he won round two in 2012.
They've spent the weeks since conveniently forgetting all that, instead crowing that far-better-than-expected election results have vindicated Biden. The president himself has been half-whispering "Told ya so" to friends, suggesting that he'll remember the shit he got from so-called allies for his "ultra-MAGA" midterm messaging and his focus on safeguarding democracy. He's been hinting to associates that he has plenty he still wants to do in the White House since so much of his first year and a half was consumed with pandemic recovery. And he's made clear that he now has little patience for all the rumbling about the other, younger Democrats waiting in the wings for his fall from grace, or at least his retirement. "The midterms were the report cards," said one ally when I asked about Biden's future, a power player had been skeptical for months about Biden's prospects for a second term, let alone his ability to do it at age 80. But what about now? He shrugged: Biden "got straight A's."
It all amounts to a real vibe shift (sorry) within the party, especially when you consider the alternate reality Biden might be facing had Republicans met their midterm expectations. He hates that conversations about his age ignore Trump's senescence, but he can't deny that the chatter is inescapable, and it would likely be triply so if he'd lost control of the Senate and his mandate.
At the very least, a new round of debate would clearly have broken out — when a mid-December CNN poll showed just four in ten Democratic voters supporting the idea of renominating Biden, it actually represented a rebound from his low standing this summer. Take the read of yet another ally, a top Democratic fundraiser: "Ask people who don't pay close attention and they're just thinking about a father or a mother or a cousin or a neighbor who's 84 years old. And it's like, Come on! That person can't be a president!" We were talking a few weeks after the midterms, and the bundler had been considering something: "If someone said to me, 'Do you want to take this mid-level government role?' I'm 77! I'd say to myself, 'Should someone my age be doing that job?'"
Of course, that money man hastened to add that he'd be supporting Biden anyway. And this dynamic has all but turned the page on the once widely held belief that Biden's promise as a "bridge" to a new generation of leaders — like, say, his vice-president or Transportation secretary — was about 2024.
It was only nine months ago that a clutch of Democratic governors, lobbyists, donors, and staffers gathered on a golf course in North Carolina, looked around, and tried to pick out who in the crowd would run for president in 2024. Surely they had to start planning for a world without the unpopular, minimally effective, and visibly aging Biden. How about North Carolina's Roy Cooper or Michigan's Gretchen Whitmer? The group's first summer meeting, in Atlanta a few months later, wasn't much quieter, nor was its follow-up in Portland, Maine, where Illinois's J.B. Pritzker appeared fresh off a searing public demand for more action on gun control and a headline-grabbing suggestion that someone might primary Biden. Yet when the group met again in December at the Ritz-Carlton in New Orleans — an event that showcased another possible candidate, New Jersey's Phil Murphy — all of the would-be presidents' openings to force a 2024 conversation appeared closed. So did the ones that so recently belonged to about half a dozen other senators, cabinet officials, and members of Congress who'd whispered to staffers, friends, and donors that they wanted to keep their options open just in case.
It's not that Biden has done anything all that aggressive to get ready for 2024 behind the scenes, even as he's increasingly been reading the midterms as an endorsement of his agenda. Though he always said he expected to run again, he only started his customary quadrennial "should I or shouldn't I" family discussions over Thanksgiving, penciling in another private round for his holiday vacation. But in recent weeks, it's sure felt like a "Yes, duh" to the Biden clan, according to people who've spoken with members.
In their telling, and to some of his confidants in Washington, it might be a little less clear-cut if Donald Trump hadn't already announced his own 2024 campaign. Yet now, they say, Biden feels like he can't possibly pass on another run. Throughout 2021 and 2022, his aides showed him polls where he led a head-to-head rematch with Trump, and he regularly pointed to those numbers when confronted with grim statistics describing his support among his own party's faithful. As Biden sees it, the midterms only helped this case: His focus on calling out Trump-style extreme GOP candidates helped Democrats win over independents, a rare feat for a president's party in any non-presidential election.
So in recent weeks, a small group of close Biden aides who advise him on political, communications, and digital strategy has been discussing reelection preparations with Biden and his wife, Jill. They've been picking up on early groundwork done by the Democratic National Committee to invest in organizers and messaging in a handful of swing states (in: Arizona and Georgia; out: Florida and Ohio) and build research files on possible Republican opponents, and they've started reading in their strategy and messaging with some allies in a series of secret calls. As Washington froze over, longtime donors' phones started ringing and White House Christmas party invites started arriving in their inboxes.
None of which is to say that Biden's Acela ride to a second nomination, let alone term, is assured. For one thing, it will likely still be a while before anything is official. He was always unlikely to announce anything until the spring. But the fact that the opening days of Trump's reemergence have been bizarrely soporific has alleviated Democrats' concern that he would be able to reengage his all-encompassing attention vortex. So Biden, who's notorious for dragging his feet on launching past campaigns (1988, 2020) and pulling the plug on near campaigns (2016), is in even less of a hurry than usual. He could also still have second thoughts. He lucked out with the meager fanfare that accompanied his 80th birthday in November, but the questions about his age will only intensify, no matter how ably he steers the government this winter.
Public composure aside, an uneasiness lingers about what comes next even within his tight circle of advisers. Amid the post-midterm celebrations, Biden's numbers guy offered his party a warning. "Democrats overperformed because voters disliked Republican candidates more," wrote pollster John Anzalone and his colleague Matt Hogan in a December memo. The party's brand, in other words, is still a problem: "While Democrats are understandably encouraged by the results of the 2022 midterms, they should be careful not to interpret the results as evidence that voters liked the party more than pre-election polls suggested."
And at least some younger pols aren't exactly being subtle as they telegraph their preparedness to step in should Biden falter now that he faces a no-compromises Republican House. Politico reported in mid-December that Gavin Newsom, the most overtly ambitious of the bunch (especially for the benefit of the MSNBC set), was planning a January 6 march to his capitol in Sacramento for his reinauguration as California governor, where he'd speak about "defending democracy."
Still, even this is a shadow of what might have been. Silicon Valley congressman Ro Khanna suggested he'd support Biden after entertaining months of lefty pleas to challenge him. Both Pritzker and Murphy were recently spotted, tuxedoed, at the White House, guests of the president at his state dinner with French president Emmanuel Macron — who punctuated his evening with the Bidens with a toast to 2024. And Newsom in particular seemed to be on the wrong side of Biden's bet about his future. With Democratic doom looking likely this fall, he considered delivering a headline-magnet state-of-the-party speech that would get everyone talking about him after Election Day. Once the votes broke in Democrats' favor, though, he scrapped that plan entirely.