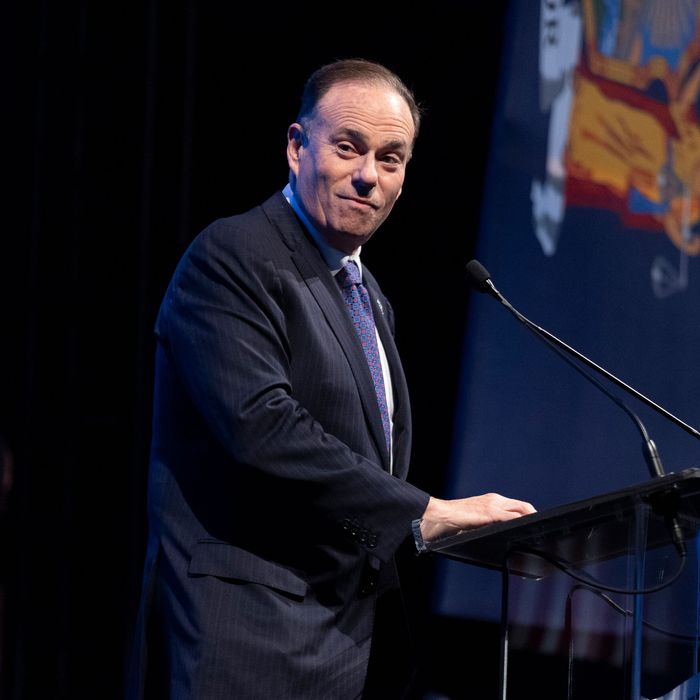 Photo: Erica Lansner/Redux
Last month, Democrats defied expectations across the country, largely fending off a predicted red wave and holding on to control of the Senate. But it was a much different story in New York, where they dropped four congressional seats to Republicans, including one belonging to the head of the party's efforts to keep the House.
Presiding over the upsets was Jay Jacobs, the chairman of the party for the past three years. Immediately after Election Day, dozens of Democratic officials from across the state signed a letter calling for him to be replaced. They accused Jacobs and the party of sleepwalking into the midterms even with a governor's race and several crucial House seats at stake. He sees things differently.
"For the most part, I think we had a good election," Jacobs said, sounding confident in the overall results. "We won all of the statewide offices. Of course, we lost four congressional seats, and that's very disappointing to us. So, from the standpoint of outcomes, we could have done better. But when it comes to what we were facing in the election and what we did as a party, I think we performed really well."
Where the party fell short wasn't due to a lack of effort on the side of Democrats, Jacobs said, but rather increased enthusiasm by Republicans. He cited data that showed Democratic turnout statewide at about 47 percent and Republican at 65 percent. "The boost in Republican turnout had nothing to do with the Democratic organization and sure wasn't because I wasn't progressive enough or the candidates weren't progressive enough, and the progressives are the ones that are making this argument," he said.
Jacobs, who was tapped by Andrew Cuomo in 2019 for his second nonconsecutive term as chairman, said there is "another agenda at play" in the postmortems of the election.
"I think that no matter how we performed, a certain faction of the party that is far more progressive, that sees me as someone who is always advocating a more moderate approach — particularly in the suburbs and upstate — and someone that they wanted to see out of the job as chair, that would have emerged no matter what the result was," he said.
These critics, Jacobs claims, are not representative of the party as a whole.
"It's been pretty vocal from the far left. It's been pretty quiet from the moderates, and among the reasons is that elected officials and party officials and county chairs who talk to me and voice their support would rather just not get into the fray and find themselves beaten up constantly by Twitter and all of those other social-media forums and just want this whole thing to just be in the past and continue moving forward," he said. "So I can't say I blame them. But it does make it look rather one-sided."
But the push for Jacobs to be removed from office has continued with signatories to the letter increasing in the days and weeks following the election.
"The reason I think Jay Jacobs needs to go is not because he's a moderate. It'd be fine to have a moderate party chair," said Brad Lander, the city's progressive comptroller, who signed the letter. "It just needs to be someone who's a bridge builder, who has some strategy, who takes some responsibility and then builds a platform where all Democrats, progressives and moderates, can work together to achieve results. And we very clearly don't have that."
When asked how he would assess the party's performance, Lander answered bluntly.
"What performance?" he said. "I don't know what the state party did."
Lander is not alone. One of the biggest accusations aimed at Jacobs is that the party lacked a get-out-the-vote effort, particularly in the city. Facing an unexpectedly close race against Republican Lee Zeldin, Governor Kathy Hochul's campaign suddenly held rallies with Vice-President Kamala Harris and Hillary Clinton in Manhattan as well as President Joe Biden and Bill Clinton in Brooklyn to turn out the base. The Working Families Party launched a rescue mission for Democrats in the final weeks of the election, increasing canvassing efforts and sending out mailers and texts — and arguably helping Hochul beat Zeldin.
Chi Ossé, a city councilman from Brooklyn, said he received consistent text messages about the election from only the WFP. "I know a lot of people that vote in every single election, and they have received no mail," he said. "We didn't see posters or anything of the sort in my neighborhood, in my district, until Election Day. It was almost nonexistent."
Jacobs pushed back on the claim the party was nowhere on the ground, saying it spent $6 million this cycle and invested in an absentee-ballot program that sent mailers to 2 million Democrats.
"I just read an article that was printed that said we had no ground game and we neglected the grassroots. Well, I don't know what you call it when you have ten field offices around the state with 50-some-odd field directors and the rest and employees working and 6,000 unique volunteers," he said. "If that's not grassroots, I don't know what grassroots is." He did concede the turnout effort in the city was not perfect, though. "I think in other areas — particularly some of the canvass operations in the South Bronx, in Southeast Queens in particular — they weren't as effective. I think we could have gotten some of our people more active in central Brooklyn earlier. Now none of those things would have won the congressional races that people are concerned with. But I think we could have done that," he said.
Alessandra Biaggi, a state senator from Westchester who tweeted shortly after the election that she was "personally spearheading a campaign to replace" Jacobs, says the party's problems go beyond this year. She pointed to November 2021, when ballot initiatives that would've made significant changes to voter-registration rules and the independent redistricting commission failed after Republicans spent more than $3 million attacking them while Democrats spent a little more than $300,000 to promote them. "When you have the power in the State of New York that Democrats have, to not show up for a key battle is really, I think, a failure of leadership because you have to take every single battle and fight and campaign seriously, and he didn't," she said in an interview.
Then there is Long Island, where Jacobs has been the chair of the Nassau County party since 2001. "Not only were his candidates swept away, they were basically consumed by this narrative of bail reform and of crime," Biaggi said, adding that Jacobs had a responsibility to defend the party.
Jacobs insisted that Republicans had a simpler task when it came to bail reform. "It's very easy for Republicans to take crimes and make it look like the fault of bail reform, when every fact that you had — every data point — demonstrates it's just not the case," he said. "In a campaign, you don't have but seconds to get your point across. So, no matter what the messaging is that we would have done as Democrats explaining the benefits of bail reform, the truth about the data points of bail reform, we didn't have the time or the attention of the public to sell it. So their job was an easy one. Our job was very difficult."
Despite the uproar, Jacobs's position seems secure. Hochul has continued to back the party leader, and the chairs of more than 40 county parties signed a letter of support that credited Jacobs with guiding the party "through unprecedented crossroads during his tenure" and said he "has consistently led with a steady hand." His detractors are left with few good alternatives to get rid of him.
"There could be a vote of no confidence," said Lydia Green, a member of the party's state committee from Brooklyn who signed the anti-Jacobs letter. Last year, following the ballot-initiative losses, he was subject to a potential vote of no confidence before the 400-plus members of the party's state committee, but the effort was soundly defeated. "I'm pretty confident that if it came to a vote of confidence — which I'm not afraid of, frankly — it would come out just fine," Jacobs said.
Erica Vladimer, a committee member from Manhattan who wants to see Jacobs replaced, said the party's problems run deeper than its leader. "The state party has never really been a real, professionalized infrastructure that works with rank-and-file state-committee members, who are the ones in their communities doing the work," she said. "It doesn't work with organizers and organizations, nonprofits that are also doing the work on the ground, and it really has just been a significantly top-heavy state party that has been more of a party in name only." For starters, she wants to see the chairman's job be made a paid full-time position.
"Our work is not done," Vladimer said. "State-committee members are continuing to have conversations about what we want our state party to look like, and we will continue to push for leaders and leadership who agree with us. We're actually going to do the hard work that it's very clearly going to take to create a state party that's reflective of what we deserve here in New York. And if that means that Jay is still the chair, we will continue to push for those changes."