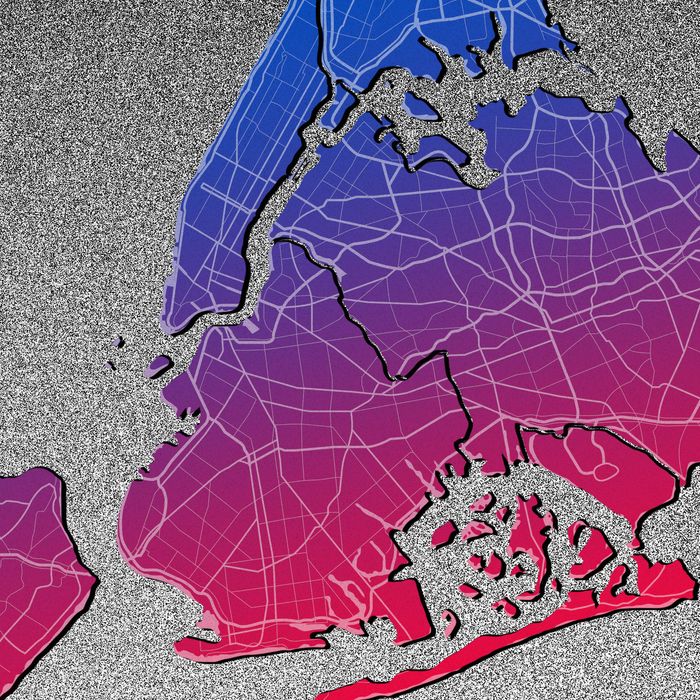 Illustration: Intelligencer
Ari Kagan, a little-known city councilmember from Brooklyn, stood on the steps of City Hall and made a startling announcement: He was becoming, in deep-blue New York, a Republican. "Democrats were just laughing at me, laughing at communities," Kagan said on Monday. "Every time, I am saying, 'What about public safety?' … Public safety is not a joke. It's the most important priority today in New York City."
Kagan, a longtime Democratic activist who was elected just last year, became the sixth Republican on the 51-member council — the most Republicans in at least two decades. The move, in many ways, was driven more by the quirks of redistricting than by any ideological reckoning. After a contentious backroom process eliminated his southern Brooklyn district, breaking it up to create a new Asian-majority seat in the area, Kagan had few choices left. Drawn into a district with Democrat Justin Brannan, Kagan could retire from politics or run against him. Instead of attempting a tough primary, he decided to hop parties altogether, setting up a volatile general election for next November. Brannan, along with other Brooklyn Democrats, fiercely condemned Kagan. "Frankly, I'm embarrassed for him," Brannan told the Daily News. "This is just desperate and sad. When you stand for nothing, you'll fall for anything."
The undercurrent of Kagan's decision, though, is that he has a genuine chance to win the redrawn 47th Council District, which spans the neighborhoods of Bay Ridge, Bath Beach, Gravesend, and Coney Island, with a sliver of Dyker Heights connecting them. In the 2021 mayoral race, Republican Curtis Sliwa narrowly carried the district over Eric Adams, who went on to be elected mayor by a wide margin. Kathy Hochul beat Republican Lee Zeldin there as she won reelection as governor but only by a few percentage points. Brannan is undoubtedly the favorite — especially with the Democratic stronghold of Coney Island drawn into the district. Kagan, however, will be able to compete.
In significant swaths of Brooklyn and Queens, Republican voting is growing organically, driven less by reactionary white people looking longingly to the suburbs — a coalition that helped elect Rudy Giuliani twice in the 1990s — and more by communities of recent immigrants and Orthodox Jews. Some of these voters are conservatives who no longer wish to support Democrats at any level of government after spending years ticket-splitting. Zeldin ran up large margins in Chinese-speaking Brooklyn neighborhoods and, like other recent Republicans, dominated in Russian-speaking and Orthodox Jewish parts of Brooklyn and Queens. (Kagan, who is Jewish, emigrated from the Soviet Union.) Party affiliation is beginning to matter more than racial or ethnic identity in city voting: A white Republican with scant resources nearly defeated an Asian American Democrat for an Asian-plurality Brooklyn legislative seat last month. And it may have been liberal white voters, not Asian Americans, who saved her.
What unites immigrants from East Asia and Russia as well as Yiddish-speaking Hasidic Jews and the comparatively less strict Orthodox Jews? Fear of rising crime. Zeldin campaigned aggressively on funding police and turning back criminal-justice reforms passed in Albany. While the links between the partial end of cash bail and New York's crime spike are nebulous, Democrats have paid an electoral price for lacking a compelling counternarrative. The surge in hate crimes against ethnic Asians and Jews has put both communities on edge. These days, law-and-order rhetoric is a much easier sell — as is the idea of giving the city more power to take potentially dangerous people off the streets. Ron Kim, a progressive lawmaker whose parents immigrated to Queens from South Korea, recently came out in favor of Adams's controversial directive to expand the scope of who can be involuntarily taken to a hospital. Kim cited his conversations with the parents of Michelle Go, the 40-year-old Asian American woman shoved to her death on the subway tracks by a man with schizophrenia.
There is another issue that, for now at least, is tugging ethnically Asian and Russian-speaking voters toward the Republican camp: education. Both care deeply about maintaining the specialized public high schools, which have a single standardized admissions test for entry known as the SHSAT, and the city's Gifted & Talented program. These programs have been criticized for driving racial polarization and relying far too much on standardized tests over more holistic metrics, but immigrant parents view them as a lifeline to college and the middle class.
When he was mayor, Bill de Blasio attempted to scrap the standardized test for high schools and reorganize how elementary and middle schools admit students in response to complaints that the system discriminated against Black and Latino families. The push met with furious backlash, especially from  Asian parents. De Blasio retreated from the effort, which Eric Adams initially supported as Brooklyn borough president, and the status quo remains. But politically, the damage was done. Asian American voters in New York have continued to move right, backing Republicans who are unapologetic defenders of SHSAT schools.
If the trends hold, Democrats can still win mayoral elections with relative ease and control the City Council. But six Republicans get a bigger say than two or three, and more pickup opportunities could exist in areas of Brooklyn and Queens where conservative registered Democrats hold on. In the governor's race, the city was Hochul's saving grace even with the reddening of Brooklyn and Queens. Democrats, though, have to be careful. Zeldin was the most competitive gubernatorial Republican in 28 years, and he was a staunch defender of Donald Trump. A more mainstream — and ultimately serious — Republican may have finished off Hochul altogether, reaching even deeper into the pockets of the city and shunning Democrats up and down the ticket.