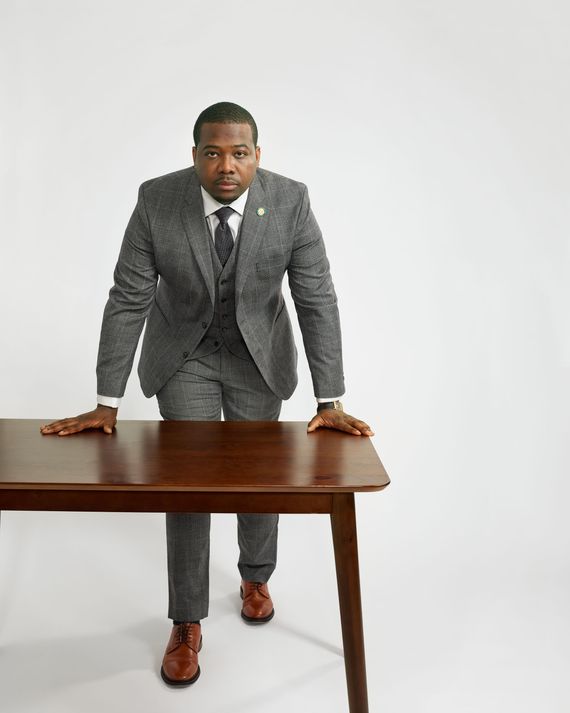 This article was featured in One Great Story, New York's reading recommendation newsletter. Sign up here to get it nightly.
Toward the end of July, around 40 people gathered at the Black Spectrum Theatre in Queens to voluntarily sit through a PowerPoint presentation. It was part of a public forum organized by the Office of Cannabis Management, the state regulatory body created in September 2021 to usher in the era of legalized recreational weed in New York. This was an exciting time — after decades of prohibition, New York had joined a number of states that have legalized marijuana sales and consumption, putting an end to the criminalization that had disproportionately impacted Black and Latinx communities. The new law, signed in March 2021, promised not only a legal weed market but a centering of those who had suffered the brunt of prohibition's penalties. If those in the audience that day met the requirements and judiciously completed their paperwork, they could hope to receive one of the first 175 licenses to be granted in the coming year. All of this was in the PowerPoint.
Presiding over this meeting was Chris Alexander, the bill's architect and the executive director of OCM. The Hollis native was dressed to project polished but relaxed, serious but approachable, in a purple gingham dress shirt with the sleeves partially rolled up, fitted navy slacks but no blazer, an inconspicuous yet elegant rectangle-dial watch, and an enviably fresh haircut and shave with a smart goatee. Roy Wilkins Park, where we met to talk before the presentation, is basically his backyard; he recently purchased a home nearby. "This is where I'm from," he said. "The police presence was always there. Even if it's not full arrest, it's the 'What are you doing? Where are you going? Where are you coming from?'"
The son of two Grenadian immigrants, Alexander saw and understood marijuana consumption as a big part of Caribbean culture. But in his own home, his father, a postal worker, and mother, a dietician, held different views. "My dad grew it, smoked it," recalls Fe Noel, a Brooklyn-based designer and Alexander's close cousin, "but not his dad. He was just against it." People who grew up with Alexander always knew he would get into politics. Even as the youngest boy among his cousins, he took the lead in their childhood games and was the chief negotiator to get parental permission for sleepovers. "My nickname for him is Mr. President," says Noel. For his part, Alexander said he was drawn to this line of work because of the toll of the drug war he had witnessed while growing up, which stood in stark contrast to the ways he saw marijuana use go virtually unpoliced on the campus of Syracuse University, where he attended college (and sometimes performed social-justice-themed spoken word, according to his frat brother Jonathan Leon). "At the time, I had a very close family member get arrested for a serious-level drug offense," Alexander said. "It became very clear to me that there are rules that apply here in Queens that don't apply in places like Syracuse."
Alexander was among the first appointments made by Governor Kathy Hochul. While the implementation of the law was low on Cuomo's list of priorities, Hochul sought to fast-track it, perhaps seeing the issue as a way to secure her election chances. Alexander — an alum of the CUNY School of Law, the Drug Policy Alliance, and a private-sector marijuana start-up — was the name at the top of everyone's list to head the new agency. "There were a lot of other people who had interest," says Crystal Peoples-Stokes, the State Assembly majority leader and a co-sponsor of the Marijuana Regulation and Taxation Act (alongside State Senator Liz Krueger), "but none of them had as much detailed information about the legislation from beginning to end than he."
Legalizing weed was more of a fringe issue when Alexander got into it, one that very few politicians were willing to take up even as a few states were experimenting with legalization. Of course, all that has changed. "In the war on drugs," says Damian Fagon, who serves as OCM's chief equity officer, "obviously weed won."
But what comes after the war? Meetings. PowerPoints. Meetings based on PowerPoints. The slow, tedious grind of government bureaucracy. Alexander and OCM are building an entire government organization from scratch. When he and I first spoke this summer, the office had hired a little over one-third of the 300-person staff it needs. It has now hired closer to half. It had to bring on HR staff in order to hire people and to make sure everyone got paid. It had to find an office (which it did, down in the Financial District, one they say once housed an insurance company that vacated during the pandemic) while establishing regulations to govern the potentially lucrative legal-marijuana market (estimated to create 20,000 new jobs and be worth $4.2 billion annually by 2027). OCM considered a little over 900 applications for retail licenses, ultimately awarding 28 to entrepreneurs and eight to nonprofits including Housing Works and the Doe Fund late last month. It has had to build the ship as it sailed — or rather, roll the joint as it's smoked.
Alexander will tell you equity is the centerpiece of the legalization program, and during the PowerPoint presentation, the would-be weed entrepreneurs learned exactly what that meant. They were given information about CAURD, the Conditional Adult-Use Retail Dispensary licenses that constitute the first round of licensed marijuana retailers. CAURD establishes a strict set of eligibility requirements meant to push those most affected by marijuana prohibition and its enforcement to the front of the line: 51 percent of the potential business must be owned by a "justice involved" person, defined as someone who had a marijuana conviction themselves or is the child, spouse, or parent of someone who had a marijuana conviction in New York; any additional investors must be disclosed. Those who qualify will be eligible to receive a loan of $500,000 to $1.5 million to pay for a retail space that has been selected and built out by New York State.
At 32, Alexander may be youthful and passionate, but he is not naïve. "There's the understanding that this is difficult. There's the understanding that this is new. There's the understanding that this is something that hasn't been done," he said. "Of course, there's also the understanding that if we take too long or we have a big misstep, we might lose some of that goodwill." The criticism is mounting, particularly from the established marijuana businesses that will initially be kept from operating in New York.
In addition to being justice-involved, applicants must show that they have been an owner of at least 10 percent of a business and that their business showed two consecutive years of profit. The rationale, as Alexander explained it to me, is that OCM wants the legal market to be successful out of the gate. It wants people who have (legal) business experience with managing payroll, complying with government regulations, filing taxes, and so forth to build the foundation.
These regulations came about from observing how legalization has happened in other states, where a marijuana conviction has been a hindrance to getting involved in the legal trade and thus further disadvantages communities, particularly Black and Latinx people, who have disproportionately borne the brunt of the repercussions of participating in the legacy market. Elsewhere, as in California, legalization has been a boon for large firms and venture capitalists who have swooped in and dominated the market with deep pockets. "How do we deal with systemic inequalities? How do we deal with lack of opportunity, lack of access to capital?" Alexander asked. "We're trying to find those solutions in real time. Let's give them the capital, let's give them the real estate. Let's address the problem head-on, and see how they do. I'm betting a large amount that they'll be successful."
This will leave some passionate would-be weed entrepreneurs out of the first round. "We've had to think about what that means for us," Jahmila Edwards tells me. She is part of the Stash Queens collective, a group of five women of color looking to get into the legal marijuana space. "And we're really committed to what we've already started building. It's already been a year in the process. We have a lawyer, we have consultants, we have mentors, industry mentors, and advisers; we attend conferences, we did an accelerator program." The members have the requisite business experience, but their out-of-state and sibling convictions don't meet the state's definition of "justice involved." The Stash Queens bonded over what any set of friends would: weed and justice. When New York announced the law legalizing marijuana, the group celebrated and saw an opportunity as women of color who had been impacted by the drug war. "I gave a phone call to a family friend who has been in the cannabis industry for many years and very successful in the industry and said, 'Hey, we are legalized here in New York. Do you think there is opportunity for someone like me and someone like my girlfriends to get involved in the industry?'" Edwards says. "And he said, 'Absolutely.'"
The dream of eventually getting a license is buoying the Stash Queens as they wait in the wings. "We aren't discouraged by it because we know OCM has a place for us, that they want folks like us to succeed," Edwards says. "It's just not our turn."
It won't be the turn for many legacy dealers, either, those who have made their living by selling marijuana on the black market and therefore won't be able to show the viability of their business. This hasn't escaped Alexander's notice.
"Not only do we want them, we need them," he said. "We need everybody in New York with cannabis knowledge to participate in the market. And it might not actually be on day one, but we're already building out the programs to give that compliance knowledge, to create that understanding, to get the people who know cannabis better than pretty much anybody else to figure out how to get them to know how to run a compliant business better than or as well as anybody else does."
Leaving many legacy dealers out has made the shift from the legacy market to the legal market a slow one for consumers, too. A year and a half after Governor Cuomo legalized recreational marijuana, New York State is drowning in legally grown cannabis. OCM-approved farmers have grown 300,000 pounds of the plant, that can't be sold and is getting less fresh by the day, because the office has yet to approve any retail locations. The solution for now is home delivery, which an OCM spokesperson says should kick off in the next few weeks. In the meantime, the gray market hums. In New York, you've likely seen this in the form of your local bodega suddenly selling pre-rolled joints or bags of loose weed ("They sell it down the street from our office," an OCM staffer said at the community meeting in Queens).
Who will be first in line to buy from OCM-approved retail locations? The idea of legal weed may be tantalizing for those who have rarely smoked or for people who are intrigued when walking past a storefront that offers pre-rolled joints, but regular smokers who have cultivated a relationship with their dealer and like the product they sell won't be as likely to suddenly abandon them. Because a federal prohibition is still in place, marijuana can't be transported across state lines, meaning the good stuff that comes from elsewhere, like California, won't be available to legal retailers here, while legacy dealers with established connections can continue with their product and the same risk they have always incurred. Already, one cannabis business owned by a Michigan resident has sued, claiming its selection requirements violate interstate commerce protections; a federal judge has temporarily blocked the issuing of retail licenses in Brooklyn and four more regions where the business had hoped to operate.
For now, OCM is banking on consumer education. Trust your dealer as you may, but the fact is you don't know how the weed was grown or what's actually in it. "There are young New Yorkers unknowingly smoking pesticide, heavy-metal-laden product," Fagon, who is often referred to as a "weed genius" by his OCM colleagues, says. "And it's even darker than that because we've never actually done studies on what happens to the human body when you smoke pesticide because it's never occurred to anybody to study because it wouldn't happen."
On the way to my second meeting with Alexander late this summer, I saw a guy spark a joint on his way down into the subway. Mayor Adams had recently identified the smell of weed all over the city; I've been living here for nine years, and to me, the city has always smelled at least a little like weed. The only difference is that for the past year and a half, it has done so legally. "A few minutes ago, NYPD would've been all over it," Alexander said when I told him about the guy I'd seen. Things are different. They may not be quite as different as we critics want them to be (the NYPD and the mayor's office have found ways to maintain arrests even with weed no longer a precondition for search and arrest, and despite OCM's desire not to involve police in the gray market, some illegal shops have been raided), but OCM is doing something that hasn't been attempted in earnest by a government body since perhaps Reconstruction — a redress of harm through a policy that includes direct material support.
It's not quite the Freedmen's Bureau, but by intentionally building this market with the most affected at its center, OCM is showing the potential for using the government to undo institutional harm. And as such, OCM has attracted a different kind of government worker. In Fagon's office, there are copies of Debt, by David Graeber, and The End of Policing, by Alex S. Vitale; these aren't exactly the texts you expect to find casually displayed in a government office, but they're indicative of the kind of outsider turned insider that Alexander now leads. These are vociferous critics of the way things have been done who are now convinced that there's a chance to demonstrate the government's capacity to do something truly transformative. "We exist almost as an apology," says Aaron Ghitelman, OCM's deputy director of communications.
Alexander knows he faces a monumental task, and for as smart, put together, and ambitious as he is, he knows there's no way to achieve the goal without making sure the public understands OCM's moves every step of the way. More meetings. More PowerPoints. More meetings based on PowerPoints.
"If you can't explain what you're doing, you'll always be at a disadvantage," Alexander said. "If you can't speak to what's happening and decisions that you're making, people will never fully support what's happening there."
And for the record: He does smoke weed. Not that doing so is a prerequisite for the job. "I don't smoke every week," Alexader told me. "But occasionally, yeah." It may help make those PowerPoints a little more interesting.