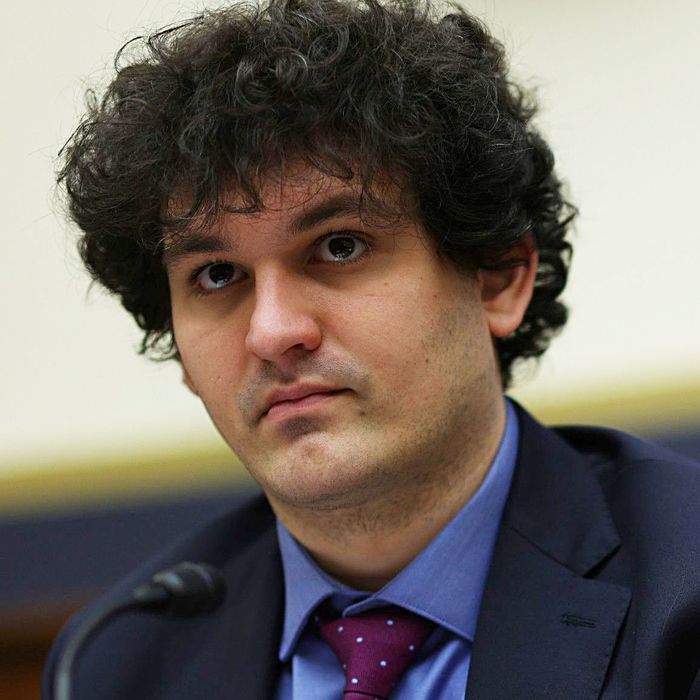 Photo: Alex Wong/Getty Images
At the center of Sam Bankman-Fried's $32 billion crypto empire was a lie: His two businesses had nothing to do with each other.
There was FTX, the cryptocurrency exchange that was the driver of the 30-year-old's massive wealth, a supposedly safe and easy-to-understand business that took fees when traders bought and sold their digital money. Then there was Alameda Research, his hedge fund, which was something of a black box. He always insisted that the two were at arm's length and no financial institution — not even his own — ever got special treatment on FTX. There were audited financial statements that showed the two companies were separate. When an investor asked Bankman-Fried point-blank if Alameda had any exposure to FTX's own native cryptocurrency — which essentially acted as an IOU for depositors' money — he allegedly lied and said no. That investor handed over $30 million.
So went the scheme to defraud investors of FTX, according to authorities, eventually leading to the firm's downfall and Bankman-Fried's arrest on Monday evening at his Bahamas headquarters. The charges filed are the clearest look inside how he ran his financial empire — and without his compromised version of events. "It's fair to say that, by anyone's light, this is one of the biggest financial frauds in American history," Manhattan U.S. Attorney Damian Williams said during a Tuesday afternoon press conference. Later in the day, a judge in the Bahamas denied Bankman-Fried bail after a lengthy hearing, judging that he was too much of a flight risk to set free.
Federal prosecutors in Manhattan charged SBF with four counts of wire fraud and four counts of conspiracy to launder money and commit commodity, securities, and campaign finance fraud. "From 2019 until earlier this year, Bankman-Fried and his co-conspirators stole billions of dollars from FTX customers," Williams said. "He used that money for his personal benefit, including to make personal investments and to cover expenses and debts of his hedge fund, Alameda Research."
The lying allegedly started on the day FTX opened for business, according to the civil and criminal charges. Bankman-Fried is accused of misleading FTX's customers in order to coax them out of money that he would then use to make bets on the stock market, fund venture investments, buy homes, donate to politicians, and favor his top executives. Alameda was quietly essential to the scheme, according to prosecutors: The hedge fund would trade with customers, operate as a funnel for venture investments, and store crypto assets that customers thought were on FTX. For years, Alameda would rely on customer money to play the markets, funds that would increasingly be used to prop up Bankman-Fried's own businesses.
Then, earlier this year, things started to fall apart. After one of the world's largest cryptocurrencies collapsed, so went another hedge fund, Three Arrows Capital, which set off a cascade of failures. Alameda wasn't immune, and when it started to falter, Bankman-Fried dug in deeper, using even more FTX customer money not only to prop it up, but to fund an image of success and influence that he would try to leverage to give him even more power, including through contributions to Democrats and Republicans. The customers he lured in with commercials featuring Tom Brady and Larry David ended up paying for nearly $2.5 billion in loans for real estate purchased for him and two of his top executives. For someone who was once lauded as the J.P. Morgan of crypto for his ability to bail out a cascading industry, he proved himself to be anything but — someone who allegedly lied, and lied, and then, after taking more of his customer's money, lied again.
The SEC's civil charges make the case that Bankman-Fried was always in charge of what was happening in his $32 billion empire — much to the contrary of his recent media tour, where he chalked it all up to accounting errors and inexperience. Essentially, he was able to get so rich because he engineered a way to give Alameda all the benefits of unlimited money without the consequences of having to pay it back — or so he thought, according to the SEC. Alameda took billions of dollars in "loans" from FTX, which were fueled by depositors' money — even though FTX never disclosed to its investors that the money would be lent out to the hedge fund. FTX also allegedly gave Alameda special privileges that allowed the hedge fund to lose money and skirt automatic liquidations when it got too risky. "Bankman-Fried remained the ultimate decision-maker at Alameda," even after Caroline Ellison, his then–romantic partner, became Alameda's CEO. SBF has tried to blame her for the debacle, and she was recently spotted in New York around the same time she retained a former top SEC crypto investigator as her lawyer, which has fueled speculation that she is cooperating with the government. "Sam Bankman-Fried built a house of cards on a foundation of deception while telling investors that it was one of the safest buildings in crypto," said Gary Gensler, chairman of the Securities and Exchange Commission, in a statement.
The charges came down quickly, considering that it's only been a month since FTX filed for Chapter 11 bankruptcy following the equivalent of a bank run. "This is very, very fast. But I've also underscored that we're not done," Williams said, adding that the Justice Department is continuing to look for people to cooperate and will likely file additional charges after gathering more evidence.
Underscoring the personal nature of the alleged crimes is John J. Ray III, the current FTX CEO who's in charge of restructuring the business. In testimony before Congress, he joined the SEC in saying that Alameda and FTX were little better than a slush fund for SBF, with financial decisions made over Slack and accounting done on Quickbooks — a software typically used by small businesses. Ray — who oversaw the Enron bankruptcy — said that there was no distinction between the management of FTX and Alameda, and that in at least one instance Bankman-Fried had enriched himself by signing documents as "both as the issuer of the loan as well as the recipient of the loan." So far, investigators have only been able to say where a fraction of the $8 billion in lost customer deposits went: $1.4 billion for real estate bought by Bankman-Fried for himself and his parents; the $775 million in loans to just two of his top executives; and $40 million in unnamed political contributions (it's known he gave heavily to Democrats, and he claims to have given about as much to Republicans through dark-money donations). "The scope of the investigation underway is enormous," Ray said.
The trouble is likely to continue for SBF and the rest of his inner circle. The SEC complaint also details how SBF and his inner circle, including co-founder Gary Wang and Nishad Singh, allegedly used the two financial firms as their own "personal piggy bank." In May, as the price of crypto was collapsing, Alameda borrowed billions more in loans from FTX — loans that were funded by customer deposits, the SEC said. Bankman-Fried allegedly pulled on that line of credit again later in the summer, using them to pay for loans that FTX executives would direct toward personal expenses as well as venture investments.
The day before he was arrested, Bankman-Fried was defending himself in interviews, including in a live chat with Forbes and the Twitter user @unusual_whales. In the chats, SBF repeated the defense he'd been giving to the media that any commingling was inadvertent and that he did not knowingly commit fraud. The morning after he was arrested, Bankman-Fried appeared in Bahamian court, saying he won't waive his right to an extradition hearing, according to the Nassau Guardian. He was also reportedly wearing a suit jacket, a shift from his normal casual outfit that he would famously wear — and which made him so believable. "You can commit fraud in shorts and T-shirts in the sun," Williams said.