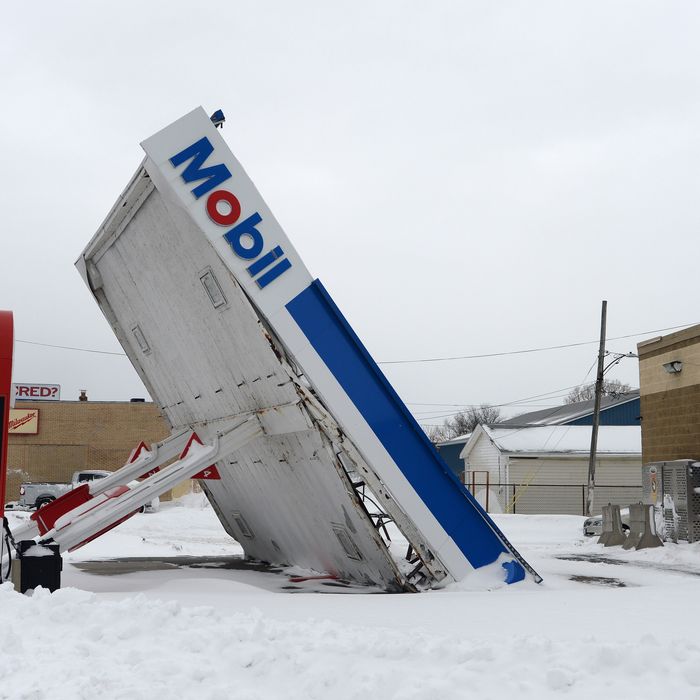 As western New York residents dig out from a devastating blizzard, local and state officials are responding to criticism over failures to protect the vulnerable.
Authorities are facing questions about the shockingly high death toll — 37 so far — in a region that is used to heavy snowfall. Local EMTs have said that a driving ban should have been in effect on Thursday as the storm bore down and forecasters warned of historic effects. Instead, the ban was instituted during rush hour on Friday morning when many commuters were already out the door. Officials have also been bickering with each other, with Erie County executive Mark Poloncarz calling Buffalo's response "embarrassing" and blaming the city for the state and county's decision to step in to "take over" the cleanup. Buffalo mayor Byron Brown more or less told Poloncarz to say that to his face before saying: "I don't have any feud."
Some Buffalo residents have also been critical of the response from Brown, saying the city was not prepared for the storm and that the longtime mayor hasn't been present enough on the ground. In an interview with the Washington Post, Al Robinson, a local pastor, said of the mayor, "Mayor Brown? I haven't heard from him. I've been getting calls from the Times of London, but I haven't heard from my mayor."
Brown, speaking to the Post, pushed back against the idea that the local government and the city were caught off guard by the storm.
"I have no clue what you are talking about or who these volunteers are or what they are talking about," he said. "This was a historic storm. This should not have come as a surprise. I absolutely think residents were adequately prepared."
Heading into Christmas weekend, hurricane-force winds hit Buffalo and knocked out power for tens of thousands in the county, where some houses on Lake Erie were frozen solid. Many residents were trapped in their cars returning from work, forced to hunker through the 36-hour storm considered the worst in two generations. One woman, a 22-year-old nursing assistant, died in her car after it was disabled on the road. Others died from exposure after trying to walk home from their cars stuck in the snow or on treks to go get supplies. The medical examiner's office has confirmed some of the causes of death, including 14 people who were found dead outside, three people who suffered heart attacks while shoveling, and three people who died after a delay in emergency medical services.
With ambulances and other vital operations delayed because of the storm, there were also heroic stories of individuals coming to each other's aid, including a family that welcomed a group of ten tourists traveling from South Korea. A National Guard member helped deliver a baby for a mother in labor who was stuck at home. A woman also saved a mentally disabled man from exposure, who is now recovering from fourth-degree frostbite in his hands.
Governor Kathy Hochul has defended the state's response, saying snowplows were in waiting but that the conditions were a challenge "that no preparation can help you overcome." In a related controversy, Poloncarz said the Buffalo Bills did not receive preferential treatment returning to the city on Saturday. After the NFL team flew into Rochester and requested an escort for the ride to Buffalo, they were denied one but drove through anyway.
With temperatures in western New York starting to trend upward for the first time in days, Erie County is attempting a return to normalcy. The Buffalo News reports that National Grid and NYSEG anticipated all power being restored to customers by Wednesday evening. Major highways have reopened and the Buffalo airport is once again receiving flights. The driving ban was officially lifted on Thursday at midnight and replaced with an advisory warning drivers against unnecessary travel.