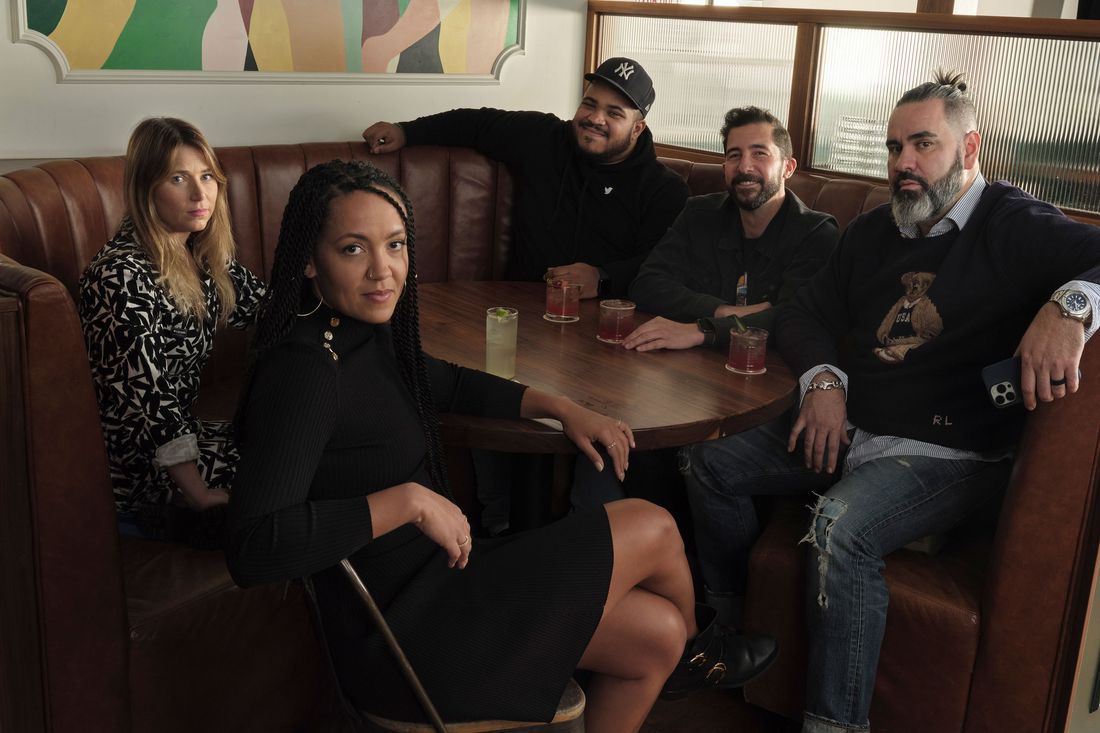 From left:
Robin Monheit, Melika Hope, Christian Hurtado, Lee Owens, and Kendrek Lyons at Jungle Bird.
Photo: Marco Giannavola
Nearly a year after Elon Musk first teased the idea of buying Twitter; after he made an official offer to board members in April only to spend the summer trying to weasel his way out of that deal; after the company sued the richest man in the world and he caved and agreed to a deal worth $44 billion; after reports that Musk wanted to lay off 75 percent of Twitter's 7,500-member workforce, then proceeded to do just that or something close to it; after thousands of employees were suddenly unable to log in to their work spaces or received emails saying, "Today is your last working day at the company"; after all of that, Tweeps — the gooey nickname the company's employees use to refer to each other — deserved a stiff drink.
In New York, they gathered at Jungle Bird, a favorite post-work bar near Twitter's Chelsea office. They commiserated, gossiped, swapped numbers and email addresses, and promised to keep in touch as they looked for new jobs. The mood wasn't funereal, really — would you want to work for a capricious billionaire edgelord? — but they were mourning more than the loss of a paycheck. "It was a really special group of people who worked there," says Melika Hope, a former product-management lead who was among those first laid off.
The heartfelt odes to a workplace many considered to be one of the most diverse and open-minded in the tech industry were a rebuke of the erratic rule imposed by the company's new emperor. Despite being famously known as the "hellsite," Twitter as a company did fulfill a specific sort of mid-aughts Silicon Valley dream, one that has come to an end. While his former employees were ordering another round, Musk was tweeting that the fate of Twitter under his ownership represented "a battle for the future of civilization."