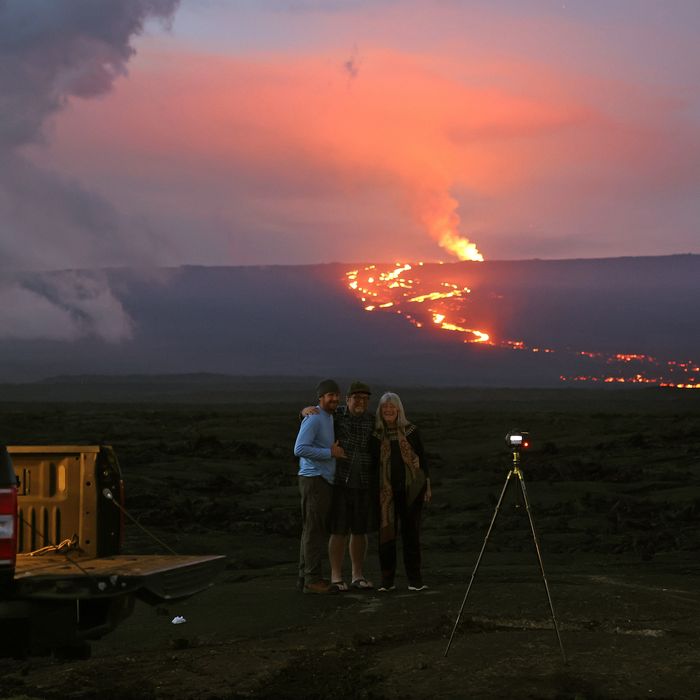 A group of people take a photo as the Mauna Loa volcano erupts behind them on December 4, 2022, near Hilo, Hawaii.
Photo: Justin Sullivan/Getty Images
Things are getting a little crazy for volcanoes. No, the world isn't ending; it's totally normal for dozens of volcanoes to be simultaneously erupting across the globe at any given moment. But over the weekend, there were several particularly dramatic eruptions on multiple continents.
First off, both active volcanoes at Hawai'i Volcanoes National Park on the Big Island are currently putting on quite a show. The world's largest active volcano, Mauna Loa, began erupting on November 27 for the first time since 1984, and it's been sending up a spectacular fountain of molten rock ever since.
Its lava flow can be seen from space, too:
And yes, there's a mesmerizing livestream:
Mauna Loa's next-door neighbor, Kīlauea, is also still erupting, making for some amazing panoramas:
The eruptions have not yet caused any significant disruptions in Hawaii, other than triggering a spike in tourism, but local authorities are closely monitoring the new lava flow, which could yet reach the Big Island's main highway.
If you are lucky enough to get to Hawai'i Volcanoes National Park to see this possibly once-in-a-lifetime geological event, remember to heed the big sign:
Meanwhile, there was a much scarier volcanic event on Sunday afternoon in Indonesia, when East Java's Mount Semeru erupted, unleashing a torrent of lava, ash, and gas — forcing thousands of people to flee.
Thankfully, no casualties have been reported thus far, but rescue and evacuation efforts continued on Monday. The eruption was triggered when the volcano's lava dome collapsed following heavy rainfall in the region.
The last major eruption at the 3,676-meter Mount Semeru, on the exact same day in 2021, killed 51 people in surrounding villages and left many more injured. With that ordeal fresh in their minds, villagers swiftly evacuated the area on Sunday morning when the mountain began to rumble and warnings went out, according to a local official who spoke with the Associated Press.
There was also a dramatic eruption on Saturday at Mount Stromboli, an active volcano off the coast of Southern Italy:
And there was this eruption on Saturday at Sakurajima on Kyushu in Japan:
And this mini eruption at Chile's Volcán Villarrica:
But again, these eruptions happening almost simultaneously only seems like the end of the world:
This post has been updated.