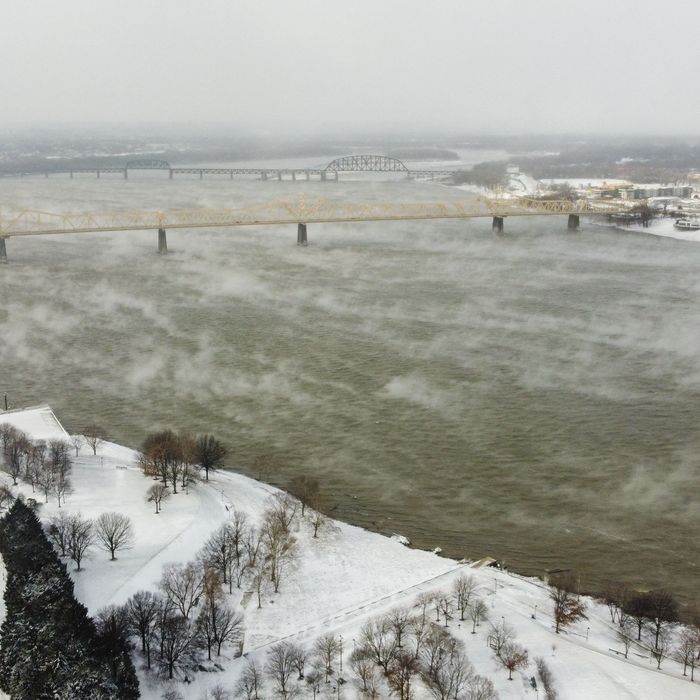 The Ohio River is seen steaming in Louisville, Kentucky under freezing temperatures on Friday.
Photo: Leandro Lozada/AFP via Getty Images
Historic cold following startling temperature drops. Blizzard watches. High-speed gusts and a coast-to-coast wind-chill warning. Flight cancellation texts. Bomb cyclone, polar vortex, frostbite, and falling iguana explainers appearing across the web. The preholiday signs are clear nearly nationwide: Do not go outside if you can help it.
Misery loves company
As of Friday, more than 200 million Americans (some 60 percent of the population) were living under a winter weather advisory or worse, including 50 million under winter storm warnings and 12 million under blizzard warnings.
A lot of Americans have been powerless as well. At midday Friday, 1.5 million electricity customers were without power, particularly in the eastern U.S., but also in Texas and the Pacific Northwest. That fell to 1.2 million by Friday evening. And 400,000 lost power in Canada.
Frozen Friday night
A wave of cliff-diving temperatures
Thanks to the Arctic cold front, virtually every part of the central and eastern U.S. has been hit with a very fast and very steep drop off in temperatures, with many areas facing 40-degree downswings.
And in places like around New York City, where the falling temperatures followed heavy rain, icing is going to be a big problem, particularly when mixed with high-speed wind gusts.
The freezing temperatures have prompted numerous counties, cities, and towns to open warming centers to help protect the vulnerable.
A widespread travel nightmare
The timing of all this weather couldn't be worse, striking on some of the busiest few travel days of the year. On Friday, more than 5,400 flights around the country had been canceled by evening and more than 9,000 flights had been delayed. On Friday morning, deicing prompted temporary ground stops at Charlotte Douglas International Airport, Portland International Airport, Reagan National Airport, and Seattle-Tacoma International Airport. There have also been rail service and bus service disruptions in the Midwest and Northeast.
The wind gusts have made things interesting as well:
Driving has been treacherous. At least ten people have been killed in some of the countless automobile accidents linked to the storm across the country as of Friday night. Even in areas not struck with snow, the rapid onset of subfreezing temperatures turned wet roadways into iceways.
Big-time coastal flooding
Many coastal towns in the Northeast were swamped with floodwaters on Friday as well. In some parts of New Jersey, it was the worst flooding seen since Superstorm Sandy.
The storm surge in Provincetown, Massachusetts, was the highest recorded since 1991.
Some coastal residents in Hampton Beach, New Hampshire, had to be rescued after their beachfront homes were inundated with water. Portland, Maine, faced the fourth-highest tide on record on Friday morning, and the storm damaged the historic Portland Head Light.
A half-nationwide wind field
Near-record wind gusts have been recorded across the country:
Buffalo is getting buried
Buffalo and some of western New York are getting absolutely hammered with blizzard conditions thanks to the heavy lake-effect snow produced by the storm. Driving was banned in Buffalo on Friday, where many drivers became stranded in the whiteout and the storm has pretty much shut down the city. Tens of thousands have lost power. Through Christmas Day, snowfall totals in the area may reach as high as 55 inches.
The storm also pushed Lake Erie over its shores, prompting some evacuations.
Lastly, local sportscasters are feeling left out in the cold
This post has been updated (from indoors).