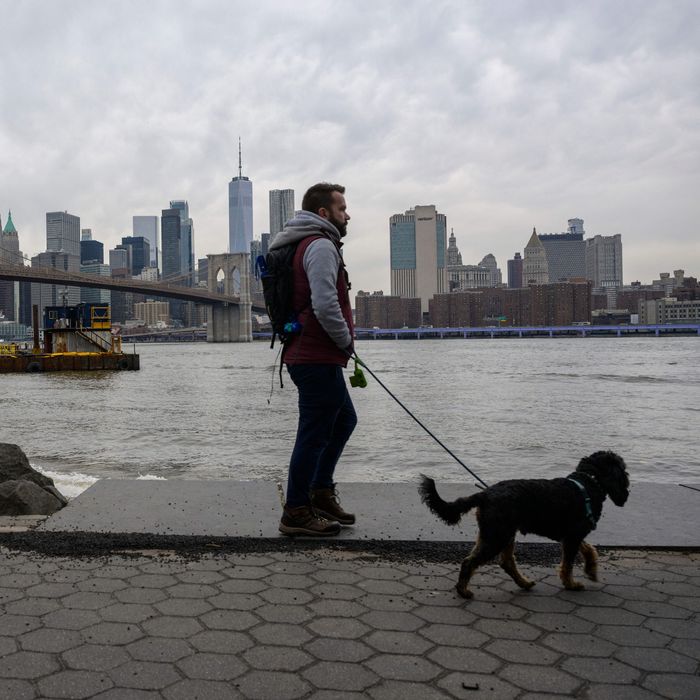 The weather continues to be boring.
Photo: ANGELA WEISS/AFP via Getty Images
It's January 29. By now, New Yorkers should have experienced at least one day of majestic and accumulating snowfall, followed by three days of straining our groin muscles while attempting to vault over five-foot-wide corner puddles. Or forget that major-winter-storm scenario: At least we should have seen the city covered in a thin, ephemeral layer of white once or twice, and heard the soul-nourishing crunch of snow underfoot.
None of that has happened. Instead, as of Sunday, New York has broken the record for the latest first snowfall for a winter in the city's record-keeping history, which stretches back to the era of President Ulysses S. Grant.
It's a sad day for snow lovers, and for anyone who respects the fundamental laws of nature. It's likely a troubling harbinger of winters to come (though as New York Metro Weather's John Homenuk recently explained, climate change does not always mean less snow). And with no snow in the forecast, there's no definitive end in sight to the flake-less nightmare. There aren't any answers on the horizon, only more questions.
Another ignominious moment looms. New York City's mark for the longest stretch of days between snow stands at 332, a period that took place less than three years ago, with the streak finally ending on December 15, 2020. Given the uneventful immediate forecast, there's a good chance that record will go down on February 4.
And if this sad, snow-deprived situation persists for a few more weeks, we're looking at seasonal records, too. The all-time mark for least snow in a New York City winter came in the slow-starting winter of 1973, when only 2.9 inches ultimately fell. It's much too early to determine whether this record is in danger; there have been plenty of memorable February and March blizzards over the years, and even the occasional April snowstorm. But when it comes to disappointments, don't put anything past the winter of '22-'23.
It's not just the snow that's been lacking in recent weeks, but the cold. The entire month of January has seen warmer-than-average temperature, including some weirdly, unsettlingly mild days (unless you're one of those people who can set aside the specter of a warming planet and just enjoy a balmy winter afternoon). The two are intertwined, of course; 54-degree days are conducive to rain, which we've seen plenty of, not its frostier cousin.
The temperature is one thing that does look likely to change, at least: The forecast calls for colder conditions — slightly below normal to normal for this time of year — beginning on Wednesday. If the cold spell continues for any real length, it's probably just a matter of time before snow finally appears. But for now, toboggans across the five boroughs are still gathering dust.