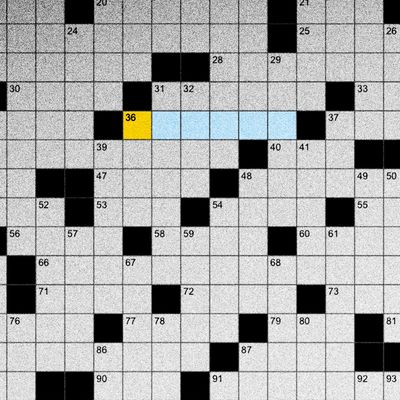 Photo-Illustration: Intelligencer
Placing a Sunday crossword in the New York Times is a major achievement for anyone, but it's particularly impressive when you're still in high school. Garrett Chalfin, an 18-year-old finishing his senior year at Riverdale Country School, managed the feat last weekend and doesn't plan to stop there. I spoke to him about his preternatural crossword talent, the limitations of pop-culture references, and bonding with jocks through the power of language.
So how did it come to pass that you got your crossword into the Sunday Times last week?
It was actually my second puzzle. My first ran in August on a Monday. But those don't have bios on them, so you wouldn't have really known who I was. It would just say "by Garrett Chalfin" in small font in the corner. But I started solving puzzles at camp because I was a nerdier kid, and I go to a sportsy camp. And I noticed that that was a way for me and my more athletically inclined friends to interact and find a common thing that we both enjoyed. Because a crossword puzzle just involves a lot of depth of knowledge. There's sports clues, pop-culture clues, etc.
You're telling me the jocks like crosswords now?
The jocks like crosswords. Yes, they do.
That seems like a change.
I'm not kidding — there were like 20 kids around me. This is five, six years ago at this point. We all would solve them together. And then I was joking, "What if I sent one to the New York Times?" So I got the software. I sent one puzzle to the New York Times just to say that I did. It was rejected in a perfunctory fashion. It wasn't very good. But, anyway, camp got canceled during COVID, and I was like, What am I going to do during the summer? I don't have much going on. And then I just found my crossword software that I had downloaded two years prior and realized that I really enjoyed it. And I started from there.
And it took a while. I got rejected probably 15, 16-plus times — it's about a 3 percent acceptance rate to get published there. They get 200 submissions a week for seven spots. Eventually, last year, they accepted the Monday puzzle, which ran in August. And then, in October, they wrote back, and we worked on this Sunday puzzle together. So it took some time. And I also got some help. I was very lucky — there's actually an English teacher here who writes crossword puzzles for the New York Times as well. So he was kind of like my mentor figure.
Well, that's convenient.
Credit where credit is due. Definitely helps.
How long does it take you to construct something like a Sunday puzzle?
It's a big range. This puzzle took me about two or three weeks because I was working on it with the editing team. But I've done Sunday crosswords in a weekend from start to finish. Meaning coming up with a theme, filling in the grid, writing the clues. It varies depending on the constraints of the puzzle.
Do you try to include references that one might find in a puzzle constructed by someone much older than you? 
All the 21st-century references I've put in have gotten edited out thus far in two puzzles. I had a Diary of a Wimpy Kid reference in my original manuscript, and it got nixed.
A lot of people focus on pop-culture references in crossword-puzzle clues. I try to come up with clever wordplay clues. So, for example, one of my clues was, "Not a big Mac?" And the answer was "laptop." That was a clue I wrote that stayed. When the New York Times accepts a puzzle and they edit it, they calibrate the difficulty level and make sure everything's balanced. I let them handle that because that's what they're really expert in. All I can do is just write the best clues I can, and that's what I try to do.
What's been the reaction of your classmates and teachers? Are you the king of Riverdale Country School now? Is it like a parade when you walk down the hall?
I think it's been pretty chill, to be honest. There's some teachers that solve the puzzle every day, so I get some emails from them. Actually, I have a lot of crossword-solving classmates. They all felt my puzzle was pretty hard. I don't like when I watch people solve my puzzle because it gets frustrating. In August, when my first puzzle ran, I was at camp, and my camp friends and I went out to dinner. And it took them an hour to solve this puzzle with the maker sitting next to them. And that was a Monday, a very easy puzzle. And I love my camp friends to death, but I was sitting there and I was like, Oh my God.
You have a lot of friends who are solving Sunday New York Times crossword puzzles at school?
At my school, there is a pretty solid contingent of crossword solvers, yeah. You would be surprised.
I am surprised. You're off to the University of Chicago in the fall, right? 
I am.
Are you planning on keeping up the cruciverbalism in Chicago?
Yes, absolutely. There's actually another philosophy major at U. Chicago, a current student, who also writes puzzles for the Times. So now the U. Chicago philosophy majors, we have a little contingent of crossword people there. We're everywhere! Not really. There's only a thousand of us, but still.
It's just a really nice hobby because it's creative and I'm working my brain simultaneously. And also you produce something. I think it's really cool that I'm not just making something and then hanging it up on my fridge. There's distribution. And I think it's really cool to see people interact with your work, both positively and negatively.
Is your mom just over the moon about all this?
Yeah. Because I think when you have your ninth-grader kid say, "What are you doing over this summer, Garrett?," and I go, "I'm going to try to get a crossword into the New York Times," you can't help but laugh because it sounds a little ridiculous. But I think she's very proud that I stuck with it. I got rejected along the way, and I was persistent and set a goal, and I reached it.
This interview has been edited for length and clarity.