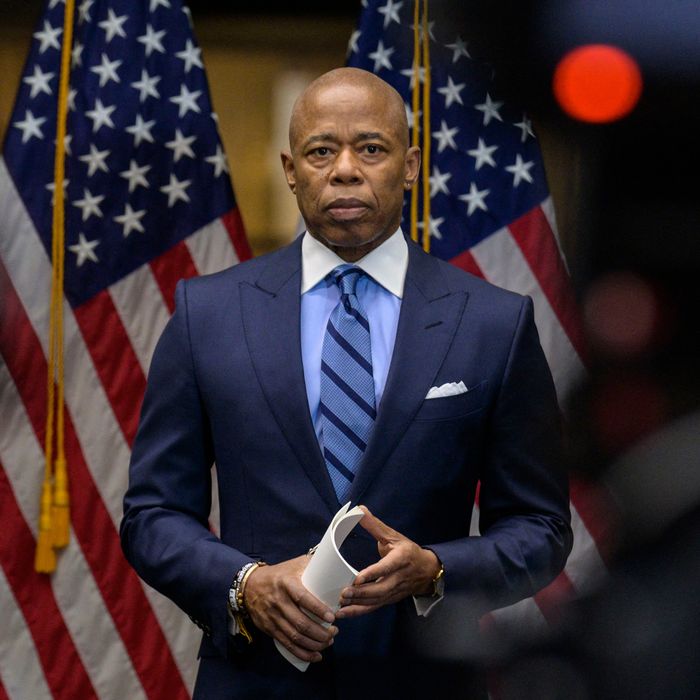 Photo: Angela Weiss/AFP via Getty Images
New York City mayor Eric Adams appeared on CNN Monday to discuss the fatal beating of Tyre Nichols by five Memphis police officers. He told anchor Don Lemon that he thinks "a number of things went wrong" during the incident, though he does not see specialized units, like the controversial SCORPION police unit some of the officers belonged to, as one of them.
Adams, who retired from the NYPD as a captain, suggested the issues at play were not systemic but individual. He said the Memphis officers "lost control" and "showed a level of abuse that is really a betrayal to those who wear the uniform every day and serve the job of public protection."
And while the mayor said he did not want to second-guess Memphis police chief Cerelyn Davis's decision to disband the SCORPION unit, the specialized police unit created to target violent offenders in high-crime neighborhoods, he said, "Units don't create abuse. Abusive behavior creates abuse."
The mayor then drew a connection to the NYPD's revived anti-crime units, now named Neighborhood Safety Teams, which his administration reinstated two years after they were disbanded. The Adams administration insisted that the units were necessary to stop the flow of illegal guns into the city, though they had been accused of using racial profiling and abusive tactics that led to several controversial killings by NYPD officers.
"When I put back in place our anti-gun unit, many people stated that we should not do it, but we were able to remove 7,000 guns off our streets. That's a 27-year-high," Adams said.
But Adams noted that he did not simply revive the old version of the plain clothes anti-crime units, which he felt had used overly "aggressive" tactics. "What we put back in place, based on hearing from the public, [was] officers wearing a modified uniform so they could be properly identified." He said members of the new NYPD units get "proper training," are instructed to keep their body cameras on, and are "handpicked" to ensure that they understand "how to interact with the public."
The mayor emphasized that having the right person in these roles is crucial. "Just because you are a police officer does not mean that you are capable of doing every aspect of policing," he said.