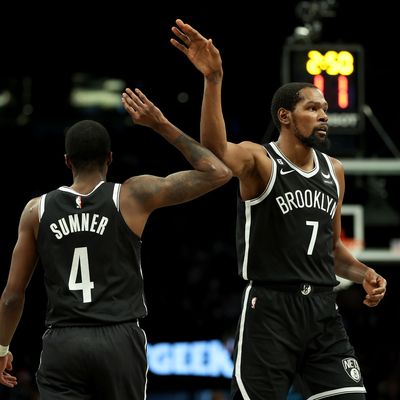 Kevin Durant and Edmond Sumner.
Photo: Sarah Stier/Getty Images
After what has felt like decades of turmoil, the Brooklyn Nets have amazed the basketball world this season by actually getting their shit together. They've won 18 of their last 20 games, have the second-best record in the Eastern Conference, and look like legitimate contenders.
So, naturally, something had to go wrong. In the third quarter of the team's Sunday-night victory against the Miami Heat, Kevin Durant left the game after Heat forward Jimmy Butler fell backward onto him. The next day, Durant was diagnosed with an MCL sprain of his right knee; he's expected to be out for two weeks to a month. (He suffered the same injury on his left knee last season and subsequently missed six weeks.) The Nets play only ten games in the next three weeks, so assuming Durant makes a speedy recovery, his injury shouldn't hamper their season too much. The star player's absence, however, will reveal whether the Nets' have enough depth and stability to win games without their best player, who is averaging 29.7 points per game on 55.9 percent shooting this season.
If you don't follow basketball closely, the fact that a team with two of the NBA's biggest stars (Durant and the mercurial Kyrie Irving) is having a good season probably doesn't seem extraordinary. So here's a brief primer on the utter dysfunction of the Nets over the past year and a half — made much more notable by its initial promise.
Going into last season, the Nets were equipped with Durant, Irving, and a third superstar they'd acquired in the offseason, the bushy-bearded James Harden. After years of mediocrity, they'd made it to the Eastern Conference semifinals the previous year and expectations were sky-high. ("Kevin Durant and (Possibly) the Greatest Basketball Team of All Time," read a New York Times Magazine headline that aged very quickly.) The problems began right out of the gate: Irving had refused to get vaccinated and wasn't allowed to play in home games per New York City law. Durant sprained his MCL. Harden, whom the team traded away most of their depth for, demanded a trade himself. When they eventually did trade him, the guy they got in return, three-time All Star Ben Simmons, missed the rest of the season with a back injury. The Nets ended up getting swept by the Celtics in humiliating fashion in the first round of the playoffs — which they only made by the skin of their teeth. Then Durant requested a trade, which didn't pan out. The Nets lost five of their first seven games this season, then fired overwhelmed head coach Steve Nash. And all this was before Irving tweeted out a link to an antisemitic documentary that denied the Holocaust happened. When Irving initially failed to apologize, he was suspended for seven games.
Things looked pretty grim. When Kyrie returned (after finally apologizing), most people weren't expecting the team to live up to its initial promise. But, suddenly, the Nets started winning. Much of the change can be attributed to new head coach Jacque Vaughn. In part, it's about x's and o's; after Vaughn took the reins, the team's defense, a vulnerability last season, improved dramatically, going from 18th-best last season to fifth-best now. Vaughn has clearly instilled a new attitude in Brooklyn. For the first time in many, many months, the players actually look like they are having fun during games.
"You can tell there's a special energy in the locker room," Irving said of Vaughn. He added that the Nets were finally winning consistently thanks to "Jacque holding us accountable; him coming in as a head coach and really putting his own DNA on it. And us just following the game plan."
Durant also has had only praise for Vaughn. "Just knowing what we want to do every time we step on the floor keeps our mind at ease, and we'll have that belief in whatever Jacque tells us," he said.
It's a very different relationship than the two stars had with Nash, whom they seemed to view more as an annoyance than anything else. In October 2020, a month after Nash was hired as head coach, Irving went on Durant's podcast, and said, "I don't really see us having a head coach. You know what I mean? KD could be a head coach. I could be a head coach." (Prophetically, KD replied, "Jacque Vaughn could do it one day.")
In November of this year, Durant told Chris Haynes of the Bleacher Report that he requested a trade because of Nash's lax attitude toward practice. "I like practices, " Durant said he told Nets management. "I need more. I want to work on more shit. Hold me accountable. Get on my ass in film if that's going to help you get on everybody else's head. I want to do more closeouts. I want to work on more shell drills at practice." Vaughn, Durant continued, is on "the same vibe" as he is when it comes to putting in the work.
Vaughn has also brought out the best in the Nets' supporting cast. Nic Claxton, the Nets' second-round draft pick in 2019, has become a defensive monster and leads the league in blocks, averaging 2.6 per game. In the team's win against the New Orleans Pelicans on Friday, he blocked three shots in the first two minutes of the game. And he's contributing offensively, too, making an NBA-best 73.7 percent of his shots.
Royce O'Neale, a long-distance sniper the Nets traded for in the offseason, is making a career-high 41.1 percent of his three-point shots. Yuta Watanabe, who also joined the Nets this season, has also been a threat from beyond the arc, making an incredible 52.7 percent of his attempts. (To put these numbers in perspective, the average three-point percentage across the entire league this season is 37.3.)
T.J. Warren, another offseason pickup, has also been invaluable to the team's second-unit offense. Warren missed almost two years of basketball with a foot fracture but appears to be returning to his old form. And while Ben Simmons, who didn't play a single NBA game last season because of mental-health issues as well as his back injury, is slowly but surely finding his game, leading the team in assists and steals.
Under Vaughn, the team is much more stable — emotionally, but also literally. Last season, Nash tried 43 different starting lineups throughout 82 regular season games. In comparison, this season, which is one game shy of the halfway point, the team has had a reasonable eight different starting lineups.
Since Irving and Durant joined the Nets, there's been enough drama to last several lifetimes — enough that it has often overshadowed how good both men are at basketball. But the team is finally winning, and they are vibing and look happy to be playing basketball. Until Sunday night, they were also healthy. Things were looking rosy. The next weeks without Durant will test both those good vibes and the strength of the bench. Under Vaughn's tenure, the Nets have just started to build a winning culture. But that's a lot easier to maintain with their best player.